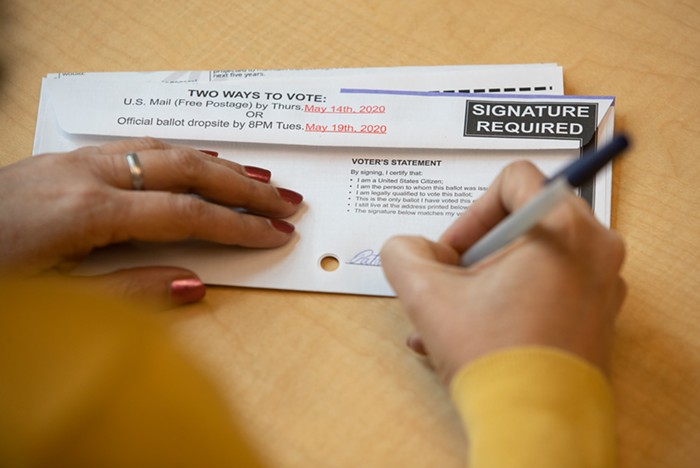 For candidates running for office in Portland, the months leading up to a primary election are traditionally spent chatting with donors at house parties, knocking on undecided voters' doors, and holding attention-grabbing campaign rallies. But with the threat of COVD-19 prohibiting unnecessary gatherings—let alone hand shaking and baby kissing—the campaign trail to Oregon's May 19 election day has entered unknown territory.
"Everyone was excited about the opportunity to canvas during the springtime… I mean, look at this weather," said Teressa Raiford, who's running for Mayor of Portland. "And nothing beats face-to-face contact."
Sponsored
We create recommendations to improve police practices. Seeking Black, Indigenous, LGBTQIA+, and those living with mental illness and/or houselessness.
There's no playbook for running a campaign during a global pandemic. Longtime political pollsters and novice candidates alike are uncertain what messaging works best for attracting votes during a crisis, or how—despite Oregon already having a voting system that can operate amid quarantine—the virus will impact voters' interest in casting a ballot at all.
"We're all making it up right now," said John Horvick, an Oregon pollster with DHM Research. "There's no analog to this."
For candidates like Raiford, that means experimenting with live-stream fundraising events and spending more time making phone calls and social media posts. Raiford said she's grateful that she began campaigning more than a year ago, meaning she's already spent significant time meeting with voters in person.
But many candidates were saving most of their in-person campaigning until March and April. Tera Hurst, a candidate for Portland City Council and director of environmental advocacy group Renew Oregon, spent the first two months of 2020 in Salem, lobbying for bills during the legislative session. She had expected to start door knocking in March, after the session ended. Then COVID-19 hit.
"My AA sponsor used to tell me, 'When man plans, God laughs,'" said Hurst. "This is a perfect example of that. I have run campaigns in the past, and I know what you're supposed to be doing and how it's supposed to look. But right now, everything's been thrown out the window. We're campaigning in the dark."
Like Raiford, Hurst has tweaked her campaign's strategy to match voter behavior. After noticing an increased number of people taking walks in Portland's residential neighborhoods to counteract days spent cooped up inside, Hurst decided to distribute lawn signs to supporters.
Hurst said that she's an extrovert, and struggles to make the same kind of connections with people over Zoom fundraising calls than in person. But, she said, she doesn't feel alone in the struggle.
"It feels like there's less pressure on candidates on some level, because nobody's ever done this... we're all trying things," said Hurst. "We're just doing the best we can."
Raiford, the only African American woman in the mayor's race, said the pandemic has only worsened the divide between minority populations and those in power in Portland—a gap that her campaign has centered around.
"We have children without food, families being evicted, people working in unsafe conditions—and then you have people complaining about not being able to take a vacation," she said. "It's holding up a mirror to our city's inequities."
Other campaigns see the crisis as an entry point into broader policy conversations. Jade Fox serves as communications director for Mingus Mapps' campaign for Portland City Council. Mapps, like many other council candidates, believes that Portland's current government structure needs to be replaced with a more equitable and efficient one. Fox said the city's gaps in communication and data-sharing during the COVID-19 pandemic only supports her boss' critique.
"It's poignant, it speaks to the problems with the commission form of government," said Fox. "This is the time all bureaus should have a central hub to share resources, but we're not seeing that. And who's representing East Portland right now? This is only highlighting the need for a change."
It's an environment that could also serve to benefit candidates who are currently in office.
Kevin Looper is a political consultant currently working for the campaign behind a May ballot measure that will use tax dollars to fund homeless support services. In an April 15 press briefing, Looper pointed to new polling data that found a 10 percent hike in Oregonians' belief that the state is "on the right track" between February and April. Looper said he believes that spike is tied to how elected officials have dealt with the pandemic.
"The virus… will have a lasting effect on politics," said Looper. "I would think, in the primary [election], it would lead to a less radical lurching against incumbents overall. People are not holding folks to an impossible standard right now, they just want to see that they just have their values going forward."
Neel Pender, a Portland political consultant with Hilltop Solutions, agrees.
"People are drawn to familiarity during trying times," Pender said. "And, for better or for worse, incumbents are familiar faces right now."
Pender, who isn't tied to any 2020 primary campaigns, said he believes Mayor Ted Wheeler's steady response to the COVID-19 outbreak has placed the incumbent in a "much less vulnerable position" in the mayoral race than just a few months ago.
This "right track" mentality is one of the reasons Pender believes Portland will see high voter turnout for the May election.
"Because what else do we have to do, really?" said Pender, with a laugh. "But seriously, we have a huge advantage as a state because we've done vote by mail for two decades, and people are super used to it."
That means the voting process won't be undermined by long lines with questionable social distancing measures, as seen in Wisconsin's primary on April 7, or last minute attempts to adopt a statewide vote by mail model.
Pender said the number of candidates running for local office this election should also attract votes.
"I can't recall when there's been so many candidates running for city council," he said. "If all those people are reaching out to voters, there's going to be a cumulative effect, buoying turnout."
However, there's one factor that other political wonks believe may have the opposite effect: a noncompetitive presidential race. Competitors in the race for Democratic presidential candidate dropped out long before Oregon had a chance to vote, leaving both Democrats and Republicans candidates without a challenger. According to pollster Horvick with DHM Research, that could critically skew voter participation.
Horvick said Oregon's seen historically low turnout numbers in primary elections when the presidential nominee has no major challenger. As an example, Horvick pointed to the May 2004 primary election, featuring presumed Democratic candidate John Kerry, which only drew ballots from 46 percent of Oregon voters, and the May 2012 primary, with GOP candidate Mitt Romney, which saw a paltry 39 percent voter turnout.
"I think 2020 looks more like those years," said Horvick. "There's no way people are going to be as engaged in primary elections this year. I'm estimating it's going to be historically low."
Those who do cast their ballots may lean more conservative. Because of the economic fallout of COVID-19, Horvick predicts voters will be more hesitant to endorse ballot measures asking for taxpayer dollars, like the proposed homeless services project and the gas tax, measures both appearing on the May ballot.
Looper, the consultant with the homeless service measure, says polling shows otherwise. The measure asks voters to impose a 1 percent tax on high-income earners (people making more than $125,000 a year) and a 1 percent tax on companies that generate more than $5 million annually to provide homeless support services to residents of Multnomah, Washington and Clackamas counties. According to surveys collected in early April by Here Together, the campaign behind the measure, an estimated 57 percent of tri-county voters indicated that they support these funding mechanisms. Which, Looper said, is "great news."
Polls and predictions only go so far in Portland elections—especially ones existing in the midst of a global pandemic. Hurst said it's important to acknowledge the unprecedented nature of this campaign.
"We've never been through something like this as a community," Hurst said. "This is not normal."
But, she said, it's not something candidates should run from.
"Being in elected office, we have to be able to handle multiple crises at a time," said Hurst. "This is part of the job."
Sponsored

Custom framing, photo frames, printing on metal, paper and canvas.