UPDATE 9:45 AM, SUN MAY 31:
This morning, Mayor Ted Wheeler held a press conference in which he admonished the "small group of agitators" and "opportunists" who used the cover of protesting to inflict damage on the city. Roughly 48 people were arrested last night, mostly for curfew violations. The mayor has extended the curfew for another night, to start once again at 8 pm this evening and last until 6 am. Mayor Wheeler will be holding another press conference at 1:30 pm today, and will be joined by community leaders (such as Bishop CT Wells) to address the topic of "the impact of the demonstrations in our Black communities." Stay tuned for more updates from the Mercury.
UPDATE 10:30 PM: As the downtown skirmishes turn to the police chasing down a few errant wanna-be rioters, we're going to take a break for the evening, but will be updating you with any major activity on Twitter, so follow us there. I'd like to take a moment to thank our Alex Zielinski and Blair Stenvick whose dedication to Portland and thoughtful reporting never ceases to amaze me. Please honor their hard work, and keep them and the Mercury going by making a donation here.
Stay tuned for more info, and a wrap-up report tomorrow morning. Thanks for joining us!
UPDATE 10:20 PM: While there are still various reports of small bursts of activity downtown and occasional flashbangs, tonight's large-scale version of the protest seems to have fizzled out.

Someone shattered a window at a 7-Eleven at SW Fourth and Taylor using... what appears to be an artificial holiday tree.
I think I saw the tree sitting out earlier. pic.twitter.com/TbQ5vNCvZy
— Jim Ryan (@Jimryan015) May 31, 2020
Our Alex Zee was following a lead regarding a rumor of a large "pre-planned riot" at Lloyd Center which had police and fire trucks screeching up to the scene. More sound than fury, however, as police ended up chasing off a few groups of teens.

Over police loudspeaker by Lloyd: "we're not playing, people are being arrested. It's time to go home."
— Alex Zielinski (@alex_zee) May 31, 2020
UPDATE 9:55 PM: Skirmishes continue in NE Portland and downtown, and like in other cities around the country, certain members of the police are seemingly losing patience with the presence of the press.

Sergio identifies himself as press. PPB does not appear to care. The curfew order explicitly exempted journalists https://t.co/N7MiQ2spb7
— Jason Wilson (@jason_a_w) May 31, 2020
Meanwhile...
A woman asks them "what that noise was." They group of officers pauses. "A firework." (It wasn't a firework. I saw the flashbang.)
— Alex Zielinski (@alex_zee) May 31, 2020
Later, Portland Police put a finer point on their previous rules (one that certainly wasn't mentioned before):

Though media is exempt from curfew, we want to remind you to obey all orders from officers during the demonstration. If officers are asking crowds to disperse, then you must also.
— Portland Police (@PortlandPolice) May 31, 2020
And downtown:
View from the sky in downtown Portland as police push toward one group. #Portland #oregon @fox12oregon pic.twitter.com/TBmeYZGzPp
— Bonnie Silkman KPTV (@BonnieSilkman) May 31, 2020
UPDATE 9:30 PM: As our Alex Zielinski follows a group on the east side of the river, the Mercury's Blair Stenvick is downtown where small skirmishes are continuing.

Small crowd and flash bang at Washington and 4th. From a block sway: pic.twitter.com/vh0i5FqTne
— Blair Stenvick (@BlairStenvick) May 31, 2020
Downtown right now is a patchwork of small standoffs, flash bangs occasionally going off in different directions
— Blair Stenvick (@BlairStenvick) May 31, 2020
There are also rumors of
Proud Boy members floating around downtown
—we're keeping an eye on that as well.
Meanwhile on the east side near the Lloyd District:
Pepper/tear gas in the air, officers staging up at 7th and Halsey.
— Alex Zielinski (@alex_zee) May 31, 2020
UPDATE 9:10 PM: Protesters are breaking apart from larger groups and splintering out through the city. On the east side a large group was seen going up MLK, while another is gathered on 4th & Washington downtown. Police are continuing the pressure and have already made several arrests.

Since the demonstration began this evening, Portland Police has made seven arrests.
— Portland Police (@PortlandPolice) May 31, 2020
Found a group marching north on Grand. pic.twitter.com/wBBvari8xO
— Alex Zielinski (@alex_zee) May 31, 2020
Small crowd and flash bang at Washington and 4th. From a block sway: pic.twitter.com/vh0i5FqTne
— Blair Stenvick (@BlairStenvick) May 31, 2020
Also, we'll be following up on this:
Portland: police and medical to SE Hawthorne/Water, report of someone shot, unknown suspect information, victim is a male in his 20's
— Portland OR Alerts (@pdxalerts) May 31, 2020
Police have issued an update on this shooting:
A non-protest related shooting occurred at SE Water Avenue near the Hawthorne Bridge. A victim has been transported to an area hospital with life threatening injuries.
— Portland Police (@PortlandPolice) May 31, 2020
UPDATE 8:45 PM: According to reports, a large group of protesters on the Waterfront have split into two factions and both are heading toward the east side of the river: One group taking the Burnside Bridge, the other the Steel.

Cops have followed the larger group of protesters over the Steel Bridge to the Rose Quarter.
— Alex Zielinski (@alex_zee) May 31, 2020
Downtown—at least near salmon and 3rd—feeling empty now. Sounds like a lot of protestors are moving to the east side. Still a constant police mic telling people to go home or force will be used against them
— Blair Stenvick (@BlairStenvick) May 31, 2020
The police seem to be making a concerted effort to push protesters out of downtown.
Police herded crowd onto steel bridge and are now standing on west side watching crowd cross pic.twitter.com/YuZQXUqPB3
— Rebecca Ellis (@Rjaellis) May 31, 2020
UPDATE 8:30 PM: A large crowd at the Waterfront are being pursued by police, telling them to go home—which is easier said than done when you're not told which direction is safe.

Officers actively driving down the waterfront bike path after protesters. Loudspeakers are telling people to "go home" but aren't given direction as to how. Bridges are closed, people aren't sure where to go.
— Alex Zielinski (@alex_zee) May 31, 2020
According to Beth Nakamura of the O, one of the first arrests of the evening has been made. Police seem to be exerting a lot of pressure to break up the group.

An arrest made in Portland just now, very intense out here pic.twitter.com/wwqE1DPPea
— Beth Nakamura (@bethnakamura) May 31, 2020
UPDATE 8:15 PM: As the 8 pm curfew hour came and went, there was initially no sign of the police—until 8:15 at Burnside and Broadway.

First flash bang just went off. pic.twitter.com/9Zds770GME
— Alex Zielinski (@alex_zee) May 31, 2020
It's hard to get a headcount for a crowd like this, but our Alex Zee estimates it in the hundreds. The crowd is currently gathered at Chapman Square (210 SW Main).
Police saying it's an unlawful assembly and people must "return to your home." Lots of flash bangs and/or pepper bombs
— Blair Stenvick (@BlairStenvick) May 31, 2020
Jim Ryan of the
Oregonian
is reporting lots of tear gas in the air at SW 2nd and Yamhill.
ORIGINAL POST: For the second night in a row, protesters have flocked downtown to protest the death of George Floyd, a Black Minneapolis man who was killed by a police officer who kneeled on his neck as Floyd cried, "I can't breathe." He eventually suffocated to death. Last night's protest started very peacefully with a vigil for Floyd at North Portland's Peninsula Park. Following the vigil, hundreds marched downtown to the Multnomah County Justice Center, where a splinter group broke into the building and set a small fire. Police—who had been maintaining their distance throughout the evening—rushed in, and the crowd scattered into the downtown corridor. Groups of protesters broke windows of banks, set small fires, and looted a very particular, highbrow set of stores, including the Apple store and Louis Vuitton. Police fired tear gas and flash bangs at the crowds throughout the evening, before the crowds dispersed just after 2 am. Thirteen people were arrested.
Mayor Ted Wheeler gave a press conference this morning, decrying the violence and looting, and set a curfew for the entirety of Portland tonight from 8 pm to 6 am . As we approach the 8 pm hour, it doesn't look like a large group of downtown protesters are going anywhere—and neither is the Mercury who will be covering the protests tonight. We'll be publishing regular updates here, but for moment to moment action, follow our Alex Zielinski and Blair Stenvick on Twitter.
Stay tuned for more.
Sponsored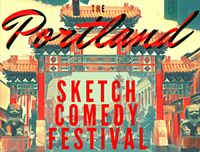 Sketch comedy troupes from all over N. America descend on The Siren Theater for 3 glorious nights.