We need your help. The economic fallout of the coronavirus crisis is threatening our ability to keep producing the quality reporting you've come to love. If you're able, please consider making a monthly contribution to the Mercury.
Sponsored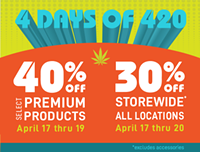 30-40% off Premier Dispensaries April 17-20
Flower, pre-rolls, edibles, carts and more.
These 4 Days of 420 are for you.

Good morning, Portland! I overslept this morning, so that means your morning news roundup did too. Here's a groggy mid-morning rundown:

- Spring break has begun in most of the US, including Portland (woooot!). Some who have the week off kicked off celebrations this weekend in South Beach, Florida, where local police shot pepper balls into crowds of mostly mask-less revelers to enforce COVID-19 regulations. If this feels like deja vu, you're not losing it: This same thing happened in South Beach last weekend.
- The US Supreme Court has agreed to reconsider the death penalty for Boston Marathon bomber Dzhokhar Tsarnaev. Justices won't hear the appeal—filed by the Trump Administration—until the fall, but its progression will serve as a test to the new administration, which has come out in opposition of capital punishment.
- Today in X-Files leaks:

UFO report details 'difficult to explain' sightings, says US ex-intelligence director https://t.co/rMajIT4Qob

— The Guardian (@guardian) March 22, 2021
- The lives and deaths of the women killed in the Atlanta spa shootings shine a bright, unforgiving light on the experiences of underpaid and under-appreciated immigrant Asian and Asian American women in a stigmatized profession. The Washington Post unpacks each victim's story.
- The husband of one of the victims killed in Atalanta who was present during the attack—and survived—was handcuffed by police and detained before learning his wife had died. He told media he believed he was unfairly treated like a suspect in the traumatic case because he was Latino.
- People rallied across the US last weekend to support Asian immigrants and Asian Americans—and decry anti-Asian hate crimes. Sandra Oh joined the crowds in Pittsburgh:
Actress Sandra Oh speaks during the Stop Asian Hate rally in Pittsburgh pic.twitter.com/Bgels4hNio

— Kristina Serafini (@KristinaS_Trib) March 20, 2021
- More than 43 million Americans have received a full COVID-19 vaccination, making up 13 percent of the total US population. Some states have been more effective at vaccinating their populations than others. Here's a breakdown of which states are leading the race (it's unexpected!) and which ones are falling behind (it's expected!). Spoiler: Oregon's smack dab in the middle.
- Oregon Gov. Kate Brown updated the state's vaccination timeline, nervously pledging to make the COVID-19 vaccine available to all Oregon residents 16 years and older by May 1. This acceleration puts the state on track to meet the White House's ambitious timeframe.
- The tree drama I didn't know I needed:
The Audubon Society of Portland has offered the reward for information after a giant sequoia in the Sabin neighborhood was reportedly poisoned. https://t.co/ok79NftCC4

— KATU News (@KATUNews) March 21, 2021
- Portland has officially hired an outside investigator to look into the leak falsely identifying City Commissioner Jo Ann Hardesty as a suspect in a hit-and-run. This investigation will run independently of the other investigations into the incident that are already underway in the Portland Police Bureau and the Bureau of Emergency Communications.