The Mercury provides news and fun every single day—but your help is essential. If you believe Portland benefits from smart, local journalism and arts coverage, please consider making a small monthly contribution, because without you, there is no us. Thanks for your support!
Sponsored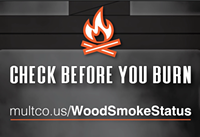 Having clean air means reducing wood smoke. Check before your burn from October 1-March 1.
Morning, Portland! The forecast is rain, rain, and…
oh look! More rain.
Now,
onto the headlines!
In local news:
• Oregon reported more than 9,700 new COVID-19 cases from the long holiday weekend Monday, the largest single-day report of new cases since the beginning of the pandemic. The state is averaging about 2,400 new cases per day as the omicron variant spreads rapidly throughout the region.
• Due to the aforementioned increased spread of COVID-19, the Oregon Department of Education is recommending that schools either pause all extra curricular activities, or clearly communicate the risks of COVID-19 transmission during contact sports and other extra curricular activities. The Oregon Health Authority and state education leaders have not decided to require any forced stops of school-related activities where the virus might spread more easily, opting instead to urge the use of masks, distancing, and testing and allow each school to make its own rules in response to the public health crisis.
Oregon secretary of state could decide this week whether Democrat Nick Kristof is eligible to run for governor https://t.co/CVhYqfkP91 pic.twitter.com/DoDBiq5tUI
— The Oregonian (@Oregonian) January 4, 2022
• Portland Music Month is a new effort by local nonprofit Music Portland to kick off the new year in music, build resources for independent musicians, and get live music enthusiasts back inside the city's venues. With over 100 acts in 31 days, there's a lot of great shows to choose from! Jenni Moore has a preview of Redray Frazier's kick-off performance Tuesday.
• A new Oregon law allows deaf and hard of hearing drivers to indicate their hearing status on their license and vehicle registration. Law makers and advocates for the new law hope the indicator will help keep hard of hearing drivers safer during traffic stops by law enforcement.
Yesterday, Kachka announced a New Years Resolution: a more equitable model for how it treats its employees. To pay for it, the restaurant will replace conventional tipping with a flat service charge. https://t.co/jwNyArqzLG
— Willamette Week (@wweek) January 3, 2022
In national news:
• Elizabeth Holmes, the former founder of Theranos, was convicted on four counts of fraud and conspiracy Monday for duping investors about a fraudulent blood-testing technology. Holmes, who originally faced 11 charges, may be sentenced up to 20 years in prison.
• If you still own a classic BlackBerry, it will officially stop working today. BlackBerry announced back in 2020 that its devices running on BlackBerry 10, 7.1 OS, and earlier will no longer be supported by the provider, including calling 911. The devices officially lose support today, January 4. BlackBerry Android devices are not impacted by the change.
Breaking News: More than 4.5 million people in the U.S. quit their jobs in November, the most in two decades of tracking, as openings remained near a record. https://t.co/ZeAAVPxJiW
— The New York Times (@nytimes) January 4, 2022
• The January 6 attack on the Capitol by supporters of then-President Donald Trump injured more than 100 law enforcement personnel, some who were beaten with weapons and one of whom called the insurrection a "trip to hell." Despite the well-documented violence of the day, only about four in 10 Republicans believe that the attack on the Capitol was "very violent," according to a new poll from The Associated Press-ORC Center for Public Affairs. About three in 10 Republicans believe the day was somewhat violent and three believe it was non-violent.
• Drivers on Interstate 95 in Virginia have been stuck on the road overnight after a severe winter storm overtook the interstate. The new snow and icy conditions forced semi-trucks to stop on the freeway, creating roadblocks along a 50-mile stretch of the roadway. US Senator Tim Kaine is among the hundreds of motorists stuck on the road after starting his drive to the Capitol at 1 pm Monday. As of 6 am Tuesday—19 hours later—Kaine was still stuck in his car.
• Composer Stephen Lawrence died on December 30 at 82 years old. Lawrence's career spanned across genres, including pop ballads for Olivia Newton John, horror film scores, and a whole host of Sesame Street songs, including "If I Were," a sweet love song preformed by Kermit the Frog.