Was Fred Rogers—the writer, producer, and star of Mister Rogers' Neighborhood—really a soft-spoken, sweet-tempered man? Spoiler alert: Yes, he was! Finally, one single thing has escaped your childhood without scandal! It's too bad Rogers isn't still with us to make a special episode about how to pick up the pieces of all the other things the adult world has ruined, but for the 90 scant minutes of Won't You Be My Neighbor?, everything really does feel fine.
As documentaries go, Neighbor is pretty boilerplate; all its shine comes from its subject. Longtime music documentary filmmaker Morgan Neville knows his way around the fill-in-the-blanks doc format, and Neighbor flows with easy pacing and charming archival footage. It hits all the Rogers marks: his line about looking for the helpers, his passive attempts at standing up to societal injustice, and the origins of Lady Elaine. I walked in wanting to be soothed, and I walked out with a valuable, if sentimental, sense of peace.
That said, I don't think Fred Rogers was a "second Christ," as his son actually calls him. Certainly, his professional life was charmed, and his show ran for an exceptionally long time. But any creative person watching Neighbor will be relieved to hear Rogers talk about how much he struggled to write the show's scripts. He wasn't magic. He was a real person who worked hard at a thing he studied extensively.
There are plenty of people in our world, especially people who work with children, who are just as kind and who work just as hard. We do ourselves a disservice when we put Rogers on a pedestal, acting like his purpose and his empathy are beyond our reach. Neighbor seeks to continue a mythology of Rogers' greatness, but I think Rogers would rather a viewer came away ruminating on his persistence, his lifelong self-doubt, and how much he cherished the simple gratitude he received along the way.
Sponsored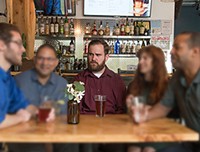 Adults aged 18-35 with good hearing will be paid for their time. Located at the Portland VA Medical Center