ICARUS WAS AN IDIOT.
All Icarus had to do was escape the island of Crete. That's it. And he even had help: Using wax and feathers, his father Daedalus painstakingly crafted Icarus a pair of wings.
"Okay, kid," Daedalus said, handing his son those wondrous wings. "Here's the deal: Don't fly into the ocean, because that'll ruin the feathers. And don't fly too close to the sun, because that'll ruin the wax. Pretty simple, right? You can handle that, right?"
Sponsored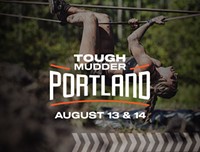 Lock in your summer adventure, Portland. Join us for world famous obstacles over a 5K or 10K distance.
"Ha!" Icaraus laughed as he hugged his father. "Of course I can!" Then Icarus flew straight for the sun and the wax melted and he died.
For generations, Icarus' idiocy has taught humankind an important lesson: Prudence and moderation serve us well.
Luckily for us, that lesson is useless during the Portland Mercury's first-ever Wing Week—where nearly 20 of Portland's favorite restaurants will offer a half-dozen specially made wings for a mere $5! These wings? These wings are meant to be eaten. Which means we can ignore prudence and moderation and eat as many of 'em as possible.
There are, of course, a few things to keep in mind as we fly through Wing Week:
Tip, and tip well. Everyone at our Wing Week restaurants is working hard to make sure you get a great deal on wings. Let 'em know you appreciate it, and don't be a cheapskate.
Man cannot survive on wings alone! Okay, maybe technically he could? Even so, Wing Week restaurants are offering sides, drinks, and even special beers that go great with their wings. Don't miss out!
Be cool. There will be lines—so be patient, come back the next day, or swing by at a less busy time. Or if you're stuck in line, tell everyone that cool Icarus story! They'll be so impressed!
#portlandwingweek. Stay tuned for updates, reviews, and tips on Twitter, Instagram, and Facebook. Something else we can learn from Icarus: Listening to other people is a good idea. Especially when it comes to the important things. Like wings.
---
Alameda Brewhouse's "Gator Wings"
Your pals at the Alameda Brewhouse do not eff around when it comes to brew or barfood—that's why wing lovers will rush to try out their Wing Week entry. Inspired by a beloved friend of the pub from New Orleans (who, sadly, passed away), Alameda's Gator Wings are imbued with the spirit of the dirty, swampy South. Perfectly charred wings that are marinated in balsamic, jalapeño, Frank's RedHot sauce, and various spices, then baked and flash fried, these hot, tender wings arrive at your table bearing a strong whiff of spiciness. And while the spice is definitely strong with this one, it's a long, smooth burn that never overpowers the palate. In other words, they're hot—but not four glasses of water hot. They're yummy yet complex, and served with grilled pineapple and a honey mustard sauce to assist with the cool-down. It's a taste of the Big Easy right here in Portland—and you'll want to visit again and again. WM. STEVEN HUMPHREY
Alameda Brewhouse, 4765 NE Fremont, alamedabrewing.com. Wings available Mon-Sat 11 am-11 pm.
---
Alberta Street Pub's "Curry Butter Bourbon Wings"
If you ask, Alberta Street Pub proprietor Laina Amerson will give you a detailed backstory about her Wing Week recipe, delving into rugged tales of her childhood in the Olympic Peninsula. It's perfectly charming. The wings are better. For the
Mercury's inaugural Wing Week, Alberta Street's grilling up Draper Valley Farms wings, then tossing them in a sticky, spicy blend of curry, Jim Beam, and honey, with a kick of Secret Aardvark. If you've not tried grilled hot wings before, try these grilled hot wings. They've got a perfect char against the goldenrod curry sheen, and a zing that makes dipping sauce irrelevant. Which is good: Alberta Street's not offering any. DIRK VANDERHART
Alberta Street Pub, 1036 NE Alberta, albertastreetpub.com. Wings available Mon-Sat 4 pm-midnight.
---
Ate-Oh-Ate's "Mahalo Plenty Wings"
The Hawaiian plate lunch masters at Ate-Oh-Ate have decided to pu-pu wing week—literally. They're making an island appetizer that's big in size and flavor. These wings are fried up super crispy and then get a sweet-salty treatment of soy, garlic, sugar, and chili flakes. Thanks to the east-west pairing of rice and wheat flours, the breading is both substantial AND light, like some sort of magical bird beast that can both fly and produce enough wing meat to satisfy the heartiest of carnivore. These wings aren't too messy, and they still pack a wallop of flavor since they're rested in the sauce after frying, then drained and served. You're going to need an umbrella drink for this one. ANDREA DAMEWOOD
Ate-Oh-Ate, 2454 E Burnside, ate-oh-ate.com. Wings available Mon-Sat 11am-9pm.
---
Bar Maven's "Chris Yu's Korean Wings"
Foster-Powell's Bar Maven is known for serving up refreshing brews, inventive cocktails, and tasty pub food with a Lebanese twist. For their Wing Week creation, owner Bashar Farah decided to forgo the Mediterranean influence, instead taking inspiration from his good friend Chris Yu, a Portlander who uses this family recipe to knock Farah's socks off at game-day cookouts. Chris Yu's Korean Wings come glazed in a thick, sticky honey ginger sauce that toes the line between sweet and spicy. The wings are twice fried—once to ensure that the hefty portions of juicy, tender chicken get cooked through, and again to give the exterior a crispy, crackling crust. The process ends up being a bit more labor intensive than traditional hot wing preparation, but the results speak for themselves—Chris Yu's wings will have you licking your fingers while lining up for more. CHIPP TERWILLIGER
Bar Maven, 6219 SE Foster, barmaven-pdx.com. Wings available Mon-Sat 5 pm until sold out.
---
Brix Tavern's "Beer Braised Crispy Chicken Wings"
Brix Tavern is a classy joint for classy folks, so it makes sense their house wings are premium affair. Your average dive bar basket is fine and all, but if you want to experience the sort of chicken morsels they'd serve in the admiral's sky lounge at a private airport in some fancy sounding country, well, Brix can hook you up. A half-dozen richly golden beer battered wings nestle like bird's eggs on a bed of grilled vegetables. The free-range Draper valley chicken is almost falling-off-the-bone tender, while the Hefeweizen batter makes for a delicate and savory skin. Rounding out the plate out are two generous ramekins, one full of a silky smooth, tomato-infused aioli, the other with a punchy ancho chili barbecue sauce. Maybe a single plate of chicken wings won't transform you into a debonair sophisticate, but hey, it couldn't hurt. BEN COLEMAN
Brix Tavern,1338 NW Hoyt, brixtavern.com. Wings available Mon-Sat 11 am-close.
---
BTU Brasserie's "Mala Wings"
Buffalo may try and claim it's the home to the best wings of all time, but I'm going to argue that like so many other things—paper, gunpowder, building giant walls to keep away outsiders—Asia got there first. In that fine tradition, Schezuan gastropub BTU Brasserie brings forth its Wing Week creation. Steamed first to really tenderize 'em, the wings are then fried with a cornstarch batter to a gentle crisp. The real zing comes from the in-house Super Oyster sauce—a blend of three oyster sauces, garlic, sesame, and more—that's kicked up with a proprietary Chinese chili paste made with house-smoked chilies. Then these golden wings are dusted with spicy peanuts, tart pickled cucumbers, and carrots. Polish it all off with one of BTU's microbrew creations: We recommend any of the sour or gose beers on tap. ANDREA DAMEWOOD
BTU Brasserie, 5846 NE Sandy, btupdx.com. Wings available Tues-Sat 2-10 pm.
---
Burnside Brewing "Sweet Heat Hotwings"
There's hot wings, and then there's hot wings, know what I mean? There's "Oh, these wings are pretty hot, I guess," and then there's "This is so spicy I can perceive infinity." Anyone can spritz a few bird bits with Tabasco and call it a day, but Burnside Brewing Head Chef Richard Watts has doused his Wing Week offering in a signature hot sauce made from the Jamaican Scotch bonnet peppers used to brew Burnside's popular Sweet Heat beer—and the results are a pile of glistening, bright-red wings positively dripping with capsaicin-y goodness. The Scotch bonnet is a bit sweeter than the habanero, but make no mistake: those things have a kick. Just three of these guys had my eyes watering and my sinuses as clear as they've ever been. These hot wings are hot wings. BEN COLEMAN
Burnside Brewing, 701 E Burnside, burnsidebrewco.com. Wings available Mon-Sat 11 am-6 pm.
---
Club 21's "Oregon Sea Salt & Vinegar Wings"
Already famous for its smack-tackular wings, Club 21 got creative in the kitchen, turning out a Wing Week special of sea salt and vinegar wings designed to taste just like those addictive chips (the Kettle ones, not Lay's). Mission accomplished! These flats and bats (that's "wings and drums" for the wing neophyte) are even better than their potato cousins. After experimenting with all the vinegars, Club 21 settled on Bragg Organic Apple Cider Vinegar, which imparts a sweet mellowness instead of a harsh burn, while the Jacobsen Salt Co.'s hand-harvested sea salt gives the wings the artisanal touch that every deep-fried chicken longs for. Snack ahoy! ANDREA DAMEWOOD
Club 21, 2035 NE Glisan, facebook.com/Club21PDX. Wings available Mon-Sat 11:30 am-2:30 am.
---
Dig A Pony's "The Leppard Wing"
These delicious chicken arms are named after Def Leppard because they're "hot, sticky sweet"—not to mention good and spicy! The robust sauce is a Southern fantasy made with red pepper jelly, and with a splash of vinegar, some honey and jalapeño, and smoked paprika, these wings will hit you like a bomb (baby, c'mon, get it on). Topped with chopped cilantro, they finish bright with a lingering heat. The sauce is so delicious it will have you licking your fingers, then your plate, then wishing there was a vat of it handy that you could bathe in with Joe Elliott. BRI BREY
Dig A Pony, 736 SE Grand, digaponyportland.com. Wings available Mon-Sat 4 pm-midnight.
---
Double Barrel's "Wing Wings"
Look, I know it's Wing Week and everything, but let's get real: There is no better form of chicken in the entire chickeny universe than sweet and sour chicken, and everyone knows it. This perfect dish can't be messed with, which is why it's awesome even if you get it from a school cafeteria or the cheapest buffet in town. This tasty marriage of two great global cultures (Chinese; American) succeeds by being a balanced combination of the two greatest flavors mankind has yet encountered (sweet; sour). Thankfully, Double Barrel is bringing Wing Week to a whole new level by giving us the delectable perfection that is sweet and sour chicken... in wing form. With tender wings that have plenty of meat on the bone, a sticky-spicy-sweet chili sauce that's got real bite, and tender hunks of pineapple, these wings have it all: the heat you crave with all the sweet and sour delightfulness of your favorite Chinese American dish. It's an exquisite balance of everything you could ever want out of a chicken. NED LANNAMANN
Double Barrell, 2002 SE Division, facebook.com/doublebarrelpdx. Wings available Mon-Sat 2 pm-2:30 am.
---
Ex Novo Brewery's "Buffalo Soldiers"
I always wanted there to be something on NE Flint Ave. The peaceful bike street is home to Lillis Albina Park, Harriet Tubman Middle School, and—in the past two years—a beautiful little non-profit brewery, Ex Novo. In keeping with their mission ("Drink beer. Do good"), Ex Novo aims to serve "great food to go with great beer," but only recently moved their friendly pub fare into essential fried territory. For Wing Week, their "Buffalo Solders" are a good 45 percent sauce—a tangy, smoked apple jerk—with a vinegar tang and some habanero heat that hangs around for about 15 minutes like a buddy giving you a spice high-five. The most exciting part of the Ex Novo offerings is, unsurprisingly, the beer: Suggested pairings with these succulent little meat boos are the Jalapeño Cream Ale or the Bourbon Brown. SUZETTE SMITH
Ex Novo Brewery, 2326 N Flint, exnovobrew.com. Wings available Mon-Thurs 3-10 pm, Fri 3-11 pm, Sat noon-11 pm.
---
Fifth Quadrant's "Wing Jong-Un"
Most of the restaurants participating in Wing Week are producing something new and special for the occasion. That's not the case at Fifth Quadrant. Instead, their chef is trusting that customers will be sufficiently wowed by what's already on their appetizer menu: wings covered in either your standard buffalo sauce or a Gochujang Korean BBQ flavor. The good news for this Lompoc Brewing affiliated spot is that both sets of wings are damn tasty. The buffalo sauce avoids all the mouth-singeing qualities in favor of a tangy, sweet flavor. And even better is the Korean BBQ, which uses a sauce that mixes red chili paste with pears. It's a surprisingly great combo that helps emphasize the other ingredients, like ginger and garlic. Sometimes you just don't mess with what works. ROBERT HAM
Fifth Quadrant, 3901 N Williams, lompocbrewing.com. Wings available Mon-Thurs 11 am-midnight, Fri-Sat 11 am-1 am.
---
Kells Brewpub's "Kells Irish Red Ale Wings"
Red ale is delicious. The Irish drink the hell out it, and I order it whenever I'm at Kells, which is why I was excited to learn that the Northwest Portland Irish pub will be sticking with its Irish roots to sling some delicious Irish Red Ale Wings. The centerpiece is the tasty red ale reduction sauce coated on the meaty boneless wings. Kells adds a slight hint of cayenne pepper, which gives it a subtle kick, and sweet brown sugar to add some contrast. The half-dozen wings are served with a side of tasty Irish buttermilk dipping sauce that brings it all together nicely, along with small carrot and celery slices. Chicken wing purists may be thrown off by Kells going boneless, but ignore that nonsense—give these a shot. DOUG BROWN
Kells Brewpub, 210 NW 21st, kellsbrewpub.com. Wings available Mon-Thurs 11:30am-midnight, Fri 11:30 am-2 am, Sat 10 am-2 am.
---
Nepo 42's "Nepo 24"
An acrostic poem: N is for NAPKINs. You will need a lot of napkins while eating these saucy wings! E is for ELINOR JONES, as in Portland Mercury writer Elinor Jones likes these wings! P is for PATIO. This bar has a nice patio. It is a nice spot to eat wings. O is for ORANGE. Your fingers and mouth (and maybe shirt?) may be stained orange by the smoky, kinda spicy sauce, alerting everyone that you've been wings snackin'! 42 is for how many wings you'd like to eat! 4 plus 2 equals 6, which is how many wings you actually get. /endpoetry. But for real, Nepo 42 is not playing with these wings, which they marinate for 24 hours, then smoke, then deep-fry, THEN drench in sauce! The result is moist, flavorful, and appropriately messy, making this chill neighborhood joint a must-visit during Wing Week. ELINOR JONES, POET
Nepo 42, 5403 NE 42nd, nepo42.com. Wings available Mon-Sat 10 am-close.
---
Oaks Bottom Pub's "Lime Curry Wings"
According to the staff of Oaks Bottom Pub—Lompoc Brewing's outpost in Sellwood—their "Wing Night" is one of their most popular ventures. It allows the kitchen to try a bunch of variations on the wing theme. Behold one of the results of those experiments: wings with a coconut curry sauce, which proved to be a huge hit with customers. It's not hard to see why. The pub's yellow curry finds the ideal balance of sweet and smoky, and it's capped off by the salty perfection of the thick chicken drumettes. There's apparently a friendly competition going on between the kitchens of the Lompoc Brewpubs—but with respect to the rest of the gang, when it comes to wings, Oaks Bottom has y'all beat. ROBERT HAM
Oaks Bottom Pub, 1621 SE Bybee, lompocbrewing.com. Wings available Mon-Sat 11am-midnight.
---
Red Star Tavern's "Preserved Pepper Wing"
Contrast is an essential part of the wing experience. When the spicy wing is dipped in bleu cheese sauce, you get two extremes at once: Spicy and mild, hot and creamy. Red Star Tavern has reigned in those opposites with their Wing Week wings, and the result is something nicely complex. These wings are not brute extremes crashing into each other; instead of spicy and creamy merely pushing against each other, they collaborate. Before meeting any kind of sauce, Red Star's wings are braised in pork fat and champagne vinegar, giving them a jolt of richness. After that, they're fried and coated with a Mama Lil's pepper glaze. The wings are then dressed with dill fronds, which gives the whole thing a bit more dimensionality. On top of all that, there's creamy feta sauce. It's still an experience in wing-y contrast, sure, but it's contrast that creates something. JOE STRECKERT
Red Star Tavern, 503 SW Alder, redstartavern.com. Wings available Mon-Sat 11:30 am-2 pm (dining room), 2-7 pm (bar only).
---
Reverend's BBQ's "Wings and a Prayer"
Don't worry, Sellwood. We haven't forgotten about you! Located smack dab in Sellwood's downtown, Reverend's BBQ dishes out delicious soul food by way of light n' crispy, hella juicy fried chicken. For Wing Week, Reverend's will serve a special twist on their sister store Laurelhurst Market's smoked and fried Five Napkin Chicken. This is a great chance to taste the Five Napkin recipe, where organic, free-range wings are marinated in a pepper brine, then smoked, sauced, fried, and served with a side of white gold mustard dipping sauce. Reverend's has no plans to add this item to their menu, but if you get addicted, at least you'll still be able to get your fix up in inner Northeast. SUZETTE SMITH
Reverend's BBQ, 7712 SE 13th, reverendsbbq.com. Wings Available Sun-Thurs 11:30 am-9pm, Fri-Sat 11:30 am-10 pm.
---
Three Degrees' "Chile-Mango Wing"
Given that you live in Portland, Mercury reader, it's unlikely you've been to the Three Degrees restaurant at the Kimpton Riverplace Hotel. You probably don't go to many Portland hotels unless your house is getting flea bombed or you're cheating on your spouse. ANYWAY, for Wing Week, a restaurant you've never gone to is doing some very solid Korean-inspired wings! These fried bird arms are soaked in lime and fish sauce, combining umami with sharp sweetness, and smothered in chili mango sauce. They're topped off with a crunch thanks to peanuts and green onions. And after you're done with the wings and whatever beverage you've paired them with, Three Degrees is right on the waterfront. Which means you can have wings, beer, and a river, all in a single afternoon. Is that not delightful? Folks, that is exactly delightful. JOE STRECKERT
Three Degrees, 1510 SW Harbor Way, threedegreesportland.com. Wings available Mon-Sat 11:30 am-11 pm.
---
White Owl Social Club's "Mr. Nice Guy"
I hope you carry Kleenex in your purse—because you're gonna need 'em once your nose starts running from the spice of White Owl Social Club's Mr. Nice Guy wings! If you have good manners, you'll also want them for your gooey mitts, which will be covered in slightly sweet spices—spices you should really just lick off like you're a famished medieval knight while you eat along to heavy metal in one of the city's most pleasant back patios. Because come on: Life is short, and nothing goes better with a Rainier and a shot of whiskey than juicy chicken-meat with lime, scallions, and a kick of heat at the finish. As an added bonus, you'll probably get to admire other people's cute dogs while you tuck in. Winter is coming with its cold gray freeze! We need to get our sunshiney joys in while we can. MEGAN BURBANK
White Owl Social Club, 1305 SE 8th, whiteowlsocialclub.com. Wings available Mon-Sat 3pm until sold out.