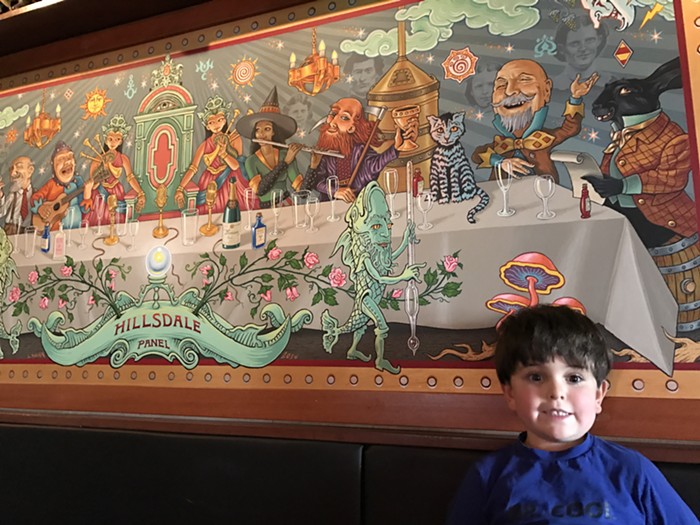 Foreword
:
The current issue's Lush Life column
delves into the world of McMenamins beer. The column as it appears in print was edited from 2400 words down to under 900. Here is the full text—think of it as the Director's Cut.
"McMenamins beer sucks."
"McMenamins food isn't very good and it's too expensive. Plus, ugh, the neglectful, rude waiters."
"McMenamins is for tourists."
"McMenamins doesn't count as an Oregon craft brewery; they're a giant corporation."
Even as threads appeared in response to the print (and "final cut"), a commentator named Michael chimed in that McMenamins is "The Rodney Dangerfield of Oregon brewing." Don commented that, "It's easier to keep a good reputation than to overcome a bad one." While someone on this Reddit thread proffered, "MehcMenamins."
These are things I heard almost every time I mentioned visiting one of the company's 17 brewpubs across the state when I was working on Oregon Breweries (the self-explaining title to my guidebook). No one could deny that many of their properties are awesome renovations of culturally significant buildings: Edgefield's Multnomah County Poor Farm built in Troutdale during the Great Depression, the Grand Lodge preserving the Masonic and Eastern Star Home that opened in Forest Grove in 1922, all the way down to Roseburg Station, the brewpub situated in the repurposed Southern Pacific Railroad depot, built in 1912, that ushers guests back in time via vaulted ceilings with tongue-and-groove wainscoting, not to mention the original urinals in the men's restroom.
OK, so I'm not personally a huge fan of Ruby, the raspberry beer that's still among the company-wide most popular 30 years after it debuted. (If today's beer drinkers want a beer with raspberries, they're probably looking for a Framboise, a barrel-aged wild ale with fresh fruit.) But does McMenamins get any credit for their litany of firsts? The Hillsdale Brewpub was Oregon's first in 1985, thanks, in part, to the brewpub bill that brothers Brian and Mike McMenamin helped draft. Ruby is the heiress of America's first post-Prohibition fruit beer that was created at said brewery and made with wild blackberries growing out back. They were the first brewing company to get a winemaking license in 1990 (by the way, a handful of Oregon breweries now make cider, which requires a winemaking license, and McMenamins was the first to do that, too, since they started in 1992, some seven years ahead of anyone else.) And they started distilling house spirits in 1998.
But this is essentially 2017. The Wright Brothers may have been first in flight, but we wouldn't want to travel in their airplane today. McMenamins doesn't get to rest on laurels. Being a museum isn't enough.
To discuss this idea, I met with Edgefield's brewery manager Matt Bergfield at, of all places, the Barley Mill Pub, which looks and feels like a museum. It's named for the equipment it displays, the mill Chuck Coury used at Cartwright Brewing Co. (1979-1982), Oregon's first post-Prohibition brewery. It also has a constant soundtrack of the Grateful Dead. At the same time, I had a specialty burger of ground pork with a mint sauce paired with a delicious, roasty CDA with minty notes; even here the 21st century makes inroads.
Perhaps nowhere does the company's reputation for making lackluster beer ride higher than in local media outlets, both print and online. Even a voice here at the Mercury recently said, "You won't get an exceptional beer at any of (McMenamins') 65 outposts in Oregon and Washington," after acknowledging that, "The McMenamins chain has gone on to become a Northwest empire, for better or worse (mostly better)."
I'm prone to agree that even mini empires are worse than better. But Stumptown's become a town rife with such empires. This is mostly thanks to Stumptown Coffee's Duane Sorenson, Blue Star's Micah Camden, and Olympia Provisions' Nate Tilden. Top chefs and entrepreneurs get to open three or five restaurants to build on their legacies. Dutch Bros. and Burgerville beget wistful affinity. Yet McMenamins often induces grimaces based on experiences ages old that typically overlap with people's personal craft beer awakenings—the moment they realized not only is there beer better than Rainier, but there's even beer better than a pint of 1991-era Ruby (or 2001 or 2011).
If it's been a decade—or even just a couple years—since imbibing at a "Mc pub," you're justified in not recalling the experience fondly. And no one at McMenamins denies that. Bergfield was hired in 2012 and says the policy of keg costs—keeping the stable of brewers on a budget to secure maximum profit per keg rather than ensuring maximum quality per batch—ended in 2011. There were other company-wide quirks, to put it euphemistically, that prioritized the bottom line instead of top quality. McMenamins was exclusively using Golden Gate kegs, and many are still in use, that is a bit like trying to data process today on an Apple II Plus. These antiquated kegs, unlike modern Sankey kegs, have bungs and therefor can leak and allow the beer to oxidize. "There's a reason people switched," Bergfield understated. Some of the breweries still use Grundy tanks, cheaply made and inefficiently shaped tanks that, no surprise, date back to the Golden Gate era.
Jen Kent, the brewer at McMenamins' Thompson Brewery in Salem, began brewing for the company in 2006. She says, "My brewery was a different creature at the time. She was a hothouse brewery full of heavy procedures, yeasty beers, and temperatures that were hard to control. Our brewing process still held an artful hand that was topped with a keg cost goal... I felt that every year breweries were trying new processes or coming up with new styles of beer. With this growing art we [McMenamins] fell behind the times. We were still working artfully but it was a bit of a struggle."
She adds, "The first big step we did was introduce glycol jackets into all of the breweries. This brought to us way cleaner product and fewer fermentation messes to walk into... So the product is looking better, but still having that struggle to let the public know about all the amazing artistic freedom that we were blessed with. [Around 2012] we changed that. The time had come to refocus on what this group of brewers can do and for them to share this. The keg cost goal was taken off and in its place came four hours of PR instead.
"I enjoy sitting and talking with people who have assumed so much about us. Don't get me wrong, there is a strong group of people knowing what we are doing and giving us kudos for the strong artistry we have always had. But that isn't everyone. I recently had a conversation with a brewer who had no idea that this is how we roll. My favorite part of working for this corporation is that it's a corporation that doesn't fully run like you would expect. There's a rolling current full of creative folks being given the chance to do all of this. These are opportunities that are usually given to long-seasoned veterans of the industry... It still can be frustrating. I was just at an event and approached a table of guys and shared that I was a brewer for McMenamins and had some beers on tap for the evening. I instantly saw the "oh McMenamins" body language come upon them."
Drew Phillips, a brewer at the Crystal Brewery stashed below the Crystal Ballroom's famous bouncy, "floating" dance floor, waves it off, saying, "When the economy recovered we licked our wounds. Our beer landscape changed. Now we can compete."
As a metalhead, Phillips also adds a scrappy twist old-school beer fans might enjoy. The outdated brewing and kegging equipment is "the difference between sloppy punk rock and technically clean heavy metal. We're using old, retrofitted equipment. Reclaimed Golden Gates would've been in a landfill now. The kegs have been in service since Schlitz and Heileman's era."
Just like we don't give McMenamins a free pass for what they did 30 years ago, nor should we continue to ding them for past errors. They've installed those glycol jackets to effectively adjust and regulate tank temperatures, thereby escalating themselves from the echelon of entry-level home brewer. They've modernized and standardized their water. And, as Bergfield notes, they've bought pH meters to distribute to the brewing staff. "We have a lot of catching up to do from that Dark Age," he adds.
McMenamins brewers have certain limitations, including lacking the traditional brewing backgrounds and education that many professional brewers have. And the company's fiscal efficiency notoriously hinders running state-of-the-art operations. But their flock of brewers have access to certain resources that other brewers pine for—synergistic resources. If someone wants to make a coffee beer, they just put in an order for beans from their own house roastery, which is pretty fun. And of more interest to beer geeks, the brewers can get freshly emptied oak barrels that held Zinfandel or Zin port, pear brandy, or any of the spirit casks including various whiskeys in the double digits hailing from two separate distilleries (Edgefield and Cornelius Pass Road, or CRP). Hogshead Whiskey is their most popular. But the once-a-year release of Devil's Bit, perhaps the best Oregon-made whiskey—since it spends more time in charred oak than nearly any other Oregon craft whiskeys at this point—makes for a coveted cask for maturation. Just think about Pappy Van Winkel 23-Year Bourbon being insanely more expensive and hard to find than Elijah Craig 12-Year Bourbon. It's the same stuff made at the same Buffalo Trace Distillery in Kentucky, just barrel-aged longer. Edgefield distillery manager Clark McCool had told me that 100 percent of barrels stay within the company, but Bergfield more recently disclosed that Culmination Brewing came into some of these vessels as a favor to brewer Shaun Kalis (who also operates his own itinerant brewing company, Ruse), who used to work at McMenamins, although not in a brewhouse.
Here's the thing. McMenamins' beers are good. Not "good enough." Not "good for McMenamins." Good.
And yet last month, to commemorate the McMemanins 23rd Avenue Bottle Shop (the Belmont Station of Slabtown in Northwest Portland that no one seems to know about), they released Bottle Shop Birthday Reserve No. 1. A total of 22 cases were delivered of this golden ale blended with a peach saison, funkified via mixed culture fermentation, aged in McMenamins Hogshead Whiskey Barrels (since they're one of the very few alcohol companies that can age their own beer in their own spirit barrels). The result would've been right at home on the tap list of the Commons' fifth anniversary a few weeks ago, but roughly half of the bottles still remain on the shelves. No, it's not as magical as the Great American Beer Festival winning sour peach beers that earned the Commons and Great Notion accolades last October (it could use more peach fuzz for one, but the oaky complexity is there). Credit for these creations belongs partly to our access to great ingredients like local hops and fruit, largely to the availability of house casks, but mostly to the various brewers themselves.
A few years ago, during an interview with Brian McMenamin at their Chapel Pub on North Killingsworth, he told me, "We have a great legacy of our ex brewers out there in the Oregon industry and beyond." Which is why the core four beers—Ruby, Terminator Stout, Hammerhead Pale, and an IPA—don't really begin to tell the story. Brian pointed out that there are over 100 different beers on tap each day across the chain of McMenamins pubs. Crystal has an English focus, but Phillips also makes interesting herbal and tea beers. Kent at Thompson experiments with yeast strains like her sake-yeast-fermented black ale. The Concordia Brewery at the Kennedy School nails big, Pacific Northwest beers like Double IPAs. At West Linn, brewer Jacob Wilson always has three fruit beers on. (At press time that meant a mango cream ale on nitro, a blueberry stout, and a orangy-lemony wheat beer.) Meanwhile, Edgefield always has something barrel aged, with a new barrel release the first Thursday of each month.
Over the last 30 years several McMenamins brewers have gone on to found their own breweries. Legendary Oregon brewer John Harris (Deschutes, Full Sail, Ecliptic founder) was among the first at the Hillsdale Brewery back in 1986. Fort George co-founder Jack Harris (no relation) is another. So is Burnside's Adam McAdam, Two Kilt's Alex McGaw and Portland U-Brew's Jason Webb. Additionally, House Spirits Christian Krogstad and Bull Run's head distiller Lee Medoff are McMenamins alumni.
You don't just enjoy great beer from former McMenamins brewers. For the last three years, their Lord of Misrule has become a crowd favorite at the Holiday Ale Fest. This year's rendition—it's made exclusively for the fest and changes every year, but is always inspired by hot cocktails—was modeled after Irish coffee. A high gravity Irish stout, made with lactose to give it some creaminess, dark sugar for residual sweetness, and cocoa nibs (for chocolatiness), went into a McMenamins rum barrel last March along with some of their house cold-brewed coffee. I personally think the chocolate came through the most, but in a year with some hot messes, it was one of the best beers at the Holiday Ale Fest. Last year's imperial nut brown with hazelnuts and cocoa nibs, also aged in rum, was tasty as hell. The first version, designed by Drew Phillips at Crystal but brewed at Edgefield, was inspired by Mexican mochas and an imperial porter augmented by nibs, cinnamon sticks, vanilla beans and some whole, organic habaneros, then split and aged in whiskey and rum barrels before blended back together.
So, yeah, while I've personally never experienced bad service at a McMenamins pub, it's not like anywhere here is renowned for its wait service. And the burgers do range from $9-14 but they also come with those tasty tots, and that price point's in line with every other brewpub from Burnside to Fat Head's (an Ohio chain that happened to drop anchor in PDX). Add in the ambiance and amenities from movie theaters to soaking pools and it's just bizarre what a bad rap they often get. But still, it's about the beer. I'm not saying Hammerhead is on par with Double Mountain Vaporizer or that their IPAs hold a candle to Breakside's, but they maintain the Portland standards of quality. I've heard they've even made a sour Ruby, but that's too odd for Ruby drinkers and too Ruby for sour beer fans. Maybe it's a good time to see what's on tap at Edgefield, or Crystal, or Concordia. Those campuses are fun and funky, and with myriad bars to choose from, they're just three of the pubs I'd most recommended to check out and see what McMenamins beers have become since your last visit, possibly half a decade ago.