Kachka exploded onto the national food scene in 2014, totally revolutionizing what Portlanders thought Russian food could be. The restaurant's Herring Under a Fur Coat—vibrant beets atop pickled herring, peas, potatoes, onions, carrots, egg, and mayo—inarguably ranks among the the city's most iconic plates.
Sponsored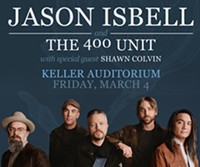 Jason Isbell has established himself as one of the most respected songwriters of his generation. Don't miss Jason Isbell and the 400 Unit, March 4th at Keller Auditorium!
Four years and untold barrels of horseradish vodka later, owners Bonnie and Israel Morales have expanded their Russian empire with the opening of a new Kachka in the Southeast Goat Blocks.
Located in a newly constructed building, there's much more light and airiness to Kachka 2.0, with lots more seating and even the ability to make a reservation. The menu is larger, the dishes more ambitious, and the price point higher. Far more than the original, convivially cramped quarters on Southeast Grand, the new Kachka is a special-occasion spot, meant for birthdays or parental visits.
Meanwhile, the original space is now named Kachinka, with happy-hour level prices and a more raucous vibe. It's where you bring your drinking buddies. Cocktails top out at $9, the wonderful pork, beef, veal, and onion dumplings are a full $4 less than at Kachka ($9 vs $13), and the music is as loud as ever. Even on a Tuesday, the wait at 7 pm was about an hour; some things never change.
A few classics—the $30 zakuski experience or that Herring Under a Fur Coat—are now Kachka exclusives, but new plates have come in their place. The Red October meatball sub (get it?) plops fat lamb, beef, pork, and rice meatballs into a soft baguette and slathers it in Russian cheese for $10. The Vladimir Poutine ($14, and not to be confused with Bar Maven's offering with the same name) is a rich, vegetarian-friendly pile of fries slathered in mushroom gravy and walnut adjika (think a walnut paste) and smoked sulguni cheese.
Our four-top got dumplings, a drinking board full of meats and cheeses, two kinds of sea snacks (fish with bread—don't miss the cured Crimean-style mussels with pumpernickel toast for $5), two large carafes of horseradish vodka, a sub, and poutine for $85 before tip, and left full.
I'm going to contrast this with a lunch for two that rang up at $63 at Kachka. We ordered four plates to share, a non-alcoholic soda with Seabuck berries, and a single shot of horseradish vodka, and left a bit underwhelmed. At lunch, there isn't the same raucous vibe (or crowds) as at dinner, and the experience was too spendy and too flat.
Lunch does give you the best chance to try their blini: thin, yeasted crepes hugging fillings that range from beets to veal. My favorite is also on the dinner menu: the Caesar blin ($9), advertised as "our take on Moscow's take of Mexico's take on salad." With deep fried Baltic sprats added for $2, it's a tasty, savory crepe popping with salty cheese and fish. It's early days, but Kachka lunch could be better served by maybe offering some of the lower-cost sandwiches and plates that are now at Kachinka.
Dinner at Kachka is still a total blast, I'm happy to report, and there're lots of tasty new tidbits that really let Bonnie Morales create a few new Portland must-haves. Among them were the duck Olivier ($9), a potato salad with duck confit and crispy skins on top is (dare I say it?) better than that Herring Under a Fur Coat.
The hot zakuski also got a makeover: A deep-fried lamb kufta meatball ($10) called "the Armenian gusher" on the menu delivered as promised, spurting tart plum sauce from within and creating a well-balanced bite. The Imerulian Kachapuri ($11), promised as a cross between a Crunchwrap and a cheese calzone, is one of those comfort dishes that should always be ordered. Fluffy dough surrounds smoked sulguni cheese and herbs—pulling a slice off the plate is like going home to grandma's house.
The new skewers section can be skipped: a $14 kefir-marinated chicken thigh skewer was serviceable but forgettable, and the $10 whole baby eggplant was charred to inedibility on the outside yet somehow still too hard and underdone to eat on the inside.
Fast forward to dessert instead, where treats like a delicately layered chicory and chocolate cake—a superb way to cut the monotonous richness that plagues many a chocolate cake—wait to be shared with a friend or loved one and chased with a beet-infused Fernet shot.
Morales has got imagination for days—she recently put caviar on a Cool Ranch Dorito for a Feast event... and it totally worked! Having two kitchens in which to work her magic is nothing but a net positive.