I've never taken a cruise, but I imagine that it must be like a meal at Can Font, the new Catalan-influenced vessel moored at the northern edge of the Pearl District: relaxing and glossy, but ultimately unchallenging and not the best way to get to know the lay of the land.
It's an ephemeral experience that leaves an eater mostly with pleasant feelings, but not much in the way of actual memory. Case in point: I texted a friend who I took to dinner there in mid-October and asked what her lasting impression was. Her reply: "Very positive," but "I honestly can't remember any specific dishes."
We both agreed the sangria ($10) is lovely and memorable. Get at least two of this red wine classic, mixed with brandy for a spice-infused drink that's a true winter warmer, despite being served cold and infused with tropical fruit. Just be sure to skip the too-sweet white sangria ($12), made with Cava and Chambord.
The cozy sangria is a great way to ease into the large, open space at the base of new high-end condos. It's cavernous, and after the open kitchen gets humming and tables fill with a mixture of older diners in sweaters and younger Pearl-ites, it can get loud.
As for the food, I will say that nothing we tried on Can Font's menu was bad. However, dishes could be sparse—like the Vieires amb Pop Poelé, which is apparently Catalan for five mid-sized scallops and part of one octopus tentacle artfully arranged on a plate with a puree of peas for $35.
Plates also veered toward aggressively bland, despite big-name ingredients. Can Font likes to tout its Canelons Trufats—four small pasta rolls filled with the turducken of Spanish cuisine: chicken, beef, pork, foie gras, and black truffle, topped with Parmesan and Ementhal cheese ($16). Both times we tried them, the too many meats, rich additives, and cheeses ultimately made for an indistinctive bite. The pork loin ($34) was tender, but the pat, peeled vegetables, lack of distinct flavors, and brown wine sauce gave it a definite Royal Caribbean vibe.
In fact, our experience says stay away from the entrees altogether, and choose wisely from the starters and paellas. Spanish fritters of Iberico ham were crunchy on the outside, gooey and salty inside, lined up in a row of six on a bright splash of orange piquillo sauce ($8). Grilled bread with tomatoes ($4) was simple and laden with good olive oil, and a mixed greens plate with gorgeously layered and crisped potatoes popped ($12) with vinegar and sharp cheese.
Along with Jose Chesa's beloved Ataula, also in Northwest Portland, Can Font is the only other Spanish restaurant to have a portion of the menu dedicated to paella, the rich, saffron and seafood-laden rice dish indigenous to eastern Spain. While not strictly a Catalan specialty, it's damn good when done right.
Intended for two or more people, Can Font's paella arrives in the signature two-handled shallow pan, and is the real highlight of what the kitchen can do. While we never got a perfect layer of crusty socarrat, that satisfying crust on the bottom that comes from the rice being cooked over open flame, the other hallmarks of a good paella were there.
The squid ink paella is a showstopper—Acquerello rice permeated to a deep black, bursting with cuttlefish, clams, mussels and shrimp ($25 per person), served with a dish of aioli so garlicky and creamy that a small dab goes a long way. The Paella de Peix ($24 per person) was impressively flush with fish, and achingly rich—just missing that socarrat.
The vegetable paella lacked depth and was over-salted, but the roasted seasonal veg and romesco sauce ($22 per person) was crisp, bright, and done right. Pro tip: While not advertised, you can request paella for one with a $4 upcharge (they'll do this for vegetarians always and for other paellas if the ovens aren't too full).
At dessert, you'll do fine as long as you do not order the bizarre $10 carrot cake with matcha puree—three small bites of dry cake on a paintbrush swipe of sauce and weird dollops of mousse.
At first, the superficial experience at Can Font seems strange, considering the original is Michelin-recognized and hails from outside of Barcelona. Then you remember that in Spain, their focus is on big celebrations—think steam pans and buffets that must appease the tastes of all comers. Then you'll realize Can Font is all about selling the experience, if not the genuineness.
Sponsored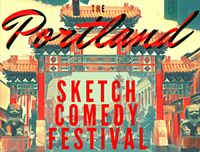 Sketch comedy troupes from all over N. America descend on The Siren Theater for 3 glorious nights.