WEDNESDAY 4/20
THE FIRST ANNUAL SMOKEY DA BEAR 4/20 HIP-HOP FESTIVAL: MIC CAPES, MIKEY VEGAZ & FLIBOIMOE, 2REPS, STEVO THE WEIRDO, CHRIS LEE, RISKY STAR, JUMA BLAQ, TEZ MCCLAIN, SAMUELTHE1ST, ILLMACULATE, DJ FATBOY
(Ash Street Saloon, 225 SW Ash) Hip-hop and weed don't have to go together, but it's never a bad combo if you ask me. This new festival features scene-leader Mic Capes, who headlined Portland's first Hip-Hop Day this year and lately has teased the release of his forthcoming message-heavy album, Concrete Dreams. 2Reps is another big draw on this bill, since they'll undoubtedly play "I Just Wanna Smoke," a Snoop Dogg-approved anthem for tree-lovers. But Stevo the Weirdo might just be Portland hip-hop's most beloved stoner—especially after smoking out fans with 50 hand-rolled joints after the Thesis show earlier this month. The Portland rapper released a slew of dope-oriented tracks in 2015, including the vibe-friendly "Bong Rips" and bangers like "Got Damn," a track that came in handy while opening for Vince Staples. If you're looking for a way to celebrate the first post-legalization 4/20 holiday (other than your usual after-work burn), Ash Street Saloon is sure to be literally lit. JENNI MOORE Also see My, What a Busy Week!
COURTNEY BARNETT, ALVVAYS
(Crystal Ballroom, 1332 W Burnside) Dreamy pop quintet Alvvays taps into that sweet and terrible teenage feeling: Being at once a maniacally hopeful romantic and a sickeningly cynical cigarette-sucker. If Alvvays is the kid sibling on this bill, Australian musician Courtney Barnett is the chill older sister who's familiar with melancholy but knows how to take the punches. In last year's Sometimes I Sit and Think, and Sometimes I Just Sit, she tackles life's mundane crap and heavy shit with a wry sense of humor. Her blend of groovy '60s pop with '90s slacker rock is the perfect vessel for her deadpan lyrics—it gets you right in that "Life's Shit but Let's Fire Up the Barbie" mood. FIONA GABRIELLE WOODMAN
Sponsored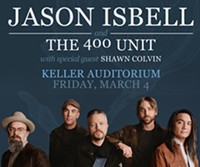 Jason Isbell has established himself as one of the most respected songwriters of his generation. Don't miss Jason Isbell and the 400 Unit, March 4th at Keller Auditorium!
LAURA VEIRS
(LaurelThirst Public House, 2958 NE Glisan) As far as I'm concerned, Laura Veirs has the voice of an angel—her folksy-centered songs are the stuff of summer evenings, porch drinks, and languid days spent outdoors. To simply label her a singer/songwriter, as some have, feels grossly inadequate. Over a 15-year music-making career, Veirs has quietly excelled in writing warm, textural songs that negotiate the balance between whimsy and primness. The ease in her albums feels decidedly worked-for, but not overdone. Did I mention she has the voice of an angel? Gearing up for a summer on the road in support of her latest joint effort—a collaborative album made with Neko Case and k.d. lang (case/lang/veirs)—this run of happy hour shows at LaurelThirst presents a not-to-be-missed opportunity to see Veirs in her solo element. JENNA FLETCHER
THURSDAY 4/21
FRIGHTENED RABBIT, CAVEMAN
(Wonder Ballroom, 128 NE Russell) Read our story on Frightened Rabbit.
THE FIRST ANNUAL SMOKEY DA BEAR 4/20 HIP-HOP FESTIVAL: BAD HABITAT, MANIAC LOK & DREA STEVES, BROOKFIELD DEUCE, AL-ONE, THE REMEDY, KING LEEZ, T. DOT TYME & PROSPECT, D-3, PRINCE HYPH, YUNG ROBY, STEVO THE WEIRDO, DJ FATBOY
(Ash Street Saloon, 225 SW Ash) The second night of this hip-hop fest will feature experienced Pacific Northwest emcees like King Leez (Tacoma) and D-3 (Portland), but also adopted Portlanders like Oakland rapper Brookfield Deuce. Dame Lillard's cousin has established quite a presence in Portland over the past year, and has stuck around for up to a month at a time—energizing crowds with his Bay Area sound at gigs like "We Take Holocene II," a "Winter Warming" show on Mt. Hood, and a concert presented by TNO Entertainment at Hawthorne Theatre, to name a few. In addition to taking every opportunity to collaborate with local artists like Samuel the 1st ("Inner City Blues"), and raffling off super-fresh Adidas swag, Brookfield is known for summoning Dame Dolla to the stage to perform his verse from the "I Wish I Could Tell You (Remix)." We can only hope we're present the first time they perform "They Sleep" together live. JM Also see My, What a Busy Week!
MIND OF EVAN: THIRD ANGLE
(Studio 2 @ Zoomtopia, 810 E Belmont) Evan Kuhlmann's day job—playing bassoon for the Oregon Symphony—allows him to dig deep into the classical canon on works like the season finale performance of Mahler's Symphony No. 3. But Kuhlmann himself leans toward more modern fare—pop hits of today and the work of 20th century composers. All of those interests come together as part of Third Angle's Studio Series with a show he's organized called "Mind of Evan." On the docket is a solo bassoon rendition of Steve Reich's knotty Electric Counterpoint, a piece by Frank Zappa, and new work written by Kuhlmann for bassoon, double bass, and percussion. ROBERT HAM
FAT WHITE FAMILY, DILLY DALLY
(Doug Fir, 830 E Burnside) Fat White Family's vibe feels similar to that scene in Quentin Tarantino's Pulp Fiction when Mia Wallace snorts Vincent Vega's heroin thinking it's coke. Something about the creepy lounge lizard electronics on the band's track "Auto Neutron" reeks of Pulp Fiction's unblushing love of coke-fueled '70s nostalgia. But while Vega and Wallace are generally sympathetic characters, thrust into a nightmarish situation with Wallace's accidental overdose, Fat White Family's members are legitimately unrepentant assholes. Just see their Facebook post directed at Mac DeMarco—calling it a beef, or even a controversy, would be disingenuous to DeMarco. Fat White Family's extremely unfunny joke, where they threatened to join ISIS if DeMarco doesn't stop making music, came after he declined to play with them on David Letterman. They are totally disrespectful (and moronically unclever), and either like DeMarco's music and are responding with preschool playground vengeance, or never liked him and were just trying to leech off his popularity. CAMERON CROWELL
STUMPFEST V: TORCHE, THRONES, GAYTHEIST, HOUSE OF LIGHTNING, HUMOURS
(Mississippi Studios, 3939 N Mississippi) Beyond the chugging, chromatic riffs and open C guitars, Miami's Torche are hardly a metal band. The group—whose members played in a variety of bona fide metal bands before converging as Torche—lather tuneful, vocal-heavy indie rock with a sludgy veneer, effectively making music that appeals to every category of rock dork. The synthesis is most apparent on 2012's Harmonicraft, a collection of concise power-pop nuggets that evoke Guided by Voices and Kyuss in equal measure. Torche's new album Restarter—their first in three years—is a more subtle and decidedly heavier affair than Harmonicraft, but the unabashed pop influence is still apparent on songs like harmony-laden opener "Annihilation Affair" and "Minions." MORGAN TROPER Also see My, What a Busy Week!
FRIDAY 4/22
CANDI POP: SPICE GIRLS EDITION
(Holocene, 1001 SE Morrison) See My, What a Busy Week!
STUMPFEST V: HELMS ALEE, BLACK COBRA, NORSKA, LIFE COACH, CHRON GOBLIN
(Mississippi Studios, 3939 N Mississippi) See My, What a Busy Week!
MIND OF EVAN: THIRD ANGLE
(Studio 2 @ Zoomtopia, 810 E Belmont) See Thursday's preview.
FEDERALE, THE SHIVAS, HICKORY JUSTICE
(Dante's, 350 W Burnside) The pivotal moment of what's arguably Sergio Leone's best spaghetti western, The Good, the Bad, and the Ugly, comes when Clint Eastwood (the Good), Lee Van Cleef (the Bad), and Eli Wallach (the Ugly) face off at high noon in the center of an old graveyard. Their unremitting gold lust is palpable throughout the nearly six-minute standoff, though as pressure builds, sweat rolls off their brows and their eyes flit wildly at both opponents. While it's one of the greatest scenes in film history, it'd be nothing without Ennio Morricone's haunting, gracefully tense score. Morricone revivalists Federale unabashedly (and successfully) imitate the masterful composer's seemingly effortless ability to create dusty, goosebump-inducing symphonies of coyote yelps, gunshots, and lonesome whistling. The Portland band's albums soundtrack their own imagined westerns, but their last release, 2012's The Blood Flowed Like Wine, was used to score parts of Iranian vampire thriller A Girl Walks Home Alone at Night. CIARA DOLAN
CROWN LARKS, HAVANIA WHAAL, GALAXY RESEARCH
(The Know, 2026 NE Alberta) Harmony and chaos converge in Crown Larks' experimental free jazz/avant-rock, swirling like oil in water. They follow in the great tradition of many Chicago artists hell-bent on obliterating the blueprints of freeform sound, like Joan of Arc, American Football, and any band that includes one of the Kinsella brothers. On their 2015 debut, Blood Dancer, Crown Larks branch out in cosmic lurches, fusing multi-instrumental strokes of psychedelic ooze atop groovy progressions. A polyrhythmic masterpiece, the LP gorges itself on a steady diet of piano, clarinets, flugelhorn (yes), saxophones, guitars, and pretty much anything else they can get their grubby hands on. Standout track "Defector" opens with a heartbeat-like low-end leading the way, followed by a cavalcade of splashy cymbals, pianos, and wild bird noises. Six minutes later you're wondering what the hell it was you just listened to and where you can find more of it immediately. RYAN J. PRADO
APPALACHIAN YARD ART, BUTTERFLY, THE VERY LEAST
(Turn! Turn! Turn!, 8 NE Killingsworth) Appalachian Yard Art's steady output of lo-fi psych-folk and noisy garage rock over the last few years holds the potential of someday sitting next to artists like Orange Cake Mix, Natural Snow Buildings, and Sentridoh in the hall of fame for prolific oddball home recording projects. The highlight of the group's already vast catalog is 2013's Green Glass, an album that sounds vaguely like Vee Vee-era Eric Bachmann singing over a Syd Barrett instrumental. A complex curiosity, precise in its imprecision, Green Glass simultaneously feels like a carefully thought-out mini-epic and a complete accident. It isn't music that translates into an instant fanbase or an easy home in the Northwest music scene, but to some it will surely make sense—a comforting, familiar strangeness that could one day be cultish. JOSHUA JAMES AMBERSON
SATURDAY 4/23
STUMPFEST V: YOB, SAVIOURS, IDES OF GEMINI, EMMA RUTH RUNDLE, SOL
(Mississippi Studios, 3939 N Mississippi) See My, What a Busy Week!
DEJ LOAF, LEEKDABARBER, BONAPHIED, PRODIGA1, KODY
(Roseland, 8 NW 6th) Read our story on Dej Loaf.
ANCIENT HEAT, MOTHERTAPES, LEO
(The Secret Society, 116 NE Russell) Ancient Heat's music sounds like the band's members intimately studied communal dance magic, then cooked up a timeless post-polyester vision of love served on a plate of four-on-the-floor bass drums. Throughout the Portland group's long-awaited self-titled album, throbbing, organic rhythms clash with decadent synthetics to create a delightful document of neo-disco ecstasy. Ancient Heat approach their production with an academic mindset that meshes the delicious campiness of Cerrone's luscious organics, the coolness of Larry Levan's optimistic productions, and the spaciness of Giorgio Moroder's futuristic sheen into one cohesive palate. At their shows these ambitious renderings are visceral, with a soul siren attack ushering you into the front seat of a purring sound machine outfitted like a classic "Rose" Royce. CHRIS SUTTON
SIMONE LAMSMA, OREGON SYMPHONY
(Arlene Schnitzer Concert Hall, 1037 SW Broadway) Whether it's for tonight, tomorrow, or Monday, please consider snatching up some tickets to the latest kickass program the Oregon Symphony has lovingly compiled. After welcoming the crowd with an overture from quirky Danish composer Carl Nielsen, our hometown orchestra presents the thoroughly intriguing Symphony No. 1 in F minor by Dmitri Shostakovich—a paranoid artist seemingly always ready and able to creep out the unsuspecting listener with his peculiar, tortured soundscapes. What follows after a well-deserved intermission, hyperbole aside, is quite simply one of the greatest pieces of music one could ever hope to witness live and unplugged: the singular violin concerto from the unfailingly fabulous Tchaikovsky, performed by virtuosa Simone Lamsma with her magical Stradivarius. Stirringly triumphant orchestration? Heart-melting lyricism? A jaw-dropping cadenza? Check, check, and check. BRIAN HORAY
BLACK MOUNTAIN, MARISSA NADLER
(Doug Fir, 830 E Burnside) Black Mountain owes a great deal to "classic rock" of yore—Zeppelin, Rush, Floyd—but the Vancouver, BC band pushes those influences into the 21st century. Their latest record, IV—itself a nod to ring-worn LPs—is Black Mountain's best, a textural psychedelic trip that takes short detours into prog and heavy rock territory. It's no easy feat for a band to ride their influences so hard without sounding... well, exactly like their influences, but Black Mountain charts their own course. Hopefully in the live setting the band breaks out a full laser show, but that'd just be aping the past. I'd expect some sort of visuals—whether or not they come from the stage or from your brain remains to be seen. MARK LORE Also see My, What a Busy Week!
THE SNAKEBITES, PROM QUEEN, SLUTTY HEARTS, LAURA PALMER'S DEATH PARADE
(Kenton Club, 2025 N Kilpatrick) Just months shy of the surprise release of Beyoncé's self-titled audio-visual album in December of 2013, another video album was crowd-funded to life: Midnight Veil, the project of musician and filmmaker Celene "Leeni" Ramadan of Seattle's dreamy Prom Queen. The nearly hour-long epic follows a genie's lamp through a highly stylized work reminiscent of Lynchian noir. Slow burning, Prom Queen's music is a treat of the senses, fusing lounge-y, Nancy Sinatra-esque tracks with the spice of Seattle's prominent rockabilly and burlesque scene. Prom Queen is haunting, raucous, and sensual onstage, calling to mind the captivating heroines of James Bond films. Ramadan is now in the studio recording her third full-length at Seattle's Ground Control Recording, and while details about the forthcoming release are still under lock, maybe if we're lucky we'll get a taste at tonight's show. JENI WREN STOTTRUP
LYRICS BORN, SPEAKER MINDS
(Star Theater, 13 NW 6th) Master emcee Lyrics Born has been making noise in the rap underground since the early '90s, when he was rolling with Solesides, a California supercrew that also included fellow brainiacs Blackalicious and DJ Shadow. In 1998, Latyrx—his partnership with Lateef the Truthspeaker—released "Lady Don't Tek No," a banger that bounced with such an infectious swing that true rap fanatics have since been taking notice. A prolific career filled with tons of collaborations (see his multi-volume Variety Show series) and solo records on respected labels like Epitaph and Quannum followed, with the best moments from these likely to be included in a new retrospective compilation entitled Now Look What You've Done, Lyrics Born! The release of a project like this is certainly cause for celebration—tonight the Star Theater will buzz with soulful beats, intelligent lyrics, and well-deserved accolades. CS
SUNDAY 4/24
SLOAN
(Doug Fir, 830 E Burnside) If you pushed me to the end of the plank and forced me to choose between the two best songs ("The Good in Everyone," "Everything You've Done Wrong") on one of the best power-pop albums ever—Sloan's 1996 masterpiece One Chord to Another—I couldn't do it. I'd rather swim for my life. The former is a punchy garage-rock anthem that pairs a few chords with a soaring chorus, achieving rock 'n' roll perfection in under two minutes. The latter is a bouncy soul-pop song heavy with handclaps, glorious horn parts, and a melody that sounds like it dropped straight from heaven into Patrick Pentland's head. If this all sounds like hyperbole, that's okay: These two songs are that great. And the rest of One Chord to Another is good, too. To celebrate its 20th anniversary, Sloan will play the whole album tonight. Be there! BEN SALMON
WINE + COFFEE, DONORMAAL, RAVEN MATTHEWS, OCNOTES, SNUGSWORTH
(The Know, 2026 NE Alberta) Equal parts Old Grape God (Wine) and EYRST's Ripley Snell (Coffee), Wine + Coffee is something like an improvisational hip-hop and R&B conceptual art piece—that is, if you dare label the project. There will be painting, rapping, a little freestyling, some singing, and some percolating. A solid trio of Seattle emcees will open for the Portland duo: DoNormaal raps over cloudy, dark, ethereal trap beats, and recently released her debut, Jump or Die; Raven Matthews brings his humorous, distinctive lyricism with tracks off his new project Disco Christ; and prolific producer/rapper OCnotes (Black Constellation), who tends to stray away from samples, mixes and raps over his own blend of jazz, funk, soul and gospel. SKYLER WALRATH
THE RENDERERS, THE LAVENDER FLU, SLEEPING BEAUTIES
(Mississippi Studios, 3939 N Mississippi) For just five bucks, tonight's show is an absolute steal. Portland's Sleeping Beauties—drunkenly captained by the Hunches' ferocious former frontman, hobo-poet Hart Gledhill, and fueled by Eat Skull's tune-stretched guitar cabal of Rob Enbom and Rod Meyer—will soon release their In the Red Records debut. It's a gnashing, seminal reckoning—a peeling scab and sociopolitical screed taunted by death and class, and sprinkled with white drugs. It's the punk album America needs to hear and won't be able to stomach. The Lavender Flu, with former Eat Skull bassist Scott Simmons backing Hunches songwriter Chris Gunn, are similarly raw, yet more ponderous and pensive. They just dropped Heavy Air, which the New York Times' Jon Pareles christened "stubbornly unpolished, unhurried, often phantasmagoric." Then there are the Renderers, New Zealanders by way of LA and alumni of Flying Nun's cult of clean, warbling, outsider pop. ANDREW R TONRY
MONDAY 4/25
M83, YACHT
(Roseland, 8 NW 6th) See My, What a Busy Week! and All-Ages Action!
LÅPSLEY
(Doug Fir, 830 E Burnside) Diacritical characters in stage names are the hallmark of faux-Scandinavian chic. And as it were, British newcomer Holly Fletcher's moniker Låpsley jumps on the same bandwagon as BØRNS or even Häagen-Dazs ice cream. With her use of pitch-dropping vocal effects, Låpsley sings both sides of shadowy, gender-ambiguous duets that resemble those of Swedish duo the Knife. Tracks like "Hurt Me" or "Falling Short" hold a grudge lyrically, but Fletcher's classical range and tough Liverpudlian accent combine for an R&B feel influenced by Grimes, but aiming at post-dubstep Adele. At 19, Fletcher is already signed to Adele's label after the UK diva attended an earlier gig. Watch out Addie, this one's got pipes and can't even drink on tour in the States. MATT CARTER
HIGH-FUNCTIONING FLESH, BODY OF LIGHT, ADHERE TO FORM, ASSS
(Lovecraft Bar, 421 SE Grand) Self-described "electronic body mutants" Greg Vand and Susan Subtract (a former Portlander) formed High-Functioning Flesh after years spent in weirdo punk bands like Francis Harold, the Holograms, and Branes. Heavily informed by early industrial groups Portion Control and Cabaret Voltaire, as well as the avant-garde politics of the Situationist International, their visceral and body horror-obsessed take on electro-punk translates to a high energy and potent live show, with Vand's stoic synth stabs a stark contrast to Subtract's frantic dancing and ritualistic vocals. Tempe's band of brothers Body of Light make melancholy but uplifting synth-pop, while local duo ASSS bring their not-to-be-missed, clanging experimental techno to the bill. DANIELA SERNA
TUESDAY 4/26
M83, YACHT
(Roseland, 8 NW 6th) See My, What a Busy Week! and All-Ages Action!
SHEER MAG, PUBLIC EYE, ANDY PLACE AND THE COOLHEADS
(Mississippi Studios, 3939 N Mississippi) Read our story on Sheer Mag.
THE 1975, THE JAPANESE HOUSE, WOLF ALICE
(Arlene Schnitzer Concert Hall, 1037 SW Broadway) Portland author Mo Daviau's latest book Every Anxious Wave is about time traveling through a wormhole to see classic bands play concerts of the past. It's as if chart-topping English band the 1975 have such a wormhole on their tour bus. Heavily influenced by '90s pop and R&B with a rock 'n' roll attitude, you'll also recognize the blue-eyed soul of the Style Council, ABC, and (weird hairdos included) Kajagoogoo. Touring on the success of the clumsily titled hit record, I Like It When You Sleep, for You Are So Beautiful Yet So Unaware of It—oh, how tween hearts melt with that name—the 1975's synth-soul grooves are heavily focus-grouped to get middle managers rocking in their Dockers. While aiming for world domination, the 1975 is essentially a boy band play-acting the English-style guttersnipe bravado of Johnny Rotten or the Gallagher brothers. WILLIAM KENNEDY
KOOL KEITH
(Star Theater, 13 NW 6th) Kool Keith unceremoniously announced his retirement from rap with his 13th(!) studio album, 2012's Love & Danger. But, like pretty much everything else Keith has ever said, it was of course complete bullshit. Indeed, in the four years since "retiring" from rap, Keith has released five studio albums and four mixtapes to little fanfare. But he's never been concerned with commercial viability, and to all appearances does everything he can to avoid it. Throughout his 30-plus-year career, Keith has taken many, many aliases—Dr. Dooom, Black Elvis, Mr. Nogatco—though he's best known for his 1996 collaboration with Dan the Automator, Dr. Octagon. Say what you will about the man, but Kool Keith remains one of hip-hop's most consistent (and most eccentric) artists. SANTI ELIJAH HOLLEY Also see My, What a Busy Week!