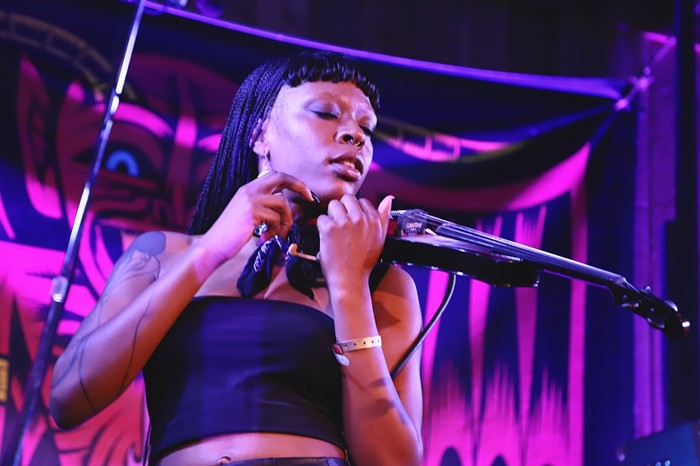 This year, Pickathon turned the ripe age of 21, and as far as I know, absolutely everyone had a fun and safe time and absolutely no one threw up. We saw acts we new would be great, discovered some new ones, ate good local food, religiously used our reusable cups and plates, and embraced the sweatiest weekend of the summer. To be honest, Pickathon should probably be a model for the way all music functions function in the future. Here are the
Mercury
Pickathon Veterans' favorite moments from this year's fest.
---

On Friday night—after eating a delicious bowl of Korean tofu, rice and salad from the Ate Oh Ate food cart—I was feeling the onset of a case of the Itis. And then, just after sundown, instrumental rock group Khruangbin took the Mt. Hood Stage and gave me a second wind. I had definitely heard of the Houston-based trio before, but had no idea just how fire they truly are. Khruangbin's global influences and soul-affected psychedelia on songs like "August 10" and "Evan Finds the Third Room" put everyone in an eargasmic trance; it was the perfect vibe for Pickathon's surely stoned and blissed-out crowd. Led by Laura Lee's groovy basslines, the trio's held down by Donald Ray "DJ" Johnson on drums, and driven by Mark Speer's ringing, melodic, heavy-reverb guitar. I sure am glad I didn't regress into a food coma and hit the hay too early on Friday, because otherwise I would have missed out on hearing my new favorite band. Also giving me life: Miya Folick's pitch-perfect powerhouse vocals, Mereba's cover of "Redemption Song," and the ever-present signs throughout the festival encouraging and describing consent. JENNI MOORE
---
It's sort of poetic that my first time seeing a member of the Grateful Dead play live happened to be on Jerry Garcia's birthday. Phil Lesh, grinning at the haze of pot smoke lingering above the crowd, acknowledged the occasion from the Mt. Hood Stage, right before he and the rest of the Terrapin Family Band slid into a 90-minute set of Dead classics on Pickathon's opening night. It was everything a curiosity-seeker like myself could have asked for: discursive jams punctuated by long solos, medleys that took unexpected sharp turns (the jump from "Slipknot!" to "Franklin's Tower" was particularly thrilling), and boogied-up takes on favorites like "Ripple" and "The Music Never Stopped." I haven't given myself over to the Dead completely, but that warm Thursday evening—as the band kicked "Alligator" into a higher gear right as the wind picked up around the farm—nudged the door open a little wider.
ROBERT HAM
---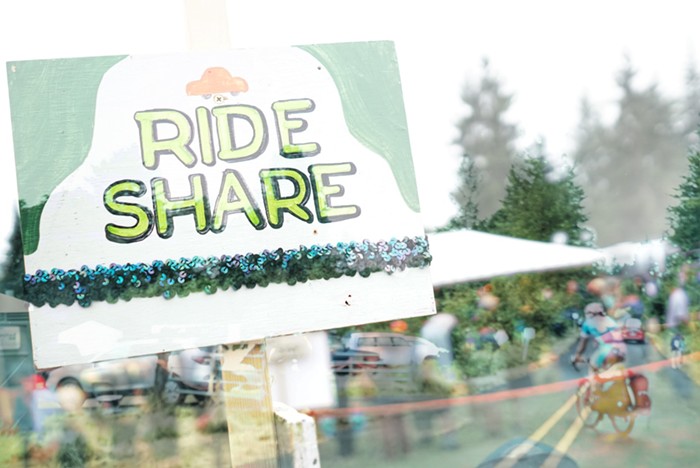 One of the reasons I bike to Pickathon is so I can eat even more of the delicious food available there. (Places like Pok Pok, Podnah's Pit, and Pine Street Biscuits always have super long lines in town, so I weirdly look forward to eating from their Pickathon carts.) This was my second year biking to Pickathon. I upped the ante by biking in and back several times—including a round trip on Sunday! My first ride out there I forgot to use Southeast 162nd and Southeast Sager (WAY less traffic), but the cars on the road were really careful and polite with my vulnerable, furiously pedaling self. On Sunday morning, I biked to the farm at 8 am so I could catch the 10:30 am Art Walk, led by Jean Margaret, and I'm so glad I did. My favorite piece was
waaay
in the Back 40 loop where motion-activated speakers played poems by local authors. Pickathon 2019 also had a certain pleasant smell to it, which I caught here and there. I wasn't sure of the source until a crew of volunteers swept through a spot I was chilling in. They dusted furniture (beating it with brooms!) and sprayed peppermint essential oils. I was blown away by the level of dedication. Lucius' Saturday performance, on the Mt. Hood stage, really hit a perfect note. Everyone was already in a sort of dreamy state from the heat and their performance was pure magic!
SUZETTE SMITH

---
Pickathon is an enticing buffet, and I like to sample a little bit of everything. I rarely stick around for an artist's entire set, because I'm keen on seeing and hearing as much as I can. But Viagra Boys kept me fixed to my tree-shaded spot for their whole set on Saturday. They were sleazy and gross and rowdy and magnetic. I couldn't stop watching. Whoever was playing on the other stages could not have matched the wild energy of that band and that crowd. I had to stay. CHRIS STAMM
---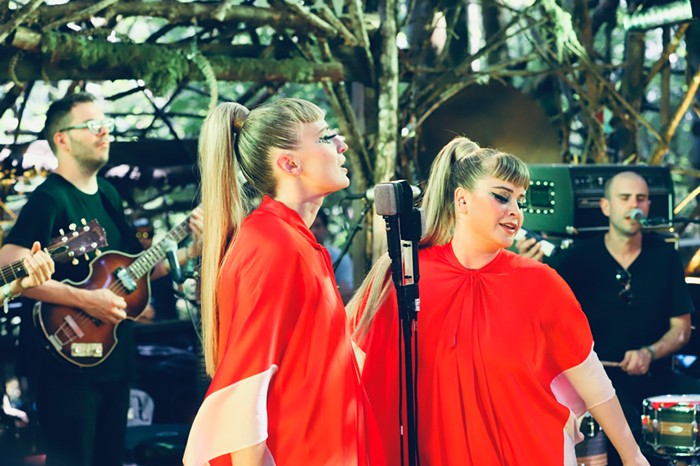 Lucius was my highest priority for shows this year and the LA-based four-piece did not disappoint Sunday afternoon at the Woods Stage. With their heart-wrenching harmonies, glittery makeup, and matching wigs and outfits, they pulled off an amazing set comprised of originals and covers, including "Right Down the Line" by Gerry Rafferty, Daniel Johnston's "True Love Will Find You in the End," AND Prince's "Purple Rain." This year, with the addition of Phil Lesh, Pickathon took on another layer of entertainment: people watching. My favorite vignettes included lots of hula hoops, multiple JNCO jean sightings, and the man who had what appeared to be a foot-long sub sandwich sticking out of the pocket of his backpack.
BRI BREY
---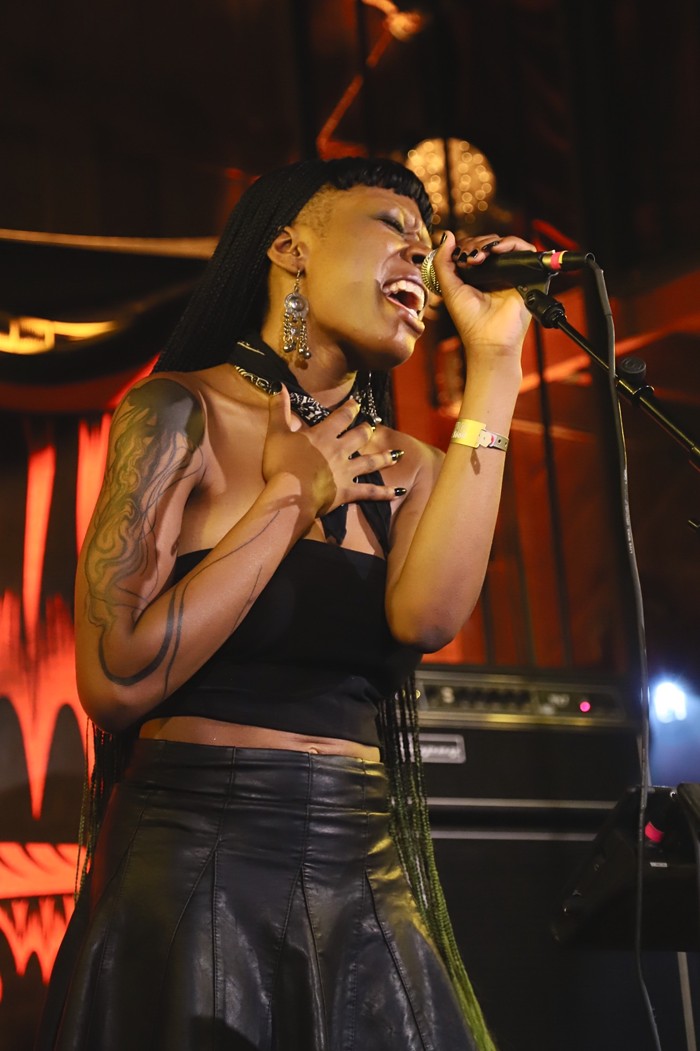 My favorite thing about Pickathon is stumbling upon new-to-me artists in such an accessible environment. I spent most of the festival lurking around the Woods Stage (because it is magic), meaning I caught a groovy set from actual space cowboy Garrett T. Capps (that had people up and dancing before noon), Columbian-Canadian art-pop queen Lido Pimienta, and some dang precious melodies from the Mountain Man gals. I was blown away by one non-Woods Stage show: the mellow, moody, humid afternoon performance by Sudan Archives in the Galaxy Barn.
ALEX ZIELINSKI
---
The best thing I saw at Pickathon was the clarity and singularity of vision that radiates from the music of one-woman electro-fiddle-hop act Sudan Archives, aka Brittney Parks of Los Angeles. On a Sunday main stage lineup dominated by guitar-driven ensembles, Parks stood out like one bright-red thumb: building inspiring swirls of rootsy R&B, avant-folk and cosmopolitan dance music, using only a drum machine, her voice and a violin. It was awesome to watch, and even better, it was different. It didn't hurt that Parks seemed so genuinely happy to be there, and she effusively said so several times. (Also great: Help, Yob, Flasher, and David Nance Group. Guitars ain't dead yet.)
BEN SALMON
---
Thirsty for more ways to relive Pickathon 2019? Check out our
Weekend in Photos
blog, and our new
Pickathon comics series
!