An otherwise peaceful protested descended into chaos Thursday, as a small group of anarchists split off from a massive anti-Trump demonstration and began widespread property damage in the Pearl District. Masked protesters took bats to storefront windows all up and down NW Lovejoy, having already bashed out windows at numerous cars at a NE Portland car dealership.
Group is leveling the pearl. I'm in shock. #TrumpRiot pic.twitter.com/smLgvEoRQ5
— Mike Bivins (@itsmikebivins) November 11, 2016
More broken windows as I'm typing pic.twitter.com/tW9jnuqfGl
— doug brown (@dougbrown8) November 11, 2016
Protesters had already confronted riot police earlier in the night, and were rebuffed at an onramp to Interstate 5. The protest was far more violent than demonstrations the past two nights, in which police allowed protestors to march for hours—even shutting down two highways.
But as anarchists began destroying everything in sight around 9:30 pm, police were nowhere to be seen.

---

Update, 10:25 pm:
At around 9:50 pm, the Portland Police Bureau's Rapid Response Team (the "riot cops"), rolled up and ordered protesters to go to Pioneer Courthouse Square. Many did, but when others didn't, the PPB ordered up a rarely used "kettling" maneuver
for which it has drawn heat in the past
. The maneuver involves cops closing in around a group that hasn't obeyed orders to disperse, and "arresting" the entire bunch. Tonight, cops merely hauled away a few people.
Portland riot cops giving a warning pic.twitter.com/JnC3d6CNfB
— doug brown (@dougbrown8) November 11, 2016
Explaining the PPB's light touch in the face of all that vandalism, spokesperson Sgt. Pete Simpson told KGW somethign he said last night: That with as large a group as has been showing up for the anti-Trump protests, it was too difficult to effectively handle the protest.
"We're looking at: is it property or is it people that's being damaged," Simpson said. "Sometimes you're darned if you do and darned if you don't."
As for Portland: We made the news!
Portland Trump Riot just hit @CNN. Don't be a disgrace, Portland. You're better than this. pic.twitter.com/qpXtUqROJb
— Ric Peavyhouse (@RPeavyhouse) November 11, 2016
As of this, probably our last dispatch of the night, protesters had reconnoitered, and were marching through the streets of Downtown, chanting, "Whose streets? Our streets!"
---
11:48 pm: That wasn't our last dispatch of the night because, you see, vandalism and destruction continued among some of the marchers, who kept breaking windows. At one point, a man reportedly confronted some protesters with a gun. And eventually riot police swooped in again, setting off less lethal ammunitions after saying on Twitter that protesters had thrown objects. Then this went down:
It's a warzone. Cops throwing flash grenades. #trumpprotest #TrumpRiot pic.twitter.com/UZSKvUEZpt
— Mike Bivins (@itsmikebivins) November 11, 2016
Micah Rhodes, a #dontshootpdx leader, urges the crowd to come protest tomorrow. Much of the crowd appears to be dispersing.
— Jim Ryan (@Jimryan015) November 11, 2016
---
Here's a rundown of the protest up until the trouble really got started.
6:26 pm: For the second night running, state and city officials have shut down a portion of Interstate 5 in case hundreds of anti-Trump demonstrators elect to take to the highway again.
Shortly after 6 pm, ODOT closed I-5 from the Marquam to Fremont bridges—presumably in order to give drivers a means to traverse the highway via I-405. Unlike an enormous protest last night, though, activists hadn't even really approached the highway before officials pulled the trigger.
Instead, a large mass of activists had met with a smaller protest for LGBT at the waterfront, and was gathered in Waterfront Park.
Protesters are now at Waterfront Park. I-5 is closed from Marquam to Fremont bridges. Watch protest: https://t.co/LcEuOwQUd1
— KGW News (@KGWNews) November 11, 2016
That's not to say there wasn't warning of possible interruptions—which snarled traffic for hours in a long protest last night. As protesters gathered at Pioneer Courthouse Square this evening, Gregor McKelvey, a Don't Shoot Portland organizer who's helped spearhead a brand new group called Portland's Resistance, told activists: "There's going to be traffic blocked a lot. If we didn't block traffic we wouldn't get any attention."
As of this writing, protesters were marching east across the Hawthorne Bridge.
Anti-Trump protesters crossing the Hawthorne bridge pic.twitter.com/w2b68KULfa
— doug brown (@dougbrown8) November 11, 2016
---
Update: In a press release earlier today, McKelvey made clear he and others weren't merely demonstrating against Trump's impending presidency. They offered a long list of "demands" to local authorities so that Portland might—as McKelvey said this evening—be a "beacon" to other communities in the country. Those demands:
"Bumper stickers didn't get this one done," McKelvey told demonstrators, referring to the presidential election. "Lawn signs are not enough. Facebook posts are not enough."
The preemptive highway closure is an indication police are once again willing to give the protestors a long leash, on the third consecutive night of anti-Trump protests in Portland. On Wednesday night and into Thursday morning, an hours-long protest snaked over the river several times, stopping traffic on both I-5 and I-84.
In a lengthy release today, cops said the demonstration had been largely peaceful, but noted there was vandalism, small fires set, and, shortly after 1 am, a larger bonfire set with a molotov cocktail near the elk statue downtown.
The release said cops had learned some demonstrations tonight "may not be peaceful and participants will be affecting traffic flow throughout the city." And it included a quote from Mayor Charlie Hales, the city's police commissioner, who said:
"Vandalism and destruction of private and public property in our city cannot, and will not be tolerated. I ask everyone to look out for their fellow Portlanders—we all need to put safety first."
"No KKK, no fascist USA, no Trump" pic.twitter.com/63YRNxW3K6
— doug brown (@dougbrown8) November 11, 2016
---
Update, 6:55 pm:
According to KGW, police have re-opened both I-5 and I-84, which was also closed. Protestors are heading up SE Hawthorne.
---
---
Update, 7:01 pm:
At some point, a woman got injured on the Hawthorne Bridge—apparently fairly seriously. Eyewitnesses told KGW she was a driver who became upset at marchers forcing her vehicle to stall, and that she attacked marchers with a bottle of laundry detergent.
Looks like that's the case:

Woman throwing laundry detergent at protestors here at the #NotMyPresident march here in #Portland pic.twitter.com/mq5aaUBkvv
— Crystal Contreras (@crystalatencio) November 11, 2016
It wasn't clear if authorities were on their way to assist the woman.
On SE Grand. As big as last night pic.twitter.com/UzRn4h1KXt
— doug brown (@dougbrown8) November 11, 2016
---
8:10 pm: As protestors have wound their way up Grand Avenue and toward Northeast Portland's Holladay Park, news stations have shown numerous incidents of vandalism and altercations with drivers. In one instance, a windshield was bashed in. A new truck got vandalized.
Custom design on a new Silverado. #NotMyPresident pic.twitter.com/lQRfgKl6i8
— Bradley W. Parks (@Bradley_W_Parks) November 11, 2016
A confrontation with police appears unavoidable.
@dirquez I just saw a whole platoon of motorcycle police headed to eastside from downtown.
— Tara Goddard (@GoddardTara) November 11, 2016
Increasing reports of vandalism and aggressive behavior in protest crowd. People not wanting to be associated are encouraged to leave area.
— Portland Police (@PortlandPolice) November 11, 2016
---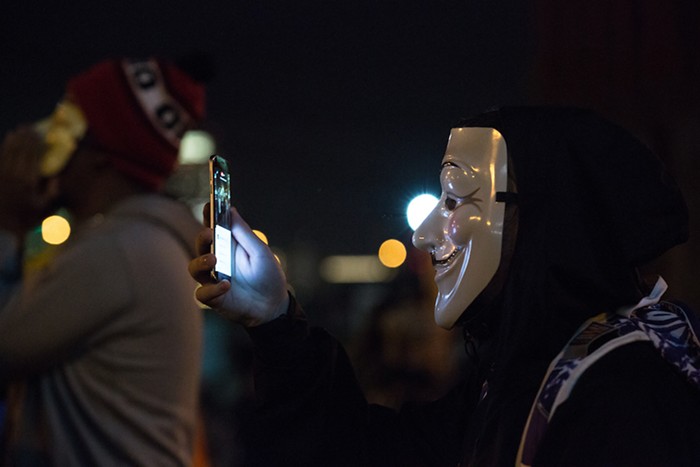 ---
Update, 9:05 pm:
Yup. Not long after protesters reached Holladay Park, at least one masked person with a baseball bat reportedly struck an electrical box, killing the lights. Cops, already having hinted at it, officially declared the gathering a riot as marchers headed back downtown.
Due to extensive criminal and dangerous behavior, protest is now considered a riot. Crowd has been advised.
— Portland Police (@PortlandPolice) November 11, 2016
And then things got worse. Anarchists or pretend anarchists bashed out the windows in a bunch of cars in the lot of the Broadway Toyota/Kia dealership. A block or so later, protesters found riot police blocking off the ramp onto I-5.
A short standoff ensued, and the large crowd moved along to the Broadway bridge.
An "anarchist" smashed a bunch of windows of cars at a Toyota dealership pic.twitter.com/2C5qg1Rmrl
— doug brown (@dougbrown8) November 11, 2016