There's been some unmistakable new furniture in City Hall since the beginning of the year: Portland police officers.
Sponsored
Sketch comedy troupes from all over N. America descend on The Siren Theater for 3 glorious nights.
Cops have never been strangers to city council chambers, of course. But in Mayor Ted Wheeler's early term—punctuated by angst over homelessness, anger over police activity, and calls for the city to divest from various companies—officers' presence has been steadier, and they seem to proliferate more quickly amid outbursts (or potential outbursts) than they used to.
Take February 22, when a mass of cops sealed off the building's western entrance, blocking protesters who were trying to get in.
Or January 25, when roughly 20 officers showed up after demonstrators shut down City Council to hold a symbolic funeral for a dead infant.
Well, it turns out there's some data to base this police presence on. According to a survey the city gave employees late last year, many City Hall staffers are feeling less safe these days.
Portland Chief Administrative Officer Tom Rinehart ordered up the "city hall safety and security survey" not too long after being hired to his position by Wheeler last year. Composed of five questions, and answered by 139 City Hall employees (out of 260), the study reveals safety concerns as the building has played host to more frequent demonstrations (that began, to be fair, under Hales).
Among the findings:
• Roughly 57 percent of respondents say they are "very" or "somewhat" likely to feel unsafe during a protest if there's "limited or no police presence" in the building, and nearly half of respondents indicate more cops during protest would help them feel comfortable.
• Nearly 85 percent advocated for employee-only access points that would allow staff to safely exit the building during protests, and almost 60 percent want a clearer emergency action plan.
• About 84 percent of respondents said they feel very safe or safe overall at City Hall, though 16 percent generally feel unsafe there.
• Some employees advocated for bulletproof glass, metal detectors, arming security guards, and allowing staffers to pack heat. Others feel things are fine as is.
Hales took steps toward a more-open City Hall at the outset of his term, ordering the removal of turnstiles that limited access at the main entrance.
And I have to say: I appreciate it. Compared to, say, the Multnomah Building, City Hall is as accessible an administrative building as I've ever seen.
From a reporter's standpoint, that's great. From an aggrieved or curious member of the public's standpoint, that's great. But I also know that the unease expressed by some staff members is a real thing, and that it's rough for one's workplace to feel dicey.
The question is: With data freshly in hand, is Wheeler prepping for action? And can he improve things without stymieing vital public access?
It seems he's weighing these questions. As the mayor told OPB not long ago:
"I don't think any of us want City Hall to be less accessible, but all of us just understand that times have changed. Maybe it is time for us to look at beefing up security."
Sponsored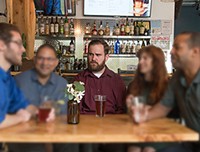 Adults aged 18-35 with good hearing will be paid for their time. Located at the Portland VA Medical Center