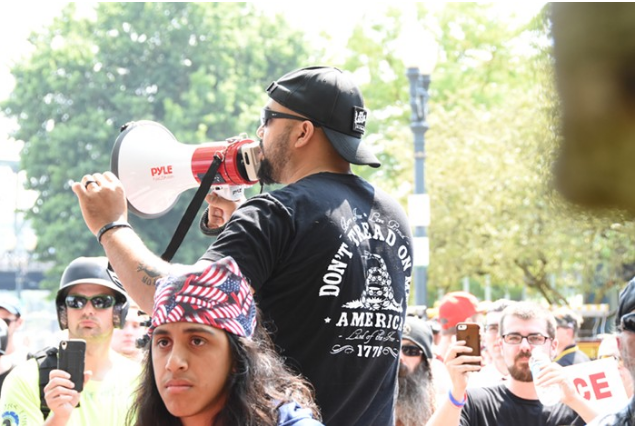 The right-wing organizer of this year's various Patriot Prayer rallies, Joey Gibson, has called for a surprise rally tomorrow at 2 pm at Portland's Terry Schrunk Plaza—probably not coincidentally at the same time as the Portland Marathon which runs right past Terry Schrunk Plaza. This last minute decision to rally will undoubtedly cause more stress on the Portland Police who will now be forced to split their focus between the marathon and the rally.
October 7, 2017
In the following lengthy, and frankly, pretty uninteresting video, Gibson unsuccessfully tries to portray himself and members of the Patriot Prayer outfit as just good Christians who have no intention of bringing "darkness" to Portland... even though they regularly attract white supremacists and self-identifying neo-Nazis.
October 7, 2017
These rallies tend to instigate trouble, and the Patriot Prayer people are always severely outnumbered by Portland protesters—which may be another reason for their decision to sneak in a rally with very little notice. For more information on how the organization and protesters will react to one another, check out our previous coverage here, here, here, and here. As usual, we'll be covering the rally and protest, so follow us on Twitter.
Looking for ways to get involved? Check out our RESISTANCE & SOLIDARITY calendar.