MICHAEL J. FOX to Britney Spears: This is the format of the six-degrees-of-separation movie trivia game that permeates Third Rail Repertory Theatre's production of Annie Baker's play The Flick. It's a diversion employed by The Flick's characters, employees of a failing Massachusetts arthouse cinema, who fill their popcorn-sweeping, projector-focusing shifts by connecting the dots between actors off the cuff, with the ease of tabbing between pages on IMDb. It's an endearing exercise in useless knowledge, reflective of a play that's substantive but far from perfect.
As shift coworkers Avery, Rose, and Sam, Jonathan Thompson, Rebecca Ridenour, and Isaac Lamb anchor a strong cast. Baker's script is funny and reference-heavy without being distractingly topical. The set is a delightful visual joke. But something's off.
As I tried to figure out why I didn't enjoy this play more, I realized that it's pretty simple. The Flick sets up a lose-lose proposition: It's three hours of live theater set in a movie theater. It is thus impossible to watch it without being constantly reminded that you could have watched two movies in the time elapsed, which means it needs to be pretty close to perfect. Instead, it's overlong by about an hour, and it shows. The pacing seems off the entire time, and it's strange, conceptually, to watch a play about the act of watching movies that's almost as long as The Godfather: Part II. This is a bad place to begin, though it's salvaged at least in part by the acting and direction (both solid), and even the dialogue, which generally sounds natural coming out of the actors' mouths and contains some sleeper-hit humor and wordplay that's amusing without being showy. But as good as the dialogue is, it can feel sparse within the play's many pauses and moments that feel unintentionally dull, as if Baker's clever turns of phrase are rattling around in a space too empty to accommodate them.
To be clear, I'm still glad I saw The Flick. Though the hyper-specific location shouldn't have much resonance on the West Coast, the play's armpit of Massachusetts setting reminded me of the old, tiny towns scattered throughout New England, and their equally tiny movie theaters, like the one in the small city where I went to college. It had screening rooms as roomy and comfortable as the fuselage of a battered Embraer ERJ, but reliably screened independent and foreign films and rented DVDs out of a small adjacent video shop. Like the deeply nerdy Avery, I was crushed when I found out it was closing.
Capturing the tone of a shifting film industry is one of the play's strong points, as is its examination of the cursory, friendship-lite interactions that develop when you're working a crappy job for hours alongside someone you have nearly nothing in common with. The dynamics between Rose, Avery, and Sam are rich and strange, and their tenuous bonds are tested over the play's runtime, as when Avery unthinkingly asks Sam what he wants to be when he grows up. For Avery, working at a movie theater is a new but temporary low. For Sam, it's just life. If you've ever worked retail, you'll recognize them both.
Sponsored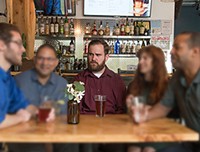 Adults aged 18-35 with good hearing will be paid for their time. Located at the Portland VA Medical Center