Sponsored
Sketch comedy troupes from all over N. America descend on The Siren Theater for 3 glorious nights.
As the battle over the public display Confederate statues rages nationally, Portland antifascist activists tarred a Confederate monument last night at Jefferson Davis Park in Ridgefield, a few miles north of Vancouver, Washington.
It was in response to the Unite the Right rally in Charlottesville, Virginia, last week where neo-Nazis and other white supremacists gathered around a statue of of Confederate general Robert E. Lee that was set to be removed. White supremacist and suspected terrorist Alex Fields drove his car indiscriminately into a crowd of protesters, killing 32-year-old Heather Heyer and injuring many others.
Ridgefield, Washington, is home to the very dumb Jefferson Davis Park, in honor of the Confederate leader who fought for the right to keep Black people as property. Here's the Columbian on the park:
In 2008, the Sons of Confederate Veterans, a fraternal organization with a branch in Portland, held a grand opening for a diminutive quarter-acre park just south of the Gee Creek Rest Area on the west side of Interstate 5. According to a statement on the Sons of Confederate Veterans' website, Jefferson Davis Park is only meant to be "a pleasant and honorable tribute" to Jefferson Davis, the president of the Confederate States of America and leader of the Southern rebellion that became the Civil War.

The tiny park, which sits on private property, doesn't contain much. But somebody does go by daily to raise a Confederate flag — and an American flag — over the park and into view from I-5.

The flag and park have been occasionally controversial here. In 2013, a teacher at Ridgefield High School wrote to The Columbian that driving past it to school every day was upsetting — and inexplicable to students — and in 2008, a large Jefferson Davis sign was stolen from the park and discovered in Salmon Creek
Here's what Portland antifa activists tell us they did last night:

On Aug 17, 2017 anti-fascist from Portland, Oregon, attacked the Jefferson Davis Memorial in Vancouver, Washington in solidarity with our comrades in Charlottesville, Virginia.

This memorial contains the last remaining milestones from the Jefferson Davis Memorial Highway 99 which served as an entry point to the United States from Cascadia.

Anti-fascists will not allow confederate monuments to remain in our communities. We stand in solidarity with Heather Heyer and encourage all comrades to tear down any such monuments in their community.

In solidarity, resist!
Fuck confederate monuments.
Sponsored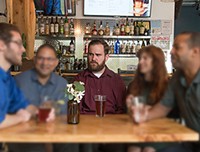 Adults aged 18-35 with good hearing will be paid for their time. Located at the Portland VA Medical Center