Public camping rules in Portland are about to become a little more consistent.
Sponsored
Sketch comedy troupes from all over N. America descend on The Siren Theater for 3 glorious nights.
Portland City Council approved an agreement this morning that will relinquish the Oregon Department of Transportation (ODOT) from the task of clearing homeless camps on ODOT property. That responsibility will be transferred to the city, in hopes of establishing more uniform guidelines to camp sweeps. ODOT agreed to pay the city $2 million annually to conduct these cleanups and store collected property.
This intergovernmental agreement was made possible by a bill passed by the state legislature in March, HB 4054, which allows ODOT to contract with the City of Portland to manage camps on state property.
Merging city and state camp clearing policies meant reckoning with a number of different legal settlements reached between the government agencies and homeless advocates over the years.
ODOT has entered into two separate settlements with the Oregon Law Center. The first required the agency to give at least 10 days' notice before clearing a homeless camp. The second offered an exception to that rule, allowing ODOT to give just 24 hours' notice if it had already posted permanent "no trespassing" signs on the property.
The City of Portland has a single settlement with the Oregon Law Center, which mandates officials must give at least 24 hours' notice to campers before a sweep, and they must carry out a sweep within 7 days of posting.
The differences between these two policies have encouraged more campsites to pop up on ODOT property along state highways, like the I-205 Multi-use Path in Southeast Portland. This growing imbalance is easily reflected through the city's One Point of Contact website, where members of the public can report homeless camps on city property. According to city data, reports of people camping on ODOT property coming through One Point of Contact have increased two percent in the past year.
Today's agreement offers an amalgamation of the legal settlements, dictating that city staff must give campers at least 48 hours' notice before a sweep. This change applies to all city and state right-of-ways.
Before the council's vote, members of the public spoke in opposition to sweeps in general, regardless of which government's in charge.
"Since we haven't talked bout creating actual safe, hygienic places for these people to live, I'm worried that this problem will not be very much mitigated," said Charles Johnson.
Dan Handelman of Portland Copwatch suggested putting the state's $2 million toward installing more public restrooms along the I-205 trail or building peer-run villages like the Kenton Women's Village.
"This is about having more consistent rules and enforcement," said Commissioner Nick Fish. "Whether you agree or disagree with the underlying policy, this [agreement] ensures that rules based on a judicial settlement are consistency applied and enforced throughout the city. That's a positive."
Sponsored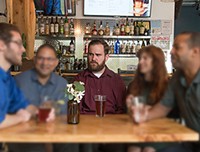 Adults aged 18-35 with good hearing will be paid for their time. Located at the Portland VA Medical Center