This year's round of budget cuts left a
considerably large gash
in Portland's Parks and Recreation department—cutting around 55 full-time jobs and putting several beloved community centers on the chopping block.
Sponsored
Sketch comedy troupes from all over N. America descend on The Siren Theater for 3 glorious nights.
In its final budget, City Council swore to help transition threatened community centers to a "new operating model" after keeping them open through the summer months. It looks like they've begun making good on that promise.
In the past week, the city has finalized leases with two recently defunded community centers, Sellwood and Fulton Park. While the deals allow these facilities to remain open for the short-term, it effectively hands formerly public spaces over to the private sector.
According to Everett Wild, a policy advisor for Commissioner Nick Fish, the L'Etoile French Immersion School has signed a 10-year lease with the city for control of Southwest Portland's Fulton Park Community Center. While L'Etoile already runs its elementary program out of the community center, it currently shares the facility with rooms that can be rented through the city for community groups or private events. Wild said that the school will now be responsible for maintaining those community spaces, and that they will primarily be used on evenings and weekends.
L'Etoile, which will responsible for building maintenance and repair, will pay and estimated $908,000 in rent over that 10-year period. Wild says current building repair costs, which the city estimates costing up to $600,000, might be reduced from this rent.
The Sellwood Community Center (now called the Sellwood Community House) has been leased to the new non-profit Friends of Sellwood Community House for $1. The lease is only for one year, but will be up for renewal next September. At the moment, the Friends of Sellwood Community House are hiring part-time instructors and seeking volunteers to take over classes formerly led by paid city employees.
Wild says the city is still seeking proposals for an organization to lease the Hillside Community Center, another casualty of the sweeping Parks budget cuts. As for Montavilla Community Center, the fourth community center gutted by cuts, Wild says the city has transitioned the facility's focus to teen programming, preschool, and other community programs for the foreseeable future.
Editor's note: This story has been edited to better reflect the services community centers will continue to offer.
Sponsored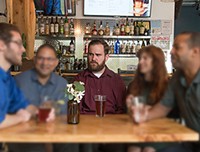 Adults aged 18-35 with good hearing will be paid for their time. Located at the Portland VA Medical Center