Hello Team Portland!
Sponsored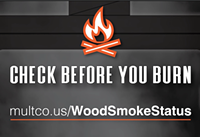 Having clean air means reducing wood smoke. Check before your burn from October 1-March 1.
It's your old pal Wm. Steven Humphrey here, just dropping a quick note to let you know how the Mercury is doing, and ask how YOU'RE doing during this mind-boggling ongoing crisis. Sooooo... HOW ARE YOU DOING? Hanging in there I hope, but if you're anything like me, you're probably feeling occasionally scared, emotionally overburdened, and wondering if the swift changes we're being forced to endure will change us all in some kind of permanent, terrible way. However, I'm also hoping you've got a little more optimism inside you. Now I'm certainly no Pollyanna, but I still think that believing in the power of humanity (while also taking positive action to make good things happen) can go a long way in this crazy, stupid world. So keep up the good fight. I'm pulling for you.
As for how the Mercury is doing... well, I'm currently writing this, so that's a good sign! (You can probably guess where I'd be otherwise.) As I've mentioned before (and tell myself repeatedly), I AM NOT ENTITLED TO THIS JOB, and every day I'm allowed to keep it (even during the worst of times) is a good day. It's such an incredible blessing to talk to you, give you information, make you laugh occasionally, and work with the greatest, smartest people I know.
That said, and while you certainly never owe the Mercury anything... we would sincerely appreciate any donation (especially recurring ones!) that you can afford. The donations you've made so far have been like oxygen for our struggling business, but there's no getting around it: We need constant funding to make sure our employees are fairly paid for their hard work and the important content they provide to you for free every single day.
But trust me on this: Your money is NOT going to waste. Every dollar you donate to the Mercury helps provide the great reporting that can actually make a difference in peoples' lives... especially now. Here are just a few of the articles that, thanks to your donations, are putting a spotlight on the people who really need everyone's immediate attention and care.
• For Deaf Oregonians, COVID-19 Is Compounding Existing Challenges (Also included in this article: an ASL interpretation from a Certified Deaf Interpreter)
• Immigrant Rights Groups Call for Unemployment Support for Undocumented Oregonians
• Is Your Small Business in Trouble? Check Out This List of Amazing Local Resources.
• The CDC Recommends Wearing a Face Mask in Public. Here's How to Make One.
• Over 40 Great Educational Documentaries for Quarantined Kids and Teens
And that's just the tip of the iceberg! Along with daily headline updates, breaking news, and our "cheer-up club roundups," we're providing tons of other stuff that's funny and sexy, while also supplying you with daily lists of things to do during quarantine!
But just so you know, your generous donations aren't the only way we're paying the bills. We're developing a variety of methods for staying afloat, including selling our very attractive Mercury "TP" T-shirts (you look sexy... so you should buy one!), debuting the newest edition of the SPLIFF film festival online (get your tickets now and here), and selling web ads to our beloved advertisers (get a very reasonably priced web ad for yourself here!). Plus we've got a lot of other fun, creative ideas brewing that I'll share with all of you soon!
So in short... we still need you. And I hope you need us—the spiking numbers of our online readership indicates that you might. If nothing else, please remember that I like you and I'm rooting for you—and to everyone who is suffering right now, you have my solemn promise that the Mercury will continue to look out for you. If you're doing okay and hanging in there, I hope you'll do us a favor and look out for the Mercury with a recurring monthly donation. (But psssst! I'll adore you in any case! I know you're doing the best you can.)
So hang in there, champions! I'll check back in with you soon! You are precious to me.
yer always pal,
Wm. Steven Humphrey
Editor-in-Chief
Portland Mercury