Despite what Facebook campaign ads might suggest, the
Mercury
has not endorsed Sam Adams for Portland City Council in the May 2020 primary.
Sponsored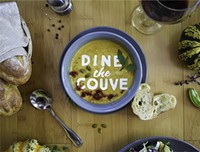 Experience the bounty of northwest flavor with special menus at Clark County restaurants all month.
Readers may know that we posted our endorsements last week—so why the need to now publish an article about who we aren't endorsing? We can thank Adams' campaign for that. If you're a Portland resident who's active on Facebook, you may have come across an ad like this recently:
The ad is for former Mayor Sam Adams' campaign for the fourth seat on Portland City Council—a hotly contested race that includes Adams, incumbent Commissioner Chloe Eudaly, and a spate of other credible candidates.
If you zoom in very closely on that ad, you'll see that while Willamette Week's endorsement quote comes from this year, the quote from the Mercury comes from an article (not an endorsement) we ran eight whole years ago, in 2012.
Adams' campaign isn't technically claiming that we endorsed him in 2020 (this isn't Mayor Ted Wheeler's campaign mailer, after all). But by running that quote and our logo so close to another paper's 2020 endorsement of him, it certainly looks like it.
Most people experience Facebook ads by skimming through them as they keep scrolling—not by zooming in on the fine print or Googling to find out the context of a quote—so it's safe to say that some viewers of this ad likely assumed Adams had secured the Mercury's endorsement in the 2020 race. Former Commissioner Dan Saltzman pulled a similar trick back in 2014, and we called that one out as well.
And this ethically questionable ad choice isn't an isolated incident. Here are a couple other Adams Facebook ads, one of which fails to even include the detail that the Mercury's words are from 2012:
Sure, the
Mercury
endorsed Adams when he successfully ran for Portland City Council in 2004, and again in the 2008 mayoral race. But a
lot
has happened in Portland politics since then—and
in Adams' own career
. This year
we chose to endorse keeping Eudaly
on City Council over an Adams return.
We asked Adams why he chose to pull at dated quote for his current campaign.
"The Mercury is a trusted publication, and we believed this was a good analysis about my time as mayor," Adams said. "Other candidates are using pull quotes from other publications in their campaign flyers. If they aren't they should be. This is free speech."
If you're curious, that 2012 Mercury quote about getting shit done (sorry, "sh*t done") plastered over Adams' campaign ads comes from an exit interview we did with Adams as he was leaving the mayor's seat. Here's that quote presented in a fuller context:
"No matter what you think of him, what he does, and how he does it, one thing is true: Mayor Sam Adams gets shit done.


You can say he's 'desperate to create a legacy,' and relentlessly distracted by shiny policy baubles, or you can say he's a politically canny wonk with a potent case of workaholism. But for a guy who thought seriously about quitting in disgrace just a few weeks after getting the job in 2009, Adams has racked up a quietly impressive list of wins both small and large over the past four years.


Battling back from a sex scandal and two recall attempts, not to mention the worst recession in a generation, a politically damaged Adams probably could have also slugged and scrapped his way to a second term. (If not for the Beau Breedlove kerfuffle, Adams might even have won by a landslide.) For a while he tried. But it wasn't to be."
The article ran in this issue:
Curious who we're actually endorsing this election? Take a look at our endorsements here before filling out your ballot.