"Seriously, who smashes a window to steal a friggin' unicycle?" the Unipiper tweeted Saturday morning. He shared a photo of the broken back window of his black Volkswagon Golf.
Sponsored
Sketch comedy troupes from all over N. America descend on The Siren Theater for 3 glorious nights.
Much like the recent Pickles Mascot Uniform theft, the post took off and fans shared it across multiple social media platforms.
"We're gonna do everything we can to help find this," the Portland Pickles account responded.
Seriously, who smashes a window to steal a friggin' unicycle?? 😡 pic.twitter.com/FIcCermuHq
— The Unipiper (@TheUnipiper) March 26, 2022
However, Brian Kidd—who performs as the Portland's world-famous Unipiper—later told the Mercury that recovering the unicycle isn't likely. The trail is cold, as the theft actually occurred in October 2021.
"For the past two months, I've been on a social media hiatus," Kidd said. "That's why I didn't say anything until now. I debated whether or not to even say anything about this at all because I didn't know if Portland needed any more negative attention."
The pilfered unicycle was customized, with lights on its wheel and a special seat attached. For months after the theft, Kidd monitored Craigslist, but never caught a glimpse of the unique little monowheel again. And while he filed a police report, he said he never heard about that either. "I realize there are a lot of issues the city is facing right now. So I understand that a stolen unicycle isn't a high priority," Kidd said.
Before the theft, Kidd always kept a unicycle in the back of his car because, he said, "you never know when you're gonna need one." He's been performing as the flame-spewing, loudly piping costumed cyclist since 2007, adding the flame aspect and an ever-evolving series of costumes as he went. Over the years, the Unipiper has become a symbol of the city's enduring eccentricity. Kidd even founded a nonprofit, in 2019, called Portland Weird United, with the stated mission of preventing the city's "weird from being swept under the rug."
This reputation and at least local household name recognition meant that Kidd felt safe, leaving a unicycle in his hatchback car because he rationalized that people knew it was his and wouldn't mess with it. "It hasn't been an issue before. I didn't think that a unicycle being visible in my car would be a target for theft," he said. "It's annoying that there's a lot to love about Portland and at the moment we are definitely experiencing what feels like higher crime rates, compared over the last few years." Strangely, although Kidd says the car also contained "a nice battery jumper," only the unicycle was stolen.
This isn't the Unipiper's first brush with public theft, as a box of 100 Unipiper t-shirts was stolen from his porch in 2018. Kidd sent out a social media alert at that time too, asking people to tell him if they saw one of the shirts around town, and managed to recover 25 of the shirts, which he sold to benefit Street Roots.
Kidd has discouraged donations for a replacement, saying the unicycle was covered by insurance. "What I am telling folks," Kidd said. "Is, if they're interested in helping me and the mission of my nonprofit, we're having a beer release for Unipiper Hazy IPA."
The beer is the first in a Weirdtastic Beer Series collaboration between Gigantic and Portland Weird United and promises "an intensely tropical hop aroma of passionfruit, mango, guava, and orange." The celebration takes place at the Gigantic Tap Room and Champagne Lounge, 5224 SE 26th, Fri April 1, 4-6 pm.
Sponsored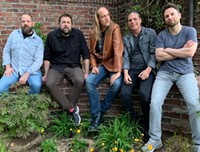 Rediscover the sounds of RUSH through The RUSH Collective - This Friday, June 24 at The Doug Fir.