Mobiles of Russian nesting dolls and hand-painted Khokhloma silverware stir above diners as the savory-sour smells of borsch and braised rabbit waft from the open kitchen at Kachka. The restaurant's servers carry glasses of chili-pepper-and-honey-infused vodka through the bustling restaurant, as patrons settle in for an early 4 pm dinner.
For nearly a month, the Buckman neighborhood restaurant and minimart has advertised that 100 percent of its proceeds from the spicy-sweet vodka will go to the Red Cross of Ukraine, and Portlanders are showing up to drink for a good cause.
"Kachka stands with Ukraine," a bold blue and yellow bulletin states on the restaurant's homepage. The owners Bonnie and Israel Morales represent a number of Portland locals looking to support the people of Ukraine as Russia moves forward with its deadly invasion that world leaders are calling "unprovoked and unjustified."
While Bonnie Morales has worked to make Kachka's menu more Ukrainian-friendly by holding fundraisers and removing the Russian vodka from her shelves, the Belarusian-American mother of two told the Mercury that the war is likely hurting her business, as some customers are choosing to avoid restaurants with Russian themes.
"I got an email from somebody canceling a 14-person private party because they didn't 'like the optics' of eating at our restaurant," she said. "They told us: 'We love what you're doing for Ukraine, but we don't like the optics.' Well then do you love what we're doing for Ukraine? Because that doesn't feel very supportive."

The "freedom fries"-style sentiment may be taking its cue from the Oregon Liquor and Cannabis Commission (OLCC). Last month, it directed liquor stores across the state to pull bottles of Russian-made vodka from their shelves. The order was part of a nationwide wave of economic sanctions, meant to pressure the Russian government to end its invasion.
Bonnie said she's keeping her bottles packed away, but doesn't intend to "return" them, as the state is actively ordering liquor stores to destroy the vodka. "I think that's incredibly wasteful," she said. "The bottles are sitting in my closet at home right now because I feel it's totally inappropriate to have such hysteria about this that you waste resources."
OLCC spokesperson Bryant Haley confirmed with the Mercury that the state is ordering licensed liquor stores to destroy any returned Russian vodka.
"The cost of returning [the vodka] to the warehouse is completely, logistically unfeasible," Haley said. "They will be destroyed if they're stuck at a liquor store."
Bonnie said that she backs Oregon's decision to halt any sales that could fund Russian President Vladimir Putin's war efforts, but added that she doesn't approve of boycotting vodka in general.
"People choosing to drink gin instead of vodka martinis? That's a culture war," she said. "And that's what I fear this is going to turn into. The US has a history of that with Russia. It's an easy switch to flip because of the Cold War. That disturbs me as a business owner because it directly affects what I do. But it also disturbs me as a human, that we can so quickly decide to cancel an entire culture because of what one person is doing, and we can't seem to parse that."
Despite the restaurant's seemingly unending financial hurdles: COVID, the war in Ukraine, rising distribution costs and a kitchen fire that briefly shut down her restaurant last summer, Morales is pushing forward with her fundraising efforts.
This week, Kachka unveiled its second fundraiser for the people of Ukraine. In addition to its select liquor donations, the restaurant is now shipping bagfuls of boiled dumplings to local markets, where $1 from each sale will go to the cause Cook for Ukraine—a global charity started by Ukrainian-born food writer Olia Hercules.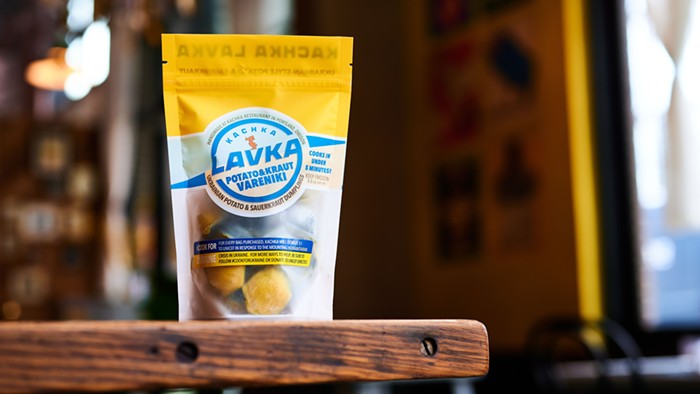 Meanwhile, on the far east side of town, Roman Russian Food Store owner Fatima Mansur is working to support Ukraine on a smaller, much more personal scale. Mansur, who is from the former Soviet Union North Caucus, says she's managed to hire five Ukrainian refugees—three of which are currently living at her Portland home.
"Ninety percent of our employees are Ukrainians," Mansur said. "Their families and kids are over there on the front lines, fighting. Our kitchen lady is crying every day for her kids. We have filed for her temporary protection status."
In an effort to directly support the families of her employees, Mansur is selling heart-shaped Ukrainian flag cookies. "All of the profits go to Ukraine," she said. "We are trying to wire money to Ukrainian families so they can stay strong and fight for their freedom."
Mansur is facing her own financial hurdles, due to the difficulty of importing goods to stock her Russian market, as the US continues to impose increasingly heavy sanctions against Russia.
"Prices have increased significantly," she said. "Right now, people are stocking up on all the products because everyone's anticipating a shortage. We've received letters from all the vendors that there will be shortages."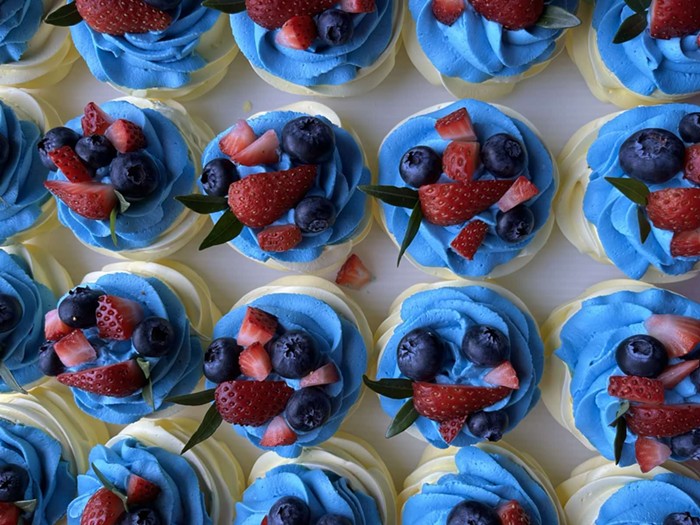 Bonnie Morales explained that importing products for Kachka from Eastern Europe is a complex process that has had issues even before Russia's invasion of Ukraine.
"We buy apricots and some other dried fruits and nuts from an importer in Chicago that's from Kyrgyzstan," Bonnie said. "Kyrgyzstan is a landlocked country, and they ship all their products through Russia. So with all of the various things going on with banning Russian imports, they have lost their route to get to the US, and they're not even a Russian company. A lot of Armenian products come through Russia as well. I don't see an easy answer there. Geographically where these countries are, they need Russia. I want to support them. They have nothing to do with this. It's a very complex region. The issues are very nuanced, and I think that's lost on most Americans."
While many of Portland's Eastern European markets bear Russian names, Bonnie said that these businesses are often owned by Ukrainian families and that they are lifelines for numerous Eastern European cultures in the area.
"It's not like the Ukrainian-owned businesses have Russian stores because they feel like they can't have Ukrainian stores, it's that historically there's a lot of overlap in the cuisine and ingredients," she said. "There might be political animosity going on right now, but historically, Russians and Ukrainians are the same family. You'll have a Ukrainian, a Lithuanian, a Russian, a Georgian, all in the same bloodline because there's so much overlap. That's why there's so much sadness. This isn't a religious war, where they fundamentally believe in different things. This is purely a maniac in power in one county that's just decimating another country because he wants to."
In the coming weeks, Bonnie plans to host a Passover-Seder dinner that she hopes will serve as a successful fundraiser for Hebrew Immigrant Aid Society (HIAS)—a Jewish American nonprofit organization that provides humanitarian aid for refugees.
"This year, we're excited to bring back in-person events," she said. "We're still figuring it out. We will donate whatever proceeds we can. But it's also an opportunity to remind people how easy it is to get online and donate."