For years people have talked about it. On Sunday Aug 6, lox-makers, and "Jewish culinary lifestyle brand" Jacob & Sons Deli finally did it. They declared one bagel the best in Portland.
Organized as a fundraiser for Oregon Jewish Museum and Center for Holocaust Education (OJMCHE), the Portland Bagel-Off drew a sizable crowd downtown to its inaugural competition. The tasting, judging, and awarding all took place in the museum's second floor event room, where hundreds of attendees (organizers collected 266 votes) sampled unnamed cuts of bagel. The voters didn't even know which bagel shops had entered, but two rose to the top.
A panel of local food world judges picked a favorite: Bentley's Bagels. However, the adorable bagel-shaped trophy and title of "Portland's Best Bagel" went to the people's choice winner: Henry Higgins Boiled Bagels.
Despite the importance of a Portland bagel competition (importance to me), the inaugural Portland Bagel-Off felt far from formal. It bore all the signs of a community affair. Noah Jacob even asked his young son to read the people's choice winner.
For an idea that Jacob & Sons first mentioned publicly at the end of June, it proved extremely popular. The tickets sold out in a day. Attendees milled around after the tasting, checking out the Jews of Amsterdam, Rembrandt, and Pander exhibit on the museum's first floor.
Whatever the contest becomes, this year made no attempt to hide its other motives: bringing people in to OJMCHE, introducing them to the new Lefty's (which Jacob & Sons took over in June), and giving out samples of the company's ethically-sourced lox. The deli doesn't make its own bagels, a point Jacob made while announcing the winners.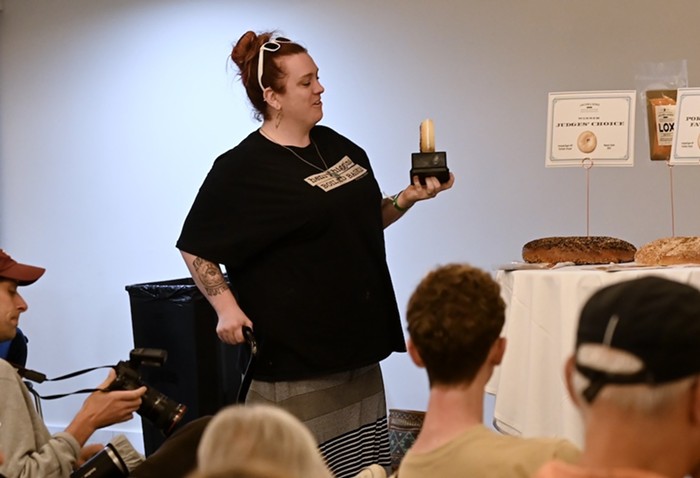 Portland Bagel-Off got some important things right. The judges were knowledgeable and bagel-opinionated: Eater PDX editor Brooke Jackson-Glidden, radio journalist Deena Prichep, cannabis cook Laurie Wolf, Mother's Bistro owner Lisa Schroeder, and food critic Michael Zusman, who co-authored the Artisan Jewish Deli at Home with Kenny & Zuke's co-founder Nick Zukin.
While Higgins and Bentley's won the day, little hole-in-the-wall downtown shop Bowery Bagels was the judges' other favorite. "I know a sourdough bagel, with that pronounced flavor, will turn a few folks off," Jackson-Glidden said during the judge's remarks. "I thought it was quite nice." Surprisingly, no one seemed to favor the lauded Ess-a-Bagel, which organizers flew in from New York.
Related: The Mercury tried to pick a best bagel in 2019—we barely narrowed it down to four.
A few local beloveds were noticeably absent: Neither local dominators Spielman Bagels & Coffee, nor the Karen Brooks-approved pop-up Honey Bagels were in the survey.
We're not saying Henry Higgins wouldn't have won anyway; we're saying those absences took some shine from the legitimacy of Portland's Best Bagel. Would we angrily present this competition, mid-rant as evidence of our own bagel-rightness over someone's bagel-wrongness? Probably not!
However, Jacob says the lack of Spielman was due to a simple miscommunication. On the morning of the event, he realized Spielman Bagels hadn't responded to a confirmation email. That's actually what led to the inclusion of Einstein / Costco in the tasting. "I would welcome them to participate next year," Jacob wrote in an email.
Raf Spielman agreed with Jacob's assessment, explaining that there was probably a miscommunication between the event, Spielman shops, and the wholesale department. "Maybe they've got beef with us?!?" he told the Mercury, joking. "That'd be kinda fun, shake this town up a little." Spielman noted he wanted to try some of the names on the list he didn't recognize.