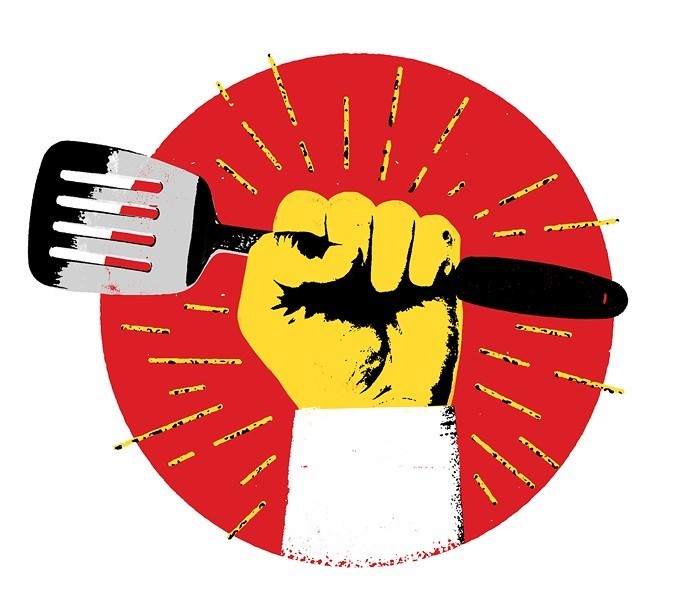 Burgerville is now legally obligated to recognize the union formed by employees at its SE 92nd and Powell store, making the Burgerville Workers Union (BVWU) the country's only fast food union with federal recognition.
This is the result of a store-wide vote conducted over the past two days, which found that a sweeping majority of the store's staff supports unionization (18-4).
"What happened here today is historic," said Mark Medina, one of the store employees, in a press release. "Burgerville workers are at the forefront of their own movement, proving to everyone that we can change our lives and our world for the better."
While the SE 92nd and Powell store went public as a union two years ago, Burgerville's corporate heads refused to voluntarily recognize the group until they held a vote orchestrated by the National Labor Relations Board (NLRB). The vote forces Burgerville to finally sit down with the BVWU to begin contract negotiations.
BVWU's demands: affordable health insurance, a $5-per-hour-raise for each employee, a more reliable scheduling system, and the discontinuation of "E-Verify," a program Burgerville uses during the hiring process that identifies and reports undocumented immigrants.
Burgerville responded in a carefully-worded press release. "Our employees have spoken, we hear them, and we support their decision. We will navigate this new working relationship together in a positive, productive way and bargain in good faith," said Senior Vice President of Operations Beth Brewer. "We are proud of our relationship with our coworkers, and we will continue to provide a fair, positive work environment for all."
But the chain still managed to add few jabs at its employees in the release, noting that they are already paid 20 percent more than the industry standard and are offered healthcare. What a positive way to kick-off their "new working relationship."
This momentous vote comes in the midst of another Burgerville store's push to unionize. Last week, Burgerville's Gladstone store let corporate know it also plans on holding a NLRB-backed vote to start negotiations.
And if you think this means you can finally start eating Burgerville again, be warned. According to BVWU: "The company-wide boycott, which launched in February during the union's three-day strike, will remain in effect until the union and the company negotiate a fair contract."