Pride Week is popping off, and for those who are ready to get busy, here are the events you'll want to do and see!
( ★ A star indicates an event that's even more super-duper than usual.)
Sponsored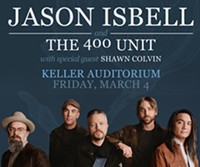 Jason Isbell has established himself as one of the most respected songwriters of his generation. Don't miss Jason Isbell and the 400 Unit, March 4th at Keller Auditorium!
---
★
★
★
★
★
★
WEDNESDAY, JUNE 14
★
★
★
★
★
★
A Celebration of LGBTQ Generations
AARP Oregon and SAGE Metro Portland present a special Pride Week forum discussing the past, present, and future of the LBGTQ community. Food and beverages will be provided, as well as interpreters. PCC Cascade Campus, 705 N Killingsworth, 6 pm, FREE
Make It Rain: Pride
Live drag performances from such beloveds as Autumn Rainz Hart, Lady Marlene Hart, Evelyn McCabe, Tony J. Carmichaels, Clea Rainz Luxxe, and special guest stars Karmella Lynn Phoenixx, Venus Lynn, Diana Fire, and Blake McCabe. The Embers Avenue, 110 NW Broadway, 9:30 pm, FREE
---
★
★
★
★
★
★
THURSDAY, JUNE 15
★
★
★
★
★
★
Queer Heroes NW 2017 Reception 
An event to honor our queer heroes as chosen by LGBTQ historical society, GLAPN. Q Center, 4115 N Mississippi, 5 pm, FREE
★ Art by Tarts: The Third Annual Sex Worker Art Party
Helping kick off Pride Week, this exhibition features visual arts by Portland sex workers, as well as live performances and storytelling. PCC Cascade Campus, 705 N Killingsworth, 6 pm, FREE
Queerest Bike Ride of the Year
This easy-breezy Pedalpalooza ride across Tilikum Crossing features lots of bike decorations, costumes, prizes, stops for refreshments, and buckets of queerness. South Park Blocks, SW Madison & Park, 6 pm, FREE
★ The 7th Annual Portland Pride Show
Belinda Carroll presents a Portland Pride tradition, and returning to headline the event is Vickie Shaw, with support from Pink Collar Comedy Tour's Kaytlin Bailey. Hosted by comedian, podcaster, and Mercury columnist D. Martin Austin. Funhouse Lounge, 2432 SE 11th, 6:30 pm, $12 adv, $15 door
Queer Pizza Party: Pride Edition
Resident DJs Huf N Stuf and Orographic host a special Pride Week installment of their queer pizza party, featuring a night of music, games, drawings, and dancing. Mississippi Pizza Pub & Atlantis Lounge, 3552 N Mississippi, 8 pm, FREE; w/DJ Huf N Stuf, DJ Orographic
★ Lez Stand Up: 2003 Pride!
The Pride edition of one of Portland's best comedy nights featuring sets from Kirsten Kuppenbender, Laura Anne Whitley, Caitlin Weierhauser, DJ Martinez, Monisa Brown, Manny Hall, Katie Piatt, and Carlos the Rollerblader. Siren Theater, 315 NW Davis, 8 pm, $10
King: A Drag Revue—Pride Edition
It's the King Drag Revue one-year anniversary, and in this special Pride edition you'll be wildly entertained by the Glam King, Spartacus, Princesex Hex, Mack Stachio, Joey Gelato, and many more. Hosted by Nikki Lev. Crush Bar, 1400 SE Morrison, 9 pm, $10-12
★ Dinner Cabaret with Poison Waters 
The fantastic Poison Waters will host this dinner cabaret, providing plenty of comedy... and singing the songbook of Natalie Cole? OH HELL YEAH. Mission Theater, 1624 NW Glisan, 7 pm, $30
---
★
★
★
★
★
★
FRIDAY, JUNE 16
★
★
★
★
★
★
★ Taking Pride on Stark
Scandals throws a three-day block party as part of Portland Pride 2017, featuring live music, the best DJs, drag shows, and more, all benefitting the Cascade AIDS Project and the Audria M. Edwards scholarship fund. There is no cover for entry, but donations are much appreciated and will help support the local beneficiaries. Scandals, 1125 SW Stark, 7 pm, FREE, donations accepted
Exorcism! A Holy Nun Blessing and Disco 
Get officially blessed by the Portland Sisters of Perpetual Indulgence—especially important for Pride Week—while exorcising your demons on the floor of dance. Crush Bar, 1400 SE Morrison, 7 pm, $5
★ CC Slaughter's Pride Party
An annual party so gargantuan, it has to be spread out over three days (June 16-18). Expect go-go boys, a great view of the parade, a Bloody Mary bar, drag shows, swag giveaways, and lots of lovin'. Get some rest; you'll need it. CC Slaughters, 219 NW Davis, open daily at 3 pm, 10 am on Pride Sunday
Bearracuda Portland Pride
Bearracuda celebrates Pride at the Bossanova Ballroom with a clothing optional party, with DJs and a laser show by Laseronics. Bossanova Ballroom, 722 E Burnside, 9 pm, $7 before 10 pm, $10 after; w/DJs Matt Consola, Matt Stands
★ Club Kai Kai Pride Drag Rave
One of Portland's signature drag pop-ups goes supersized for Pride, with a hedonistic, warehouse-filling drag party featuring performances from Sasha Velour, Raven, Ursula Major, Shitney Houston, and many more, with four bars, an outdoor patio, and food carts to provide all the energy you need to keep going all night long. The North Warehouse, 723 N Tillamook, 8 pm, $18-25
'80s Video Dance Attack: Pride Weekend Kick-Off Tribute to George Michael
This special Pride Week installment of VJ Kittyrox's popular weekly dance party at Lola's Room pays tribute to the late, great George Michael. Expect plenty of Wham! and George Michael hits for you to groove along with, all while benefiting Pride NW. Lola's Room, 1332 W Burnside, 9 pm, $7
Stag's 2nd Annual Beach/Pride Party
A three-day long beach party hosted by RuPaul's Drag Race Season 8 finalist Kim Chi and special guest DJ eur-O-steve. Stag PDX, 317 NW Broadway, Fri June 16-Sun June 18, 9:30 pm, $20-60
---
★
★
★
★
★
★
SATURDAY, JUNE 17
★
★
★
★
★
★
Portland Pride Waterfront Festival
Get out and proud for the annual Portland Pride Waterfront Festival! Shop at Waterfront Park vendors by day and hit up dance parties by night, all while supporting the city's vibrant LGBTQ community. (See our Pride Waterfront entertainment schedule here.) Tom McCall Waterfront Park, 1020 SW Naito, Sat June 17, noon, Sun June 18, 11:30 am, $7
★ Portland Trans Pride March
A march by and for the trans, gender-variant, and genderqueer communities and all those of us who love them! Step out and show your support. North Park Blocks, NW 8th & Davis, 2-4:30 pm, FREE
Lumbertwink: Portland Pride 2017
Hit the Funhouse Lounge patio for some Lumbertwink pride, featuring three DJs and a photo booth to show off your best lumberjack finery. Funhouse Lounge, 2432 SE 11th, 4-10 pm, $6 in plaid, $10 without; w/ DJs Matt Consola, John Cross & DJ Don't
★ 2017 Portland Dyke March
It's not Pride Week without this long-running (or marching, rather) event raising visibility for, as the organizers put it, "dykes of all persuasions." Tom McCall Waterfront Park, 1020 SW Naito, 6 pm, FREE
★ Slant: Live Queer Storytelling
SisterBritt hosts a special Pride Week installment of the beloved live queer storytelling series, featuring stories from Colin Ashante, Cicely Rogers, Nick Sahoyah, Chrishawn West, Carlos the Rollerblader, and more. Mississippi Studios, 3939 N Mississippi, 7 pm, $13-15
Inferno: One Pride, Two Parties
Inferno's Pride blowout is so big it's spreading its celebration of love and unity across two venues (Trio Club and Whiskey Bar) with three DJs. Trio Club, 909 E Burnside, 6-10 pm, $15; Whiskey Bar, 31 NW 1st, 8 pm-2 am, $15; w/DJ Lauren, DJ Wildfire, DJ Jessica the Ripper
Portland Gay Men's Chorus presents "The Divos"
The Portland Gay Men's Chorus and guest Matt Alber take the stage for a special Pride Week concert where they'll pay tribute to some of the world's most legendary male artists including Simon and Garfunkel, Michael Jackson, Nat King Cole, Elton John, Bruno Mars, and more. Arlene Schnitzer Concert Hall, 1037 SW Broadway, 7 pm, $20-52
★ Peaches Christ's 9 to 5 Inches
A drag stage show parody of the classic 1980 flick 9 to 5 (which starred Jane Fonda, Lily Tomlin, and Dolly Parton) as performed by RuPaul's Drag Race stars Pandora Boxx and BenDeLaCreme, along with San Francisco drag legends Heklina and Peaches Christ. Aladdin Theater, 3017 SE Milwaukie, 7 pm, $30-60, all ages
★ Portland Thorns Pride Night Benefit 
It's the first ever Portland Thorns Pride Night, which supports the Q Center and Pride NW, and you can purchase a special ticket to benefit these organizations and sit with other LGBTQ supporters in Section 209. For an extra few bucks, you get a special Pride flag T-shirt! Providence Park, 1844 SW Morrison, 7 pm, $14 gen, $20 reserved seating with T-shirt at tinyurl.com/thornspridenight
Club Destiny
A one-night, all-night Pride party featuring the Portland debut of NY-based Bearcat. The North Warehouse, 723 N Tillamook, 8 pm, $10-15; w/Bearcat, Maarquii, Casual Aztec, Fantasy Thrilla, Perfect Health, Hold My Hand, Troubled Youth
★ Blowpony's Queer Mutiny Fest NW
Tonight's 10th annual celebration features headlining performances by RuPaul's Drag Race contestants Miss Peppermint and Laila McQueen, as well as Portland's own Draven. DJs Airick X, Just Dave, Matt Consola, and G-Luv will keep you moving throughout the night with help from go-go dancers Heatherette, Charley Sharp, Brndn, Foxy, Nikki L, and Johnny Cakes. Bossanova Ballroom, 722 E Burnside, 9 pm, $19
★ Gaylabration: Make America Gay Again
For those who love to put the "pride" in party, you won't want to miss Gaylabration—the biggest gay dance night of Pride Week. DJs Joe Gauthreaux and David Sylvester will be working the turntables and the crowd for what will undoubtedly be a huge and immensely hot mess of a blowout. TAO Event Center, 631 NE Grand, 9 pm, $15-79; w/DJ Joe Gauthreaux, David Sylvester
Pants Off Dance Off: Neon Pride
Leave your pants behind and celebrate Pride in the bare with an evening of music, cocktail specials, body painting, and blacklight dancing to some sexy tunes selected by DJ Aurora. Crush, 1400 SE Morrison, 9 pm, $7
Queens of the '90s!
A throwback-themed Pride party, celebrating the best divas of a very loud decade, with performances from Ivanaha Fusionn, Sheniqua Volt, Diaan Fire, Old Witch, and Cookie Couture. Paris Theater, 6 SW 3rd, 9 pm, $6
★ Slay: Pride Edition
Slay is one of the best LGBT hip-hop dance nights, and this Pride edition will definitely bring the heat with DJs Automaton and Ronin Roc on the turntables. Holocene, 1001 SE Morrison, 9 pm, $5 with Fast Pass, $10 door
★ Lez Do It: Pride Edition
Live music, DJs, and more get-down fun at this annual Pride event. Killingsworth Dynasty, 832 N Killingsworth, 9 pm, $5
★ R U Gay?
RuPaul's Drag Race contestants Chi Chi DeVayne (Season 8) and Miss Kennedy Davenport (Season 7) make their way down to the Star Theater to headline one of Pride Week's premier parties. The event also features performances by Ursula Major, Alexis Campbell Star, Anastasia Euthanasia, Rakeem, Mack Stashio, Valerie DeVille, Daphne Fauna, and Miss Inanna. DJ'd and hosted by Buckmaster. Star Theater, 13 NW 6th, 9:30 pm, $25-40
★ Jump Jack Sound Machine: PRIDE 
The always-fun monthly queer dance night Jump Jack Sound Machine jumps off Pride with eargasms from Ambrosia Salad, Nasty Tasha, and Chanti Darling, along with special guests Amoania, Hydrangea Strangea, Shitney Houston, and more! Mississippi Studios, 3939 N Mississippi, 10 pm, $10
---
★
★
★
★
★
★
SUNDAY, JUNE 18
★
★
★
★
★
★
No Sleep: A Disco Brunch DJ
Mississippi Studios and Jump Jack Sound Machine throw a Pride "morning after" disco brunch to help you rally from all of Saturday night's festivities. Join Nasty Tasha, Chanti Darling, SAPPHO, Chelsea Starr, and Cream Sheree as they pump disco cuts across the Bar Bar patio while you get your day started out right with food, drinks, and plenty of good vibes. Mississippi Studios, 3939 N Mississippi, 11 am, 21+, free
★ Portland Pride Parade
The big kahuna of our city's pride parades that welcomes everyone from the LGBTQ communities and their allies. (Psst! Wave "heyyyyy" at the Mercury crew when we pass by!) North Park Blocks, NW 8th & Davis, 11 am-1 pm, FREE
★ Trixie Mattel: Ages 3 & Up
The Los Angeles-based drag queen, actor, and singer known for appearing on season seven of RuPaul's Drag Race brings his stand-up comedy show "Ages 3 & Up" to Star Theater for a pair of Pride Week matinee performances. Star Theater, 13 NW 6th, 2 & 4:30 pm, $25-50
Big Gay Boat Ride V: Love Boat Edition
The very fun Big Gay Boat Ride returns with another cruise down the Willamette, with host Poison Waters, Cynthia Lee Fontaine (from RuPaul's Drag Race), and special guests. Tom McCall Waterfront Park, Docks at Salmon St. Fountain, 2:30 pm, $40-60 at merctickets.com
Bridge Club
A Pride Week wrap-up party co-headlined by Detroit's "First Lady of Wax" DJ Minx, and LA's Chris Cruise. The North Warehouse, 723 N Tillamook, 3 pm, $10-12; w/DJ Minx, Chris Cruse, Hold My Hand, Troubled Youth, Casual Aztec, Pocket Rock-It, Orographic
So You Think You Can Drag
A Pride afterparty that doubles as a drag competition featuring Hey Qween, DJ Big Dipper, Sissy Spastik, Sabel Scities, Ivanaha Fusionn, and special surprise guests. Hosted by Lulu Luscious! Paris Theatre, 6 SW 3rd, 8 pm, $14
---