The Mercury provides news and fun every single day—but your help is essential. If you believe Portland benefits from smart, local journalism and arts coverage, please consider making a small monthly contribution, because without you, there is no us. Thanks for your support!
Sponsored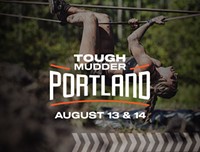 Lock in your summer adventure, Portland. Join us for world famous obstacles over a 5K or 10K distance.
It's the final Friday of January, quite possibly the Friday-est kind of Friday you can have. Now... what's happening out there?
IN LOCAL NEWS:
• In a press conference today, state health officer Dr. Dean Sidelinger announced that Oregon will probably hit our Omicron COVID peak next Tuesday. Yay! But trust your mom friend Elinor and stay vigilant—I had one of those "mild" cases of COVID last week and it still sucked.
• And right on cue:
Yes, millions of free N95 masks will soon be available at thousands of pharmacies and health centers in the US https://t.co/1pCr18kS59
— KGW News (@KGWNews) January 28, 2022
• Good news: Portland Public Schools announced today that Harriet Tubman Middle School students will NOT be relocated to the Martin Luther King Jr. Elementary School building (as people were justifiably freaking out about), and so it's back to the drawing board to decide on a new location—AWAY from the unhealthy I-5 corridor. Our Isabella Garcia explains it all for you.
• If you plan to enjoy this sunny cold snap on the mountain, please do so carefully and don't fall into any volcanic vents like this guy did.
• Congratulations are in order for Bend fisherman Alex Dietz, who caught a small fish that was actually big as far as that specific kind of fish goes.
IN NATIONAL NEWS
• Steve already mentioned it this morning but it bears repeating: the Bidens adopted a cat and she's really cute.
Same energy pic.twitter.com/F8BTRCyesd
— Chasten Buttigieg (@Chasten) January 28, 2022
• More people from former President Trump's orbit are getting their metaphorical asses handed to them in the form of getting literal subpoenas handed to them. This time it's former deputy spokesperson Judd Deere, a man whose name doesn't lend itself to being an actual serious person.
• Hope you're not heading east this weekend because that coast is about to be full of blizzards and I'm not talking about the extremely thick milkshake from Dairy Queen.
• It's back for 2022! America's sexiest, funnest dirty movie fest, HUMP! Coming at ya starting February 24 at Revolution Hall—GET YOUR TICKETS NOW!
• Speaking of humping, please join me in wishing this elderly turtle all the turtle sex he can handle:
Jonathan, the world's oldest tortoise at 190 years old, 'still has good libido' https://t.co/bdifeCQCqZ pic.twitter.com/orgGfWACWo
— New York Post (@nypost) January 28, 2022