I've been a con rat for most of my life—I love 'em. And as someone who loves pop culture conventions, I also recognize they are often essentially enormous exercises in creative consumption. (Not that I don't want to buy things, I do.) 
Portland Retro Gaming Expo is certainly a con, but it's also one of the most approachable cons in town, thanks in part to how much there is to actually do there. This weekend, PGRE 2023 celebrates the many eras of video gaming with a three day convention where there's not just things for sale, but plenty to do and see. 
If the words "Retro", "Gaming", and "Expo" conjure up images of grimy beige trackballs with not enough buttons on them, don't despair. Yes, there are probably going to be some of those on the show floor, but you're just as likely to encounter titles like Dark Souls and Gears of War. Time being the relentless river that it is, pretty much anything you've ever liked will become "retro" before you're ready for it to be. 
Here, then, are some highlights of this year's festival, broken into the component parts of any good convection:
---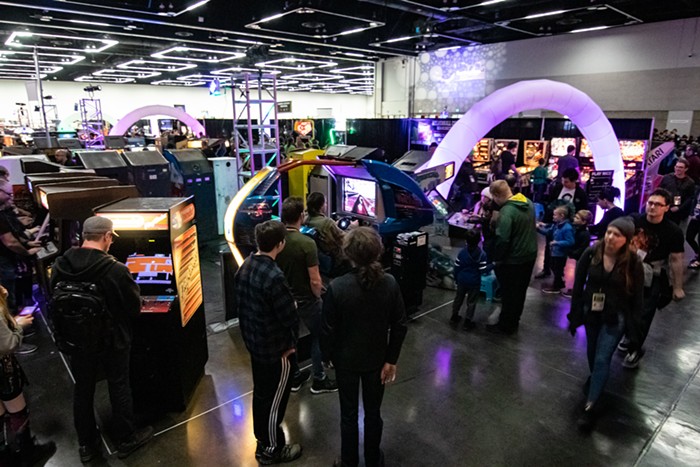 Things to Play
It'll be hard to miss, but half the show floor is given over to a freeplay retro arcade curated by Ground Kontrol and regional outfits Next Level Pinball, Big Al's, and Game Over. The composition of games and pinball tables fluctuates from year to year, but there's usually a fairly good distribution of antique quarter munchers—from Burgertime to more polygonal stuff from the turn of the millennium. Granted, a lot of these cabinets are loaners that have seen better days, but we're talking about titles like Burgertime here. "Pristine" was never part of the equation. In fact, a thick layer of congealed pizza grease on the joysticks would probably be more authentic.
You can also expect a bunch of console stations, stuff from Pong to Super Smash Brothers. The sound of all those angry pixels going at it across five decades is a synesthesia fever dream staple of a good retro arcade (in a good way, at least to those of you still reading). Portland isn't a huge game dev town, but the fest usually attracts a handful of contemporary creators, like the Portland Indie Game Squad. And there's often some open source or homebrew projects floating around.
In terms of competitive play, there's an official-sounding pinball tournament as well as the Classic Tetris World Championship. Although if you're competitive in either of those scenes, you probably know more about them than I do. (Fun fact: According to the Tetris wiki Tetris blocks are called "tetrominos").
---
Things to See
Most conventions feature celebrity guests, and PGRE is no different, but retro game world celebs run more in the vein of popular YouTube creators and the announcer from the NBA Jam SNES game. In terms of panels, there's a strong focus on game preservation, physical media, and critical reevaluations of old works, which may come across as dry or insider baseball-y to the uninitiated. But there are some big names in that world in attendance, including Frank Cifaldi, founder of the Video Game History Foundation. So if you're curious to explore the cobwebby attics of gaming's past, that's a great place to start.
The big draw, at least to this elder millennial, is the Sega Saturn Lounge: a breakout room devoted to Sega's misguided mid-90s attempt at 3D gaming. It's got rare merchandise, prototype games and hardware, and most importantly a ton of working consoles to try. Granted, it's extremely silly, and almost unspeakably niche, but I'm not sure there was even this much Saturn on the West Coast circa 1994, let alone one room. That sort of thing is obviously going to be more nostalgic to my generational cohort than to anyone born this side of 9/11. But nostalgia isn't the only reason to play old games. There's also the satisfaction that comes from shooting meticulously animated low-poly cyber dragons.
---
Things to Buy
If you're a hardcore collector or just a fan of sport thrifting, the PGRE vendor area is usually a pretty good place to snipe some deals. Storefronts range from a couple unsorted rubbermaid bins full of old jewel cases to more curated boutique experiences. Some of the more hoarder-y kiosks are stocked so full of obscure vintage hardware they could probably charge admission in another setting. While it's likely to become a feature of retirement homes in the near future, the Last Blockbuster in the World will have a simulated storefront on the show floor where you can browse lurid VHS tapes on flimsy wire racks, as heroes of old once did. 
---
Portland Retro Gaming Expo will be held at the Oregon Convention Center, 777 NE MLK, Oct 13-15, $15 - $200, tickets and info here, all ages.