There is a moment midway through any good corn maze when the mind wanders and memory of life beyond the living walls of corn begins to fade. Perhaps it is the baubles of civilization that truly entrap us more thoroughly than any stalk of corn could, you think. Perhaps answers can be found deeper within, hidden in the gossamer silk of America's favorite summer starch. But then the smell of kettle corn wafts across the breeze, and the clarion call of a screaming toddler breaks the spell. Turn a few more corners and the exit emerges—it's time to rejoin the world of work, family, and only the occasional glimpse of corn.
That seasonal choice, to return from respite and rejoin the mania of harvest season, is a precious right of passage. It's also fun to figure out games that are bigger than we are. All that in mind, we set out to sample the corn (and sunflower and sorghum) paths available this year. Are these corn maze reviews? Yes. Are these corn maze contemplations? ALSO YES. Here are five Portland-area corn mazes, ranked by difficulty and the rustling of their stalks.
---
The Pumpkin Patch is a real pumpkin patcher's pumpkin patch. It's got hay bales, tractor rides, and pumpkins of every description and configuration. The iconography is all on point, and there's a wholesome sweetness of corn, hay, and various domesticated squashes in the air.
Pumpkin Patch's maze stages in a cheerful red and white striped tent, where teens in fluorescent t-shirts explain the do's and don'ts of modern maze circumnavigation. The path itself is an almost organic configuration of long curving straightaways and bulbous branching paths. The branches are numbered, and each number corresponds to a little laminated trivia card you pick up at the start. Themes range from Movies and TV to 9/11, and selecting the right answer will direct through the maze. The field's floor is a springy sort of loam, inoffensive to the eye and exceedingly kind to the feet.
Rustle Report: The rustle of this exceedingly healthy corn is deep and ancient, an intriguer's rasp sliding into the tumblers of an iron lock. It is protecting knowledge that was never meant to be known.
---
The other half of the Sauvie Island big two, Bella Organic Farm, has much more of a county fair kind of vibe: families mill around long rows of picnic tables and patio umbrellas, stalls hawk lamb gyros and elephant ears, lines form around soldierly rows of portable toilets. A squadron of Gen Zs clustered around a replica advice booth from Peanuts offered to counsel me on any subject, but I feared their post-millennial judgements and moved on.
This year, Bella Organic made a maze that spells out the words "END GUN VIOLENCE" and each maze-goer gets a large, laminated card featuring a map for orientation and an impressive number of gun violence factoids for education. At various points along the epigraphic route, scarecrows hang eerily above the corn, bearing checkpoint numbers for navigational purposes. The paths are downright palatial, wide, and well-groomed. The maze presents a challenging, but not overwhelming, exercise in orienteering. This is truly a corn maze to dine out on, and the message (RE: ending gun violence) is a welcome one in these trying times.
Rustle Report:
We visited Bella Organic on  a windless day, so what rustle there was came across as thin and somewhat reedy, calling to mind a junior clerk nervously shuffling paperwork in the back of a large Victorian train station.
---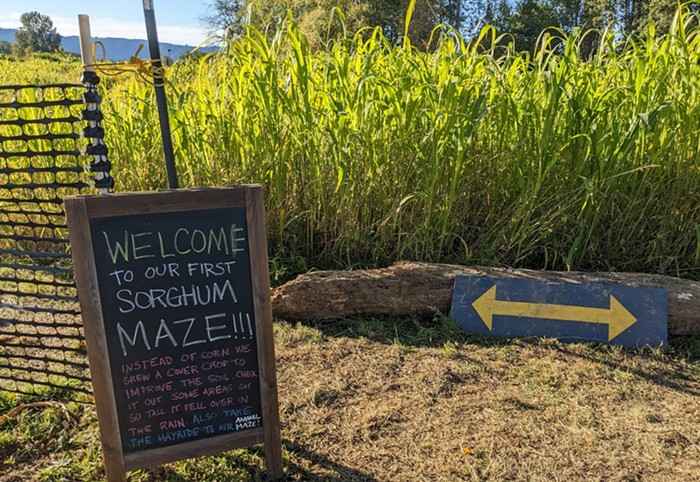 Topaz Farm refuses to commit to a single bit, offering instead a cluster munition of autumnal delights. There are mazes in both sunflower and sorghum (a sort of cobless corn originally domesticated more than 5,000 years ago in what is now Sudan), as well as a petting zoo worth of farm animals in a central courtyard. There are pleasant, slightly shaggy lawns scattered with picnic tables and shade trees, and a Gilmore Girls-level commitment to string lights. It's absolutely charming and a donkey came over to snuffle at my pant leg before allowing me in turn to pat a woolly flank. So, no notes there.
I'm told the sunflower maze is more of a "end of summer" thing rather than a "start of fall" thing, so adjust accordingly. Sunflowers being less resilient than corn, there were a fair number of dead soldiers littering the path, a constant reminder that all beautiful things must inevitably succumb to the forces of decay. The sorghum maze offered a welcome break from the relentless march of entropy. There are no frills here, just a series of meandering pathways through sun-dappled fecundity. It is tranquil in these frondy halls, suffused with the stillness one might find in the depths of a monastery, or in the moments before a cinematic sword fight.
Rustle Report:
The rustle of the sourgum is distinct and mellifluous. This sheaves murmur like trysting lovers, committing aloud to the air confessions that can never be written down.
---
Hoffman Farms is the kind of well-manicured barn backdrop where you'd host a TLC reality show wedding circa 2007, which is not a criticism because that was the high-watermark for reality show weddings. There's an abundance of impeccably painted fences and well-labeled produce bins, and at no point did the grass rise above the height of a Space Marine's buzzcut.
The maze on offer here was presented with minimal accoutrement: There's simply a red flag at one end and a yellow flag at the other. This proved one of the more challenging mazes to navigate, with a good number of dead ends and blind alleys, and hardly any navigational aids to speak of.
Rustle Report:
The rustle of the corn here was ancient and wispy, the sound of a guru's gnarled knuckles running through the wisps of his beard while atop a mountain peak where he contemplates the world's many remaining mysteries.
---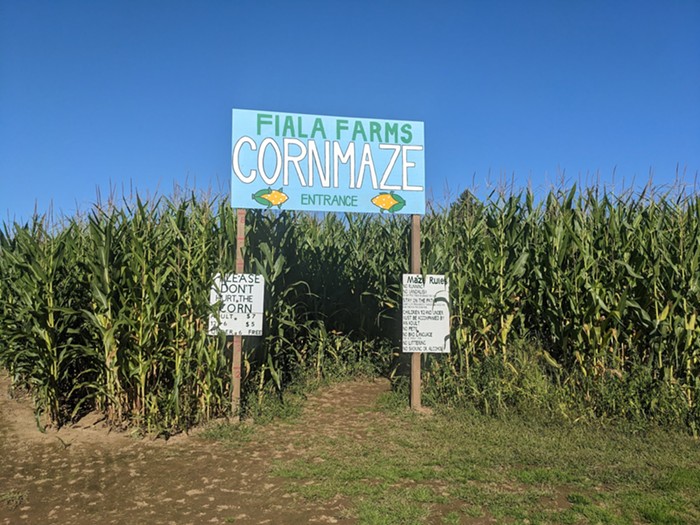 Now here is a farm. Crunchy gravel, hand-written signs, and disarmingly hospitable proprietors. There's a smattering of produce and some lovely you-pick raised flowerbeds, but the maze itself is the diadem in this crown. "This isn't some meandering path," the proprietress advised me, "it's a challenging maze." And so it was. Numerous branches, curious and at times audacious pathing choices, and a number of complex roundabouts fill out the program, or at least as much of it as I was able to traverse. There are numbers scattered throughout the labyrinth for completionist purposes, and I was only able to hit about a third of them before I found myself backtracked to the entrance of the maze. Thankfully Fialia offers a "season pass," which means that for the price of admission you are allowed back as many times as it takes to unravel this corn-dian knot.
Rustle Report:
In the perfect stillness at the heart of this maze, the rustle is of life brushing against the barrier of death. It is the gathering of a midwife's skirts and the smoothing of an undertaker's frock. Or if there is an airplane passing overhead, it is the sound of that.