What do you think of when you think of your favorite dive bar? Cheap drinks? Loveable, gruff regulars? A graffiti-covered bathroom so small that it practically forces you into awkward conversation with anyone else occupying it?
Starday Tavern has all of that in spades. But what sets it apart from its local counterparts isn't the menu, ambiance, or urinal layout: It's the event calendar. With regular live music—everything from touring punk bands, to sets from local steel guitar legend Paul Brainard every Tuesday—and a host of other happenings that run the gamut, there's something to see on the Starday stage nearly every night of the month. This isn't just a bar that hosts the occasional event; it's a community-focused event space first, and a truly great, Old Portland-reminiscent dive second.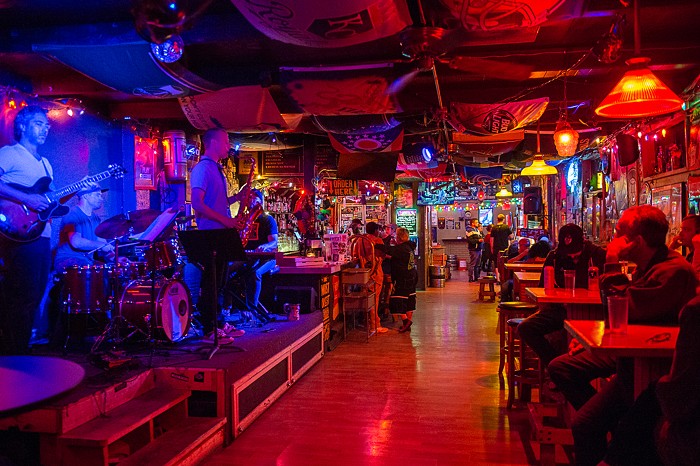 Named after Starday Records—the long-defunct rockabilly label that put out Willie Nelson's debut single "No Place for Me" in 1957—the tavern opened under the new ownership of Justin Amrine in 2015, but the building has been a bar in one form or another since at least 1967 (most recently Bob and Alice's Tavern).
Starday's bright yellow exterior and spacious curbside smoking patio blend right into the presently hip and thriving stretch of Foster-Powell. Step foot inside, and you'll instantly be reminded of beloved local haunts of yore—think the Know, when it was still on Northeast Alberta, or Club 21 when it was still of this world.
The layout is narrow and dimly-lit, with a slightly sticky-floor. In the back you'll find lotto and a requisite weirdo Portland vending machine—in this case, a plastic egg dispenser, lovingly stocked by Jedediah Aaker of Virginhoney Vending Machines. The clear, plastic containers hold any number of second-hand trinkets, from Barbie heads to bracelets handmade by Aaker's mom. 
Starday's signage proudly boasts it as "the Most OKest Bar." By some measurements, that's accurate. Their food menu consists of the bare minimum selection of frozen meals (Hungry Man dinner, anyone?) to meet OLCC requirements. However, outside food is welcome, and with Da'Hui serving up Hawaiian grinds until 2 am across the street, and thick slices from Atlas Pizza, right next door, you have plenty of great options to choose from. Plus, Starday regularly hosts pop-up kitchens and patio-side food carts—from the likes of Angry Unicorn and Sidebar Sandos—so you never know what may be added to the menu on any given night.
Compared to other bars in our beer-crazed town, Starday's tap list is somewhat scant, with only six drafts to choose from. But it's well-rounded, and—sans a Mango Ginger Whitewater Hard Seltzer from Denver's Great Divide Brewing—all local. There's also a menu of almost 30 canned and bottled bevies that covers all the bases. Feeling classy? Grab a Devil's Kriek Sour, or an Avid Dragonfruit Cider. Based? Cheap domestic tallboys abound, from Old German to Twisted Tea. If you're looking for craft cocktails, keep looking—and you will find Bar Carlo or 5 and Dime just down the street! 
But you don't come here for the cocktails, anyway; you come for the company—which, in the case of Starday, comes in both human and canine form. Amrine's much-loved pug, Genghis, is a regular patron of the bar—as well as its mascot. You'll find his face painted above the front door and on most of their merch. Having just turned 17(!), the senior pooch has officially entered his "pre-tirement phase," so he's been patrolling the premises a little less lately. But there are plenty of other pups making their patio rounds on any given day to fulfill your petting and scratching needs.
Good company also comes in the form of Starday's near-nightly events, of which Monday's open mic night is the lifeblood. Host Lucas Benoit (who also happens to hold down the bar and run the social media) welcomes anyone who wants to perform on a stage—be it singer-songwriters, comedians, poets, or electronic noise-makers. He acts as de facto talent scout for the event, always keeping an eye out for artists he'd like to have back. The Second Sunday Comedy night was born of open mic performers, and well-received acts frequently find themselves invited back to perform at happy hours.
"We want Starday to be a launching point for whoever," said Amrine. "We all benefit from everyone benefiting."
Beyond the live music and comedy, there's also a regular house music dance night with BLEND, a monthly emo night DJ set, and a mysterious happening known as "ShaqTime" every Tuesday at midnight, which is heralded by a timer counting down above the bar. What is it, you ask?
"We don't talk about ShaqTime," said Amrine. "I couldn't explain it even if I wanted to. It has to be experienced."
From supporting aspiring artists, to welcoming local eateries, Amrine's vision of "lifting up the community" is clear at Starday. But it's still a dive, so it's not without the good-natured chagrin you'd expect. On a recent weeknight, I ordered a straw with my "Princess Shot"—a Windex-blue Jell-O shot topped with Pop Rock-bedazzled whipped cream. The bartender rolled his eyes and replied: "Wrong answer, but OK."
Starday is both a nostalgic throwback to the sorts of dives us Old Portland curmudgeons so deeply miss, and a reminder that such places are still out there if you know where to look.
Glued together by a true sense of community, there's none of the standoffish cool-guy vibes you're bound to find in many of our city's newer, glossier, below-condo watering holes. Instead, fellow patrons will chat you up and make you feel like you belong—even if they might make fun of your delicate Jell-O shot-shooting sensibilities. By the way, the whipped cream-Pop Rocks combo is a textural explosion, and definitely worth trying—with or without a straw.
Just follow Amrine's one rule, and you'll fit right in: "You can be anything you want to be here. Just don't be a dick." Cheers to that.
---
Starday Tavern, 6517 SE Foster, open daily from 3 pm-2:30 am, stardaytavern.com