In many regions of Japan, late summer is synonymous with hanabi festivals—celebratory fireworks displays that, in some towns, can go on for the better part of two hours—with vendors on hand to keep attendees fed with meals and snacks. Sadly, this tradition hasn't made its way here, even with the Japanese diaspora already established throughout the US. Our paltry Fourth of July celebrations just can't compare. 
While we wait to catch up with what the Japanese are doing, Clinton Street Theater will, in July, attempt to fill the void. Starting on July 24th, the independent movie house will hold their first Hanabi Japanese Film Festival. The two-week event will feature a variety of classic and deep cut Japanese films encompassing cult fare, serious drama, and anime that is a credit to its form. 
According to Aaron Colter, one of the six owners of the Clinton, the idea for the festival was dreamed up by employees who wanted to showcase some of Japan's enduringly wonderful cinema, while also putting the spotlight on the unsung but similarly lovely Japanese businesses nearby the theater. 
"We're encouraging people to stop by one of the neighborhood restaurants, like Yama Sushi & Izakaya to get a bowl of ramen before our Tampopo screening," Colter writes, "or order something to go from Kashiwagi to bring in during the films. We'll also have some select vendors at some of the screenings." 
The theater also contracted Tommy Ly, the owner of Stumptown Otaku, a local purveyor of anime and manga-related goodies, to design the poster for the festival. It rules: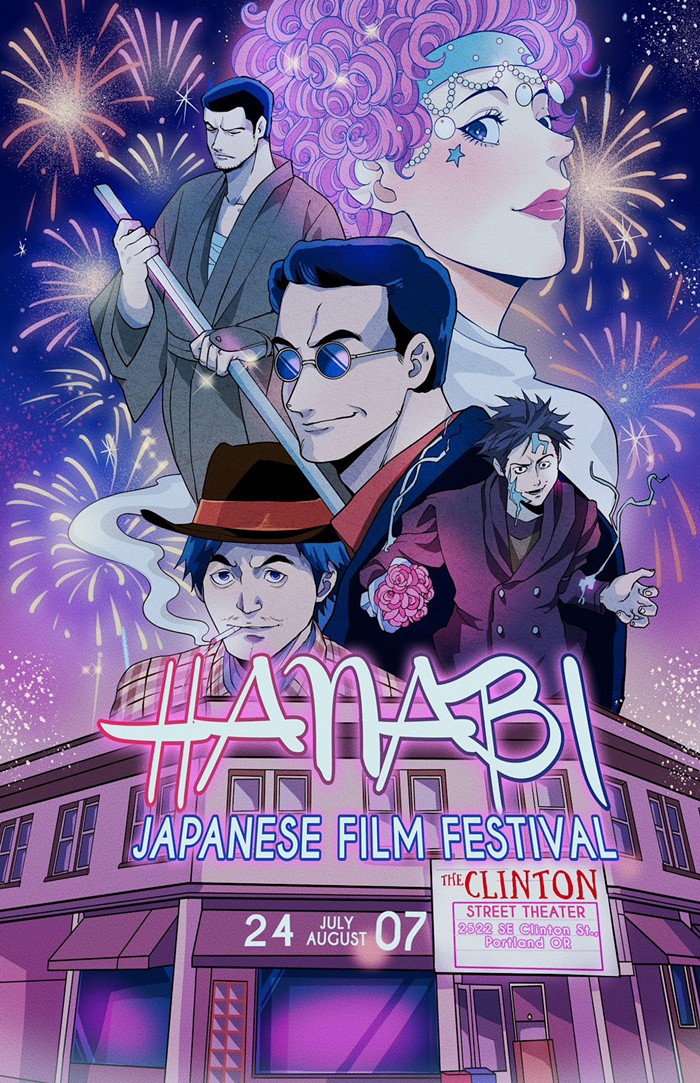 The schedule for the Hanabi Japanese Film Festival is, as we may have mentioned, an impressive selection of cult classics and lesser known modern fare. Though it wouldn't hurt to block out some time to catch all of the screenings on the docket, some can't miss films include Floating Weeds, the gorgeous and patient 1959 drama from Yasujirō Ozu (Tues Aug 1, 7 pm); Funeral Parade of Roses, a daring 1969 work that takes place within Tokyo's queer underground and stars gender fluid artist Shinnosuke Ikehata (Thurs Aug 3,  7 pm); Children of the Sea, the blindingly beautiful adaptation of the manga series from 2019 (Sat Aug 5, 3 pm); and Queer Japan, a recent documentary profiling a variety of LGBTQIA+ Japanese (Sunday Aug 6, 7 pm). Check out the full schedule here.
Festival passes for the full 13 film are priced at the likely-to-be-impulse-bought $50, or hit up the screenings of your choice for an unreasonably reasonable $8 a ticket. For that you may thank the Portland Film and Events office who bestowed a grant upon Clinton Street Theater to help pay the screening rights for several of the films. 
Clinton Street Theater Presents: Hanabi Festival Series Trailer! from Violet Hex on Vimeo.
---
Hanabi Japanese Film Festival will be held at Clinton Street Theater, 2522 SE Clinton, July 24-Aug 7, $8-$50, tickets and info here, the theater's age restriction information is found here.