In the entry hall of Tomorrow Theater, a shiny silver mattress-like fixture hangs above the lobby—an homage to the new venue's former life as an adult movie house. The building's colorful front doors are cloudy enough to be opaque, but small circles in the blur of rainbow vellum remain clear. "Peepholes," explained Amy Dotson, director of the Portland Art Museum's Center for an Untold Tomorrow (PAM CUT). "We want to have a sense of humor, but also a sense of life. This place has lived many lives, and it's really important to us to honor them."
For Dotson and the planning team behind Tomorrow Theater, the newly announced November 3 grand opening date for PAM CUT's multidisciplinary arthouse represents over a year of careful design. As we wandered through a press preview of the renovated space, it was obvious that the building could now be considered a theater, museum, and art piece all its own.
Starting out with four shows per week, Tomorrow Theater hits the ground running with a "take over" by musician David Byrne, who has been given free reign over the venue as the first in a recurring series called Carte Blanche. Byrne's three days in the venue are structured around in-person performances related to his nonprofit online magazine Reasons to Be Cheerful, and the publication's dedicated Portland edition. Imagine, people who are not from Portland writing about Portland—what will that even be like? But it's a David Byrne project, so I remain open to it being good.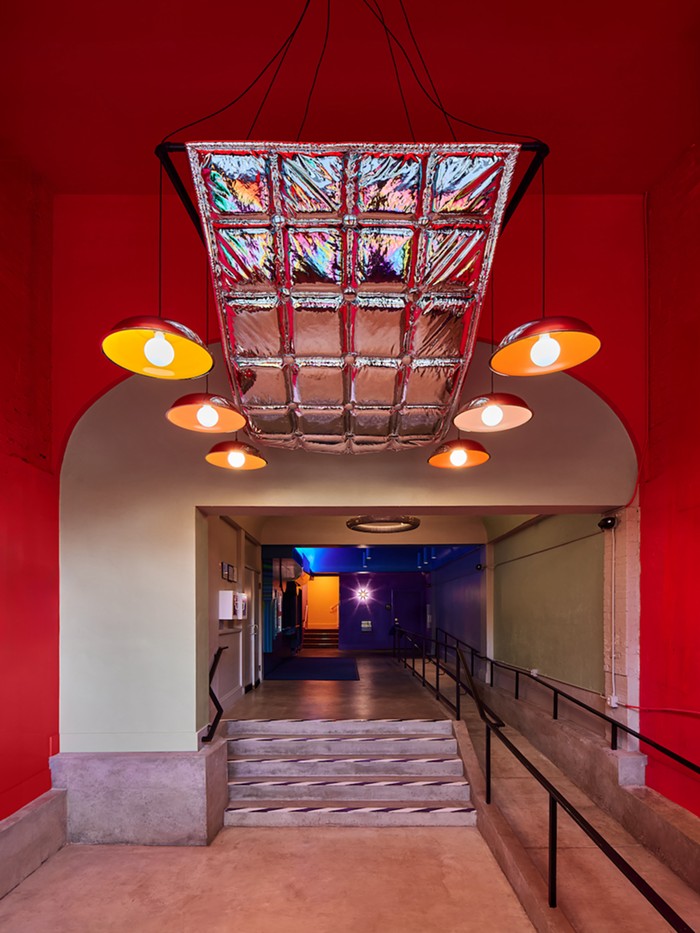 Sandwiched into a series of shops on Southeast Division, Tomorrow Theater's unassuming visage spent nearly 100 years under the name Oregon Theatre. It opened in 1925, as a vaudeville venue with a Wurlitzer pipe organ, and eventually hosted church services, art house screenings, and (quite notoriously) pornographic films, the last of which it played right up until the pandemic.
Ever since the announcement that PAM CUT planned to revamp the Oregon into an Eastside venue, we've heard stray comments about sanitizing the space. It will hopefully satisfy those folks to learn that the only original interior fixture that remains is a simple porcelain drinking fountain, which Dotson said has been "buffed within an inch of its life." Many of the space's adornments are repurposed (such as the sound dampening wall decorations from Portland Garment Factory or the car part mirrors in the upstairs all-gender bathroom), but none originate from the Oregon. The only other holdover is from the building's outside—gifted by former owners, the Maizels family—and we predict traffic jams on the way to the second floor, as visitors take selfies in the warm light of the old Oregon neon sign.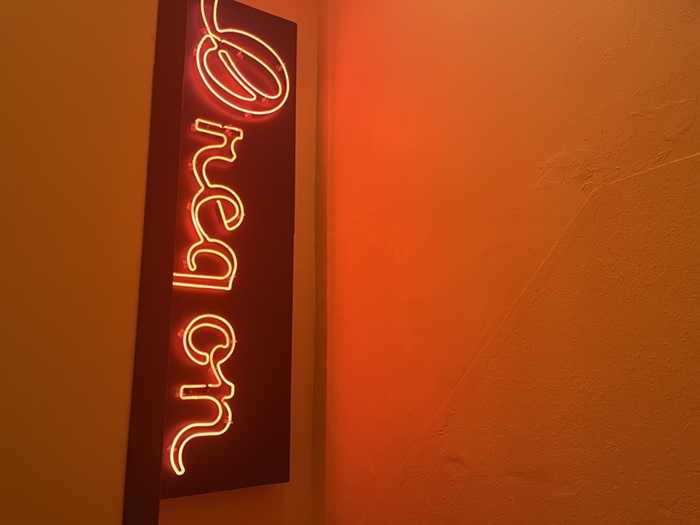 As part of Byrne's visit, the theater will host a screening of the recently re-released 1984 Jonathan Demme documentary Stop Making Sense. Sure, you can see that in many other cinemas right now, but the November 5 event will include a performance by members of PHAME: an awesome, local performing arts academy for adults with intellectual and developmental disabilities.
The PHAME screening seems like it could easily fit into Unorthodox Docs, another one of Tomorrow's twelve ongoing series, which press materials describe as "nonfiction arts that play with the boundaries of form, function, style, and story." However, it's labeled on the site as Social Cinema. (Okay.) Unorthodox Docs programming debuts with a Documentary Now! mini-fest, pairing episodes of the mockumentary show with the films they parodied. A double feature of the 1975 film Grey Gardens and 22-minute episode of Documentary Now! "Sandy Passage" opens the fest on November 17. 
Here's what I think is happening: They made up twelve names, and we're going to have to get used to what the names mean—and what they mean will be deeply changeable. We're going to have to put up with it because much of what has been planned sounds great. Look for events with Smart Phone Orchestra and Podcast But Outside, as well as a 10th anniversary "re-examining" of Short Term 12, and a night devoted to the genius of Paul Reubens. Tickets for all opening weekend and other November events go on sale Oct 16. 
While Dotson said she expected most Tomorrow Theater attendees will purchase their tickets online, she noted there's a ticket kiosk planned for the lobby, saying, "I think it's gonna be wrapped in muppet fur." Ticket buyers will be able to select specific seats at purchase, and there won't be blocked off season seating, like there was at the Whitsell Auditorium.
As we considered the new space and programming, one main thought rose to the top. Tomorrow Theater is not a replacement for the under construction Whitsell Auditorium, and it does not wish to be. When Dotson told the Mercury that the new building is "not a movie theater," she was being honest. Movie theaters have two main atmospheres: Crammed in for the hits and lonely matinee. The latter is the home of any true cinephile, and it's a chicken or egg question whether cinema fans sit in empty theaters to see unappreciated gems or if they learned to appreciate films where they can have a whole row to themselves.
Tomorrow Theater is not trying to provide the pleasant solitude that was often found in the Whitsell's obscure director film runs. Part of the point of PAM CUT's devotion to multidisciplinary artists and works is a mission to cross-pollinate arts audiences—drawing in, for example, fans of documentary and socially forward performance or Talking Heads and solutions journalism. 
It's exciting to imagine what partnerships will spark in the small—well, 250-seats isn't nothing—art theater. We look forward to picking apart the meaning behind whatever PAM CUT has labeled its programming, as a precursor for picking apart the programming itself.
---
Opening weekend and subsequent event tickets go on sale October 16 for Tomorrow Theater, 3530 SE Division, tomorrowtheater.org