by
Wednesday

at

2:32 pm

•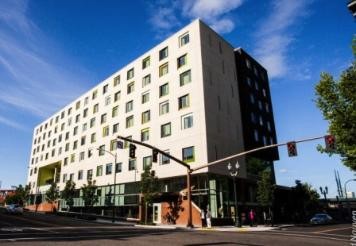 Sometime in the next six months or so, local officials are going to present a case for how Portland can dramatically increase housing for its most down-and-out individuals.
In a unanimous and long-portended vote this morning, the Portland City Council voted to order up a report laying the groundwork for 2,000 more units of permanent supportive housing (PSH) in Multnomah County in the next decade. The Multnomah County Board of Commissioners will approve the same thing tomorrow, and both governments will chip in to pay a consultant to draft a report in coming months.
So on one level there's just that: A mundane resolution ordering a report.
On another—and certainly for policy staffers who've flogged the matter—today's vote was more significant.
In a city that in recent years has prioritized building "workforce housing" units—that is, apartments that enable mid-wage workers to live closer in, near their jobs—the vote today signals a focus on the growing number of chronically homeless and disabled people living on the streets. The target for PSH is people who suffer from addiction, mental illness, or some other disability, and who have been homeless for a long time or find themselves homeless repeatedly.
"Quite frankly, they are caught in a costly, inefficient, failed system," City Commissioner Nick Fish said at today's hearing. Along with County Chair Deborah Kafoury, Fish has been a leading proponent for ramping up permanent supportive housing, which pairs extremely cheap rents with intensive social services to help people back on their feet. One high-profile example in Portland: The Bud Clark Commons.
Continue reading »