The first attempt to put Portland's new landlord relocation ordinance on ice was over before it began.
Sponsored
Sketch comedy troupes from all over N. America descend on The Siren Theater for 3 glorious nights.
Practically from the moment he stepped into a downtown courtroom this morning, US District Judge Michael Simon telegraphed he'd shoot down a temporary restraining order sought by the the landlord lobby. In a lawsuit filed earlier this month, local landlords have sought to poke holes in a law requiring them to pay between $2,900 and $4,500 when they evict someone without cause or raise rents by 10 percent or more.
And while they make their case that the policy violates a host of state and federal laws, the landlords wanted Simon to halt the relocation ordinance, which went into effect as soon as Portland City Council passed it on February 2.
Simon said he couldn't, for a variety of legal reasons. (Mostly: Since the city doesn't have any actual role enforcing the new law, Simon didn't seem to see a clear path to compel Portland officials to do anything.)
"It does seem to me that what you're asking today…I don't have the authority to do it," Simon told the plaintiffs' attorney, John DiLorenzo, at a remarkably brief hearing. "I don't see how I can grant the temporary relief you're asking."
That answered the first big question of the day. Portland renters faced with big rent hikes or no-cause evictions can still demand relocation payments from their landlords (though they'll have to go to court if those landlords refuse). Then things got really going.
Simon suggested at the hearing that he was very interested in the landlords' central argument: that Portland's law violates state preemptions on rent control. But the judge was far less impressed, he said, with DiLorenzo's contention that Portland's renter protections violate federal protections of existing contracts (i.e. leases) and due process.
So DiLorenzo simply dropped those arguments, excising them from his case. "The federal claims were add-ons to the state claims," he said.
Now the matter's going to head back across Lownsdale Square, to the Multnomah County Courthouse.
With the federal claims removed, "I don't see any reason why I should continue to assert my jurisdiction," Simon said, formally ordering the matter back to the state level.
It's yet another sharp turn for a case, which, remember, the City of Portland demanded last week be heard in federal court, not the state circuit court it was filed in.
"For the life of me I still do no know why the city removed the case to federal court," DiLorenzo said at the hearing.
Afterward, City Attorney Tracy Reeve said she'd done so precisely to achieve today's outcome: doing away with landlords' arguments the city was violating federal law.
"We thought a federal court would make short shrift of those claims," she said after the hearing. "But we did not know the court would address those claims at this stage."
Now, the rental relocation law faces new questions. The first is whether DiLorenzo and his clients will seek a restraining order in state court, as it did at the federal level. DiLorenzo told the Mercury he wasn't yet sure, saying he had to "confer with the City Attorney's office."
He also downplayed the judge's rulings. "We think the strongest issues are on state preemptions," he said.

The lawsuit, filed by local landlords Phillip Owen and Michael Feves, argues that by requiring landlords to pay thousands when they raise rents by 10 percent or more, the city is effectively controlling rent, in violation of state law. Both the city and proponents of the law point out that nothing is stopping landlords from raising those rents, and that nothing in state law stops cities from requiring landlords help tenants move.
"Landlords remain free to set rent at any rate they wish," the city wrote in court filings, "but may have to pay a tenant a one-time relocation assistance payment if they increase the rent more than 10% in one year and if the tenant determines that the tenant cannot afford the increase and elects to terminate the tenancy as a result."
Nevertheless, Simon was clearly interested in the arguments about preemption, something DiLorenzo says shows his case has merit.
It appears likely landlords could try to quickly freeze the law at the state level. DiLorenzo argued in court this morning that allowing the law to remain in force while its legality was still in question wasn't fair to his clients.
"What we are seeking is a practical way of avoiding a circumstance in which the ordinance is still in effect... landlords respond to the ordinance, issue tenants relocation expenses, ultimately find out that the court has sided with plaintiffs… and then the landlords are in a position of never ever being able to get that money back," DiLorenzo said.
Restraining Order against #Relo4Renters DENIED.
Federal claims dismissed.
Now onto state court. #TenantPower 1 : LandlordLobby 0 pic.twitter.com/q8Dw8iePI9
— PDX Tenants United (@PDXTenantsUnite) February 15, 2017
Sponsored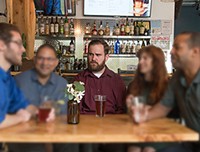 Adults aged 18-35 with good hearing will be paid for their time. Located at the Portland VA Medical Center