THERE ARE SUPPOSED to be certainties. Wine 101 suggests fish and seafood pair with a white wine (and conversely, red with meats). Pick a softly oaked chardonnay for one of those Pacific Northwest salmon coming online shortly, while for something oilier, such as mackerel or sardine, try a fresh Pinot Grigio.
Sponsored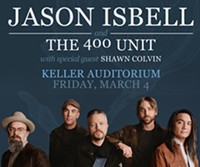 Jason Isbell has established himself as one of the most respected songwriters of his generation. Don't miss Jason Isbell and the 400 Unit, March 4th at Keller Auditorium!
But then, at dinner the other day, the wine guy pulls out all sorts of reds, not just the odd Pinot Noir but real heavyweights, to pour with oysters, hamachi, and sturgeon (and they all proved a smart match). But start reading up on the subject and before long you're down a rabbit hole filled with apparent contradictions, an epistemological crisis beckoning.
As a general guideline, the fish and white wine coupling holds, but this is a Newtonian version of wine pairing, mechanical and orderly. The reality is a hell of a lot weirder. Perhaps this is no surprise given that there's a whole profession—the sommelier—dedicated to figuring out which wines go with which foods.
So let's ask a sommelier.
Jon Deering is actually one better: As wine director and dining room manager at the RingSide Fish House, he's akin to a five-star general with a wine key. He oversees a list of 600 bottles, which he deploys in service of a predominantly fish and seafood menu. This is a man who will have answers.
Like, are there any rules?
"Yes, there are rules," he explains, "though as in Animal Farm, everything is equal but some things are more equal than others."
Not exactly unequivocal. He describes his own revelatory experience of the versatility of wine matching.
"Years ago, when I got into wine," he says, "it was 'you only drink white wine with fish.' But one night, I sat down with a fish dish and had a big red with it, and because the food was good and the wine was good, they went together."
So, kids, go for it? Nothing is true, everything is possible?
Fortunately for sommeliers and wine writers everywhere, it's not a total vinous Wild West out there. Deering has clear-cut advice: "When I'm pairing, I look at the weight of a dish, the sauce, and the prevailing flavors in it." The secret is to look at the strongest ingredient—a simple poached haddock will be served by a fresh, lighter-bodied wine such as a Vermentino from Italy, or a Sauvignon Blanc from the Loire. But the same fish in a curry sauce, which is dominated by spices, will take a red wine such as a Beaujolais that is high in acid and light in tannin. Sauces will nearly always be stronger than the other ingredients and should be the main consideration.
It's also worth considering wines and dishes from the same region. In the same way that Oregon Pinot is great with roasted salmon, Provençal salt cod is happily matched with the powerful red Bandol wine from the same region, while earthy and at times intense Etna Rossos (reds from Sicily) are wonderful with a tomato fish stew or bucatini with tuna.
And there is a fallback—a default wine that Deering recommends if trying to find a way between the extremes of a bacchanalian Sanders and Trump.
"Rosé goes great with so much of our cuisine [at the Fish House]," he says. "It's a middle wine that's perfect with a lot of fish, and pleases red wine drinkers a well."
Crisp, dry rosés typically work best—think Pinot Noir, and Grenache and Syrah from France.
So what is Deering's personal go-to wine?
"Champagne goes with everything, and I never get tired of it," he says. "I'll even drink champagne with steak."
And we're back down the rabbit hole again.