Who hasn't shared the frustrations of poor Pinocchio: He's self aware, with a will to live, left on his own to decide what's right and wrong? The story reminds us of what French poet Rimbaud said of being an artist: "Too bad for the wood that finds itself a violin." 
Those who have seen Guillermo del Toro's stop-motion feature have marveled at the vitalizing work of Portland- and LA-based animation studio ShadowMachine, which infused not just Pinocchio, but his entire world with gorgeous gesture and fluid action. But the movie dictated the time we could spend with it.
Now the Portland Art Museum has a new, long-heralded exhibit, only shown before at Museum of Modern Art (MoMA) in New York. Through September, Guillermo del Toro: Crafting Pinocchio offers Portlanders the opportunity to sit and consider del Toro's deeply humanizing chisel taken to Carlos Collodi's 1883 story of a wooden child come to life.
Crafting Pinocchio's 8,000 square feet of exhibition displays thousands of objects of production art, many staged in re-enactments to help a casual visitor orient the piece within the film. We can see Count Volpe's wagon, Geppetto's workshop, a 1930s Italian villa where Pinocchio roams, and more—way more—up-close, for as long as we wish, or, at least, as long as the museum is open.
They are splendid, and wonderful expressions of the talents of the film's numerous crafters—all working in concert to hide their own efforts in a film that feels seamless and magical. Crafting Pinocchio presents a spotlight on ShadowMachine's unseen work, though what exhibit could hope to capture such an undertaking? The six-foot tall display of a chaotic red-yarn diagram for scheduling shoots during COVID lockdown surely comes close.
Chiefly on display in the exhibit are the technical crafts of puppet-making. A "puppet hospital" workshop for wear and tear on puppets, has been recreated—right down to the  overfilled trash bin and frantic post-it note reminder for a dentist appointment stuck on the workshop table. A spooky skeletal rabbit awaits mending while Spazzatura lies bottom-up on a pillow, the seat of his shorts gently tailored around his monkey tail. These practical details continue throughout, illustrating the demands of both animator and puppet.
Read more: It Took a Village (of Portland Animators) to Raise Guillermo del Toro's Pinocchio
However, the exhibition's most breathtaking and wondrous stars are the so-called "perfectly imperfect" sets, which will delight anyone with the slightest inclination toward miniatures, dioramas, and / or the frame-making of cinema and photography.
On the workshop set, stage lights outside Geppetto's window shift from a light sunny day to a heavy blue night. Objects of his craft are strewn with care: In one corner, we spy the beaming delight of a boy captivated by curiosity. In another, bottles broken by the carver in a drunken fit, unable to create life. The sets are designed for the camera to travel through, and there are a multitude of different, interesting views in each.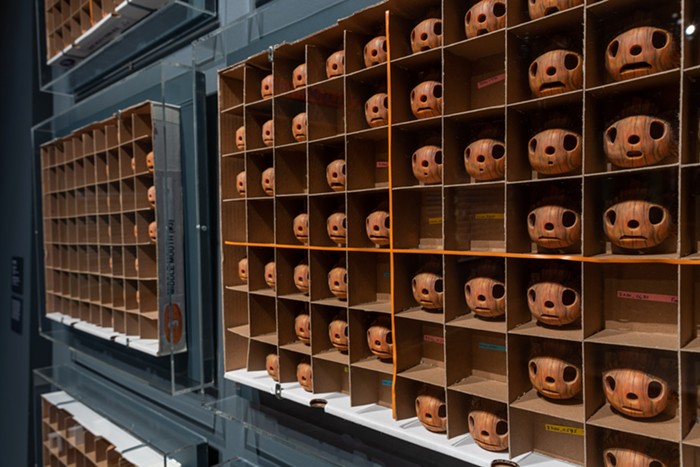 The notion that anyone would not delight in this show seems impossible. It outclasses all stop-motion rivals in artistic abundance and melancholic undertones. But enjoy it while you can! This is likely the last chance to see much of these miniatures in person. Netflix will archive some of the properties, but anyone working in film knows that props are not long for this world. The show's accompanying art book is also particularly lovely and worthy of note—for fans of costly mementos.
Finally, we wouldn't want readers to miss out on screenings of del Toro's past movies, presented on film by PAM CUT: the Portland Art Museum's rebranded center for... well... cinema and a whole lot more.
Pinocchio was laden with references from del Toro's previous works, and the PAM CUT screenings present an opportunity to nerd-out on old references—fingerprints the famed visionary left along the way—from the 2006 Devil's Backbone (shown with del Toro's 1985 short film Doña Lupe) to the 2006 Pan's Labyrinth (shown with 1987 short Geometria) to the surprising 2002 Blade II. Blade II on 35mm, anyone?
---
Guillermo del Toro: Crafting Pinocchio is installed at the Portland Art Museum, 1219 SW Park, through Sun Sept 17, $0-$25 museum admission, all ages. The Discovering del Toro film series runs through Sun Jun 25, in the Whitsell Auditorium within the museum, $12 and free for children under 17, check the PAM CUT site for showtimes, tickets and info.