Whether you're new to Portland or haven't left your house in a while, fall is a great time to refamiliarize yourself with the multitude of spaces that make up Portland's effervescent art ecology. Since the city has a longstanding history of being home to artists, makers, and all types of creatives, this list could get vast fast. Instead, here's a partial overview highlighting some upcoming shows that we think look particularly neat. And we'll explain a little about the galleries as we go.
Open for almost three decades, PDX Contemporary Art continues to be one of the city's longest-running and most dynamic commercial gallery spaces. Previously a Pearl District staple, the gallery recently moved to the NW Industrial area at the end of last year. Exhibitions include new works from a celebrated roster of represented artists—whether paintings, print-making, sculpture, photography, textiles, or mixed media—alongside emerging regional talent, making the gallery a must-stop and see anytime throughout the year. 
Currently on view through Oct 1, Water Color by Adam Sorensen presents a recent series of Sorensen's chromatic landscapes and algorithmic-based geometric works. Naturalist scenes are rendered in dappled rainbows, sherbets, and ombre hues, evoking otherworldliness. Grapple with the complexities of the environment and, inevitably, climate change, attempting to make sense of the dichotomy between the foreboding and sublime in the world around us. 
In the following months, look for an exhibition from Portland-based artist duo Anna Gray + Ryan Wilson Paulsen, who work as a single artistic entity and often focus on reading, writing, and information-gathering activities. Marie Watt and Kristin Miller will show later in the year. Watt creates sculptures and installations that pull from rituals and familiar yet deeply culturally ingrained materials like blankets and Indigenous design principles—Watt is an enrolled member of the Seneca Nation of Indians. Miller is known for selecting materials imbued with the transient nature of living and inanimate objects.
Art gallery, boutique, and bookstore, Nationale has been a significant contributor to the creative sphere of Bridgetown since 2008. Highlighting and showcasing up-and-coming and established artists like Carson Ellis, Emily Counts, Anya Roberts-Toney, and Pace Taylor, its hybrid gallery-shop also displays ceramics, sculptures, soaps, and candies that shop owner May Barruel brings in from her native France. The shop's literature is similarly on point, showing an extensive range: art books, magazines, thoughtful fiction, and non-fiction. The gallery also features tone poem, a purveyor of music (records, tapes, and digital mixes), print, and carefully selected home objects. 
Tanner Lind's abstract paintings appear through October 2. The show, titled Riff, works within the context of a three-part group exhibition called Straight from the Studio, which explores the inspirations and experimentations in one's studio. A recent graduate MFA in Visual Studies at the Pacific Northwest College of Art, Lind's artistic practice memorializes change and creates a unique and varied lexicon of repeated brushstrokes, lines, and patterns.
Oregon Contemporary has been a Portland-based staple since the non-profit organization found its North Portland home, in 2008—in a former life it was named Disjecta. Since then, the expansive space has hosted numerous exhibitions, lectures, and performances. Focused on providing opportunities for contemporary artists, their curator-in-residence programs encourage cross-regional, national, and international dialogues in the art community. 
Showing through October 2, In My Own Little Corner is a multimedia, interactive installation composed of a series of vignettes from the North Carolina hometown of artist Willie Little. An intermedia artist and author, Little's work documents aspects of Southern rural life alongside social justice issues, revealing the often untold stories of inner turmoil from the perspective of a rural LGBTQIA+ Black child. Via sculpture, painting, sound installations, and recycled memorabilia, In My Own Little Corner renders an appropriately human-sized model of societal decay in American culture. It is the third and final exhibition in the large-scale program Site, which was created to showcase several Oregon-based artists in the absence of the 2021 Portland Biennial.
Inside the aforedescribed Oregon Contemporary, you'll find the relatively new Strange Paradise Gallery—shared with photography non-profit, Photolucida—and two other recently established artist-run membership-based galleries. Both Carnation Contemporary and Well Well Projects host open calls, in addition to member and curated shows.
Carnation Contemporary's September exhibition, Nirvanamatopoeia by Matthew Bennett Laurents + Jeremy Le Grand, is a series of collaborative sculpture-based works that examine objecthood and metaphysical philosophy. Well Well Projects' Smart Objects / Flattened Images exhibition, curated by Kelda Van Patten, contemplates how real and artificial converge via the work of fifty-one lens-based artists from all over the country. Both are on view until September 25.
Artist-run gallery space Melanie Flood Projects was founded in 2008 in a Brooklyn apartment. Six years later it relocated to Southwest Portland, but still maintains that apartment gallery feeling. The space has curated compelling shows by artists from west and east coasts: Maria Antelman, Sari Carel, and Pacifico Silano among them. 
We wanted to draw your attention to this gallery, although, at this exact moment, it is exquisitely between shows. The archival images and flash-lit natural world photographs of Sarah Meadows' Tanglefoot will have just exited, as hotly anticipated shows from Lyndon Barrios Jr. and Rainen Knecht loom on the horizon.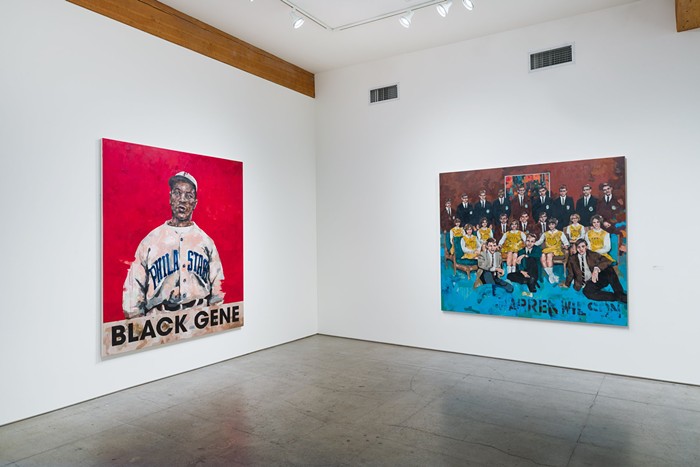 The Pearl is home to many long-running galleries and institutions—Adams and Ollman, Blue Sky Gallery, and Holding Contemporary, to name a few. These solid champions of artists are a vital part of the the city's art scene makeup. But none may be more foundational than Elizabeth Leach Gallery.
On October 15 and 16, the gallery will celebrate the release of an anniversary publication, Forty Years, named for the gallery's tenure. Leach has presented over 800 exhibitions and even now, figurative paintings by Jeremy Okai Davis grace the walls. On view through October 29, A Good Sport speaks to the complex experiences of Black American athletes—past and present—as they navigate "sportsmanship." Pro tip: Next door to Leach is the hidden-in-plain-sight entrance to the lumber room, a unique contemporary art space, founded in 2010. The current exhibition, fore x four, showcases work by recognized artists like Etel Adnan, Lonnie Holley, and Bill Traylor, and was pulled from the Miller Meigs collection that was curated in conversation with Diedrick Brackens, D'Angelo Lovell Williams, and Ashley Stull Meyers.
Voracious shoppers of Pioneer Place, don't overlook hole-in-the-mall meets "activation space" Gallery Go Go. Not only does the easily-overlooked shop sell local art, but its gallery hosts a range of events: fashion shows, workshops, and even dance battles. Like anything earnest these days, you can stay in the loop by following its social media.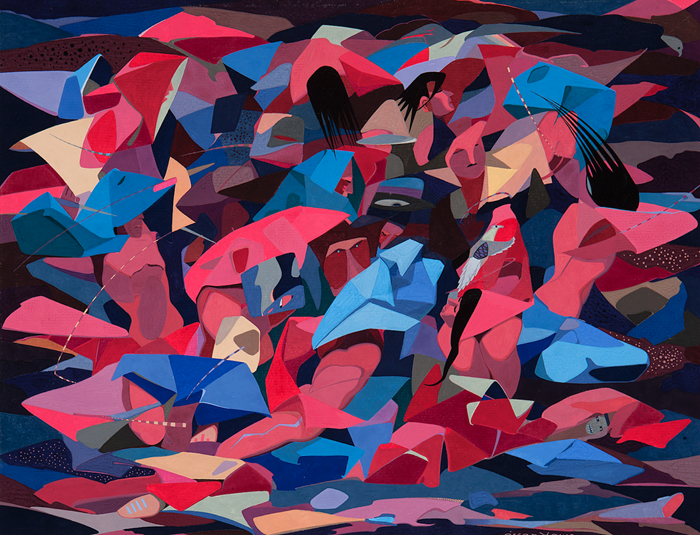 The Portland Art Museum is a cultural mainstay; there's always something to see. The permanent collection houses an extensive collection of Northwest art alongside rotating exhibitions. The institution's next Museum Free Day is September 17, and it's a testament to artsy interests of this city that there's a presale, with ticket reservations going live September 14.
October sees the openings of two noteworthy exhibitions—Dakota Modern: The Art of Oscar Howe, one of the twentieth century's most innovative Native American painters, and a site-responsive installation, They Come From Fire by multimedia artist Jeffrey Gibson.
The Jordan Schnitzer Museum of Art at Portland State University is a cultural and intellectual laboratory that explores ideas relevant to our time through the lens of art. If you've gone to the PSU farmer's market, you've likely walked right by it. 
This autumn and winter, the museum showcases The Art of Food: From the Collections of Jordan D. Schnitzer and His Family Foundation through December 3. The exhibit aims to consider how communities, relationships, culture, and societal and ethical implications intersect with the universal subject of food. It encompasses over a hundred works by some of the most prominent artists of the twentieth and twenty-first centuries, including John Baldessari, Enrique Chagoya, Alison Saar, Lorna Simpson, and Andy Warhol.