Andrew Neerman had just moved his Beacon Sound record store and label HQ from one space to another when the COVID-19 pandemic arrived and significantly complicated running a retail operation.
Almost immediately, Neerman shuttered the shop, even before the state of Oregon mandated the closure of many retail businesses. When he talks about it now, it's clear that, while the timing may not have been ideal, the whole situation came as something of a relief.
"I was burning out on retail already, and I was actually planning on selling the retail portion of Beacon Sound… and moving toward being a community space and show space," Neerman said. "Luckily, I had not. So I just shut down and went full label." This allowed the respected experimental music label to enter a highly productive period—putting out over 30 releases in the three years that followed.
Across town, a similar shutdown scenario played out at Musique Plastique, except owner Tony Remple wasn't tired of retail. He moved his business online for a time, but then, in mid-2022, reopened a physical space in the Lloyd Center, as part of the mall's well-publicized rebirth.
Throughout the pandemic, Remple said, the two checked in with each other in an effort to figure out a future course of action.
"Both of us were quite on the same page as far as our compassion for the community and closing our shops to the public," he said, "but also about keeping in touch as things changed to see if there was maybe some way we could collaborate and help each other out moving forward."
Fast forward a few years. Neerman and Remple are both part of a small collective of like-minded folks that have turned a 1,000-square foot storefront on Northeast Martin Luther King Jr. Boulevard into a cultural hub—part record shop, part bookstore, and part community space. 
 Also involved in the venture are local writer (and Mercury contributor) Robert Ham, who sells vinyl under the name Super Electric Records, and Nate Wey, proprietor of Lost Avenue Books. A DIY internet radio station, Intro To Rhythm, will also operate out of the space, as will Megalith, an event production partnership between Neerman and Ham.
For clarity's sake: The shop is not operating under one name, and the exterior will likely feature some sort of non-branded "books and records" signage, said Ham. That aligns with the collaborative nature of the venture, said Neerman, who says he's more excited about partnering with Wey to fill out the shop's bookshelves than he currently is about selling records.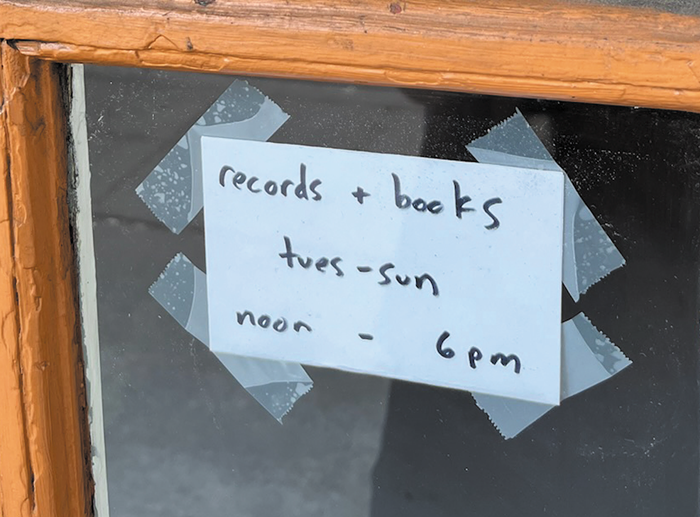 The new shop is the result not just of Neerman and Remple's discussions, but also a yearslong effort on the part of Neerman and Ham to establish a venue for concerts and community events. After other options fell through, they contacted the owner of their current Northeast Portland space after simply noticing there were workers inside renovating it.
"They were just the nicest people, and it was relatively affordable," Ham said. "The landlord is awesome. The reason he owns this building is because he didn't want developers swooping in."
Excited about the possibilities of the space, the two began looking for partners. They went straight to Remple who—while grateful to the Lloyd Center for easing him back into physical retail—was nearing the end of his lease and interested in being part of a collective of independent businesses. 
Neerman also reached out to Wey, whom he knew as a guy who always talked about interesting books on social media. Wey had no experience running a bookshop, but he recognized that he was being presented with a "golden opportunity," he said, to not only realize a longstanding dream, but to do so alongside supportive partners that he likes on a personal level.
"I've always wanted to [open a shop] and keep, like, really weird hours, but that would be years away," Wey said. "I was half on the fence for a while, but I knew this was a chance to do it. This was not going to present itself to me again."
The arrangement meant Neerman could dip his feet back into retail without losing focus on Beacon Sound's record label. He'll be "feeding" records to Remple and Ham, he said, and enjoying the casual conversations with customers he's missed over the past three years, but he won't have to deal with all of the administrative worries and sleepless nights that drove him away from retail in the first place.
"It wasn't the selling stuff that I missed. I like sharing stuff with people," Neerman said. "I'm just really tired of money in general."
Neerman, Remple, Ham, and Wey all have bills to pay, of course, and just weeks into their venture together, the financial returns of their partnership are still coming into focus. But when they talk about their goals for the store, they don't talk about money. They discuss complementing each others' tastes and the connections that exist between their individual specialties. They brainstorm bringing people together, developing relationships, conversation as currency, and becoming a vital resource for the community. They talk about creating a place where discovery is naturally woven into the fabric of their shared space.
"I carry obscure music, not to be obscure for the sake of it or anything like that," Remple said, "But I just know my own excitement about finding new zones that exist out there, and I hope we have a space that really encourages people to dig in and find something exciting."
---
Beacon Sound, Musique Plastique, Super Electric, Lost Avenue, et al., 2730-32 NE MLK, Tuesdays-Sundays, noon-6 pm, no sign of a single website to unite them. Our best guess is follow them all on Instagram: @beacon_sound, @musiqueplastique, @superelectric_records, @lostavenuebooks, @introtorhythm, @megalithpdx